What UL resources are available on UL.com to assist code authorities in doing plan reviews and inspections?
A. UL has many resources available for code authorities, including expert staff, online tools, and information on UL.com.
Technical support for code authorities
UL's primary technical resource for code authorities is our Codes and Regulatory Services team dedicated to supporting code authorities. The Codes and Regulatory Services team is composed of former code authorities such as electrical inspectors, building officials and fire marshals in addition to experienced UL engineers. This team provides the code authority community with technical support for approval decisions. In addition, the Codes and Regulatory Services team provides both in-person and virtual education to code authority organizations by request. For more information on our expert technical support, visit www.ul.com/coderesource.
Additional code authority resources can be found at www.ul.com/codeauthorities. This site hosts a wide variety of technical content to assist code authorities in doing their jobs. Recently added tools include inspection resources for code authorities. Found at www.ul.com/inspectionresources, the inspection resources provide tools and information to address complex inspection topics such as energy storage systems, cannabis extraction equipment, reconditioned equipment, commercial cooking equipment, field evaluations, marking and application guides and more.
The energy storage and commercial cooking equipment resources include zoomable interactive system diagrams (see figure 1). The energy storage system diagram features a typical photovoltaic (PV) installation incorporating energy storage with each piece of equipment's four-letter UL product category code linked to the category guide information in the Product iQTM database, our database of certification information located at productiq.ul.com or www.ul.com/PiQ. The guide information provides general information including the scope of certification (Listing), important installation information and markings, the standard used for Certification (Listing) and a description of the required UL Mark on the product. The guide information also includes a link to view UL Certified (Listed) products under that product category. The commercial cooking equipment diagram features a similar interactive graphic for commercial cooking equipment and hood systems linked to critical information in Product iQ.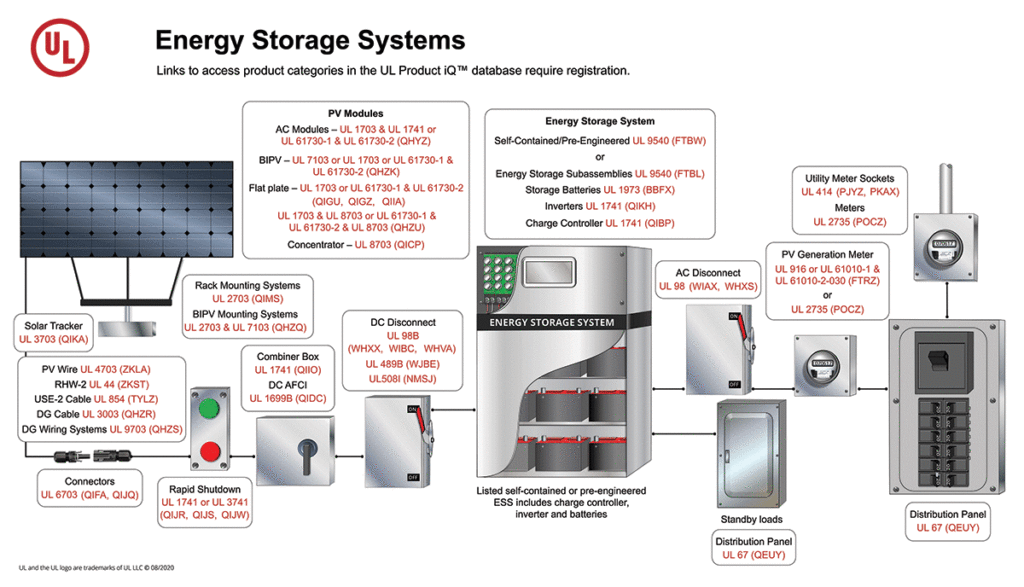 Certification (Listing) Verification
Product iQ located at productiq.ul.com or www.ul.com/PiQ hosts additional valuable information for code authorities. Featuring a mobile-friendly search engine, Product iQ can be used to verify UL Certification (Listing) of products.  UL Product iQ is free to users, however, registration is required. UL's code correlation database titled the "Installation Code Search" within the tool enables users to search for UL Certified (Listed) products applicable to specific code sections in 16 different model installation codes, including the National Electrical Code® (NEC®). To access the installation code search go to www.ul.com/codesearch or enter "code" at the keyword search on Product iQ and let the field populate, then select Installation Code search from the drop-down results. For more information on using the Installation Code search, visit https://code-authorities.ul.com/about/inspection-resources-for-code-authorities/installation-code-search/
Q.        Is UL aware of any online tools that make PV plan review and permitting easier?
A. Yes.  UL is has partnered with a coalition of organizations to develop the SolarAPP+ Tool.  A coalition led by the National Renewable Energy Laboratory (NREL), has been working on exactly that issue through a collaborative effort. The coalition is developing the Solar Automated Permit Processing Platform Plus or SolarAPP+, an advanced online permitting portal. The SolarAPP+ is an online instant permitting portal for eligible rooftop residential solar and storage projects. SolarAPP+ is designed to foster rooftop solar adoption by making it easier for local governments overwhelmed by residential solar applications to instantly and safely approve most rooftop residential projects.
The team of experts, including government bodies and Authorities Having Jurisdiction, code development bodies, industry experts, and UL has been using a rigorous process to build SolarAPP+ and its automated rooftop solar and storage plan review software.  The intelligent features of SolarAPP+ prevent design errors and noncompliances, and standardizes permit application materials, ensuring the no-touch submission and approval of complete and code compliant projects. The tool also produces automated records that document critical features and support effective approvals of safe, compliant rooftop PV systems.
SolarAPP+ will be provided at no expense to local jurisdictions, while contractor submittal fees will cover operation and maintenance costs.   SolarAPP+ is designed to function either as a stand-alone program or integrated with existing government software platforms. When permitting is safely simplified, customers are happier and adoption rates go up.  In turn, local governments benefit from greater resilience, flexibility, efficiency and localized economic development. Additional information can be found at https://solarapp.nrel.gov/