Reading Time:
2
minutes
Section 250.52(A)(3) requires that if the footing construction includes 20 feet of rebar not less than ½ inch in diameter, the rebar must be included in the grounding electrode system.
Electrical inspection of the rebar presents several problems, such as no electrical contractor on the job site at this early date, maybe the electrical contractor has not even been selected; however, the general contractor is on site and has approval to pour footings, but not before an inspection by the building inspector.

Photo 1
This is where help is needed for compliance with theNEC; and in New Jersey, the building inspector is given the responsibility of inspecting the connection of a 4 AWG copper conductor to the rebar and signing off on the building technical form that it was inspected (see figure 1). A 4 AWG conductor will be available to the contractor and the inspector at a location noted on the plans.
Initially, there was concern among the inspectors regarding "turf" but a mock-up of a typical connection was made available to the building inspectors (see photo 1) and we are pleased to report that the process is working well and has eliminated the exclusion of the most effective electrode present on the property.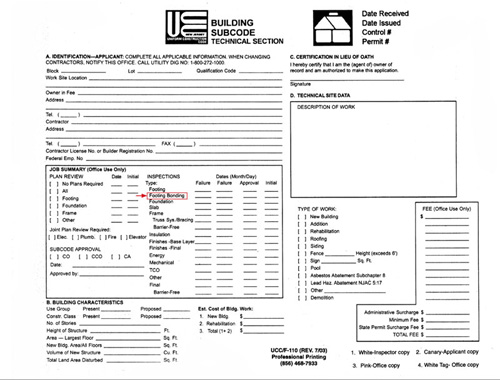 NEC-2002 stated that where the various electrodes were "available," they must be used; however, if the footings are poured prior to an electrical inspection, it was argued that they were no longer available. CMP-5 corrected that in NEC-2005 by changing "available" to "present," which now means if the footing is poured and the footing electrode is not connected, a notice of violation is issued.
This is a textbook example of how different inspection disciplines can work together to enhance safety.