This article is intended to address a few of the common neon installation challenges associated with the secondary wiring from the transformer or power supply to the electrodes, as observed by a member of both the life safety and neon communities.
Secondary wiring methods as required by the National Electrical Code, Section 600-32
A common misunderstanding is that standard 600-volt twist-on wire connectors can be used to make high-voltage connections. This is not true; these types of connectors may not be used for these connections, according to Code. There are listed high voltage splice termination enclosures suitable for this purpose. High voltage GTO cable should not be installed in 3/8″ flexible metal conduit due to the effects of capacitance. High-voltage GTO cable cannot be paired in the same conduit or be run more than 20 feet off the output terminals of the transformer in metal conduit.
Besides these issues, one should understand the impact of Section 600-23(b), Secondary-Circuit Ground-Fault Protection, or its exceptions regarding transformers. This information is paramount for the well being and safety of persons and property. These transformers provide a level of ground-fault protection for the secondary circuit wiring. Included in the secondary wiring circuit is the point of transition from code wiring methods to connections at the electrodes and tubing. One should also understand the aspects of Section 600-42(f)&(g), which addresses wet locations and electrode enclosures, which will be the focus of this article.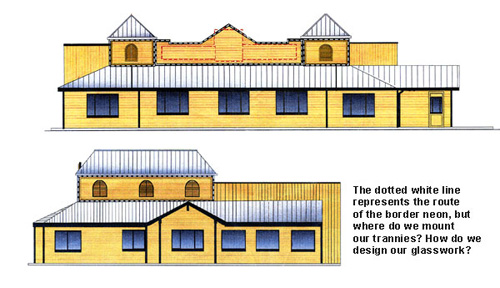 Figure 1. The dotted white line represents the route of the border neon, but where do we mount our trannies? How do we design our glasswork?
Regarding electric-discharge outline lighting, which is used most frequently in the neon industry, one should ask whether one is "…familiar with the construction and operation of the equipment and the hazards involved," or with the listed acceptable components as presented by the United States standards laboratories and the United States-based independent third party electrical safety testing laboratories.
Does familiarity with these things matter? If staples are becoming a "now and again method" of installing high-voltage neon cable all over a pine or cedar wet-location commercial site, these violations of the NEC and the unsafe conditions they present should be addressed.
Electrode enclosures in wet locations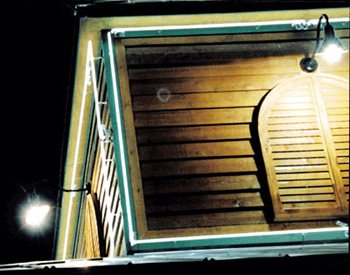 Photo 1. When dealing with exposed high voltage wiring in a "wet" location, it is imperative to adhere to space and listed "wet" location components. Exp. 3-1/2″ glass "standoffs" with glass "wet orientated" electrode enclosures.
In many parts of the country, exposed wet-location neon and argon/mercury tubing are often the outline lighting system of choice. However, in the far north, even with cold-weather gases, long runs of glass are not practical in a -40°F outdoor environment. With high average snowfall, the resulting snow pack on a building's roof can pull down glass as easily as it can shingles. Therefore, most neon tubing installations tend to be channeled with clear faces and listed per a third party independent electrical safety testing agency prior to acceptance by the authority having jurisdiction.
Climatic differences can have an impact on electrical installations in areas where the winter temperature tends to be only as cold as an early fall day in Vermont. Needs and parameters may change with the conditions. The interpretation of the Code for exposed border neon rests on NEC Article 600-3(a), Listing, applied in conjunction with Chapter 6 Part B, 600-30, Field Installed Skeleton Tubing.
Photo 2. In comparison, this border and lettering display exhibits virtually every code violation possible. Total absence of grounding or bonding; inadequate spacing; illegal "wet" location electrode enclosures, etc.
These sections of the Code were recently revisited during a prototype installation for a restaurant chain in the southeast part of the country. This site, besides having listed neon displays, called for 324 feet of 15-mm white, wet-location border tubing. After reviewing the specs and corporate signage standards that had been written in 1997 (and revised in October 1998), it was realized that some of the issues described no longer met the letter of the '99 NEC or that current listing standards had become a concern.
Another problem was that various distributors in the locale did not carry many of the items needed to meet the minimum NEC requirements. The best approach at attaining compliance and safety the first time appeared to be teaming up with transformer and component manufacturers for help. Through the efforts of the authority having jurisdiction (electrical inspector), manufacturers, and other valuable industry resources, many issues were discussed, evaluated, and resolved. Communication certainly is a key component for success. [See photos 1 through 4]
Focusing on the entire secondary circuit
Electrode enclosures [Section 600-42(g)], spacing, and secondary-circuit ground-fault protected or isolated transformers [Section 600-23(b)] were the main areas of concern with this project, as they are with most neon installations of this type.
First, there are currently no listed "wet location" rubber or polymeric electrode enclosures (boots) per our United States based Nationally Recognized Testing Laboratories (NRTLs). The only listed organic products allowable in a wet location, and required for this project, were the polymeric electrode receptacle covers for our two metal electrode housings. Also, it should be understood that polymeric or plastic sleeving could not be used as a stand-alone wiring method for these high voltage secondary circuits. Therefore, in the consensus of all parties involved, the majority of the design had to be based on listed wet-location glass electrode enclosures and listed wet-location glass conduit plug assemblies.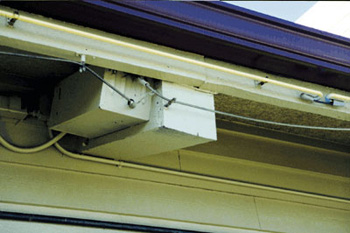 Photo 3. Code violation alert. This is no way to wire in a secondary high voltage system. One shall not take high voltage cable and use "soda" hose as a wiring method. Only listed "wet" location conduit with proper conduit connectors is allowable.
The next area of concern was the fact that 324 feet of this border tubing was to be mounted on dry, stained and painted cedar, with roof flashing and metal capping appearing at various points along the route. In any electrical installation, space is usually an issue. However, in the world of high-voltage discharge lighting (neon/argon) where capacitance is an ever-present concern, routing and length of the secondary conductors needs to be addressed carefully.
The neon industry produces a 3½" long glass tube support, which, in the case of border tubing, is a minimum acceptable length for this type of installation. This minimum exists because the required clearances cannot be maintained when utilizing the standard 1–3/4-inch tube supports at a neon double-back. (Note: A neon double-back is a glass/electrode design in which the electrode is bent and brought up behind the visual length of the glass.)
The last issue under this scope has to be the wireway layout and the design of the transformer secondary circuit conductors. There is an aspect of long lengths of outline/electric neon discharge lighting that must be understood for achieving a safe installation. At the restaurant neon installation site, the average length of border glass that one of the many transformers supplied was around 60 feet. By conventional (series) wiring, we would have 30 feet of GTO wire running inside of 30 feet of metallic conduit out to each end of that section, which would be in violation of the Code. However, more importantly, even the compliant 20 feet used in this manner could be very destructive to both higher voltage 30 mA transformers and to the HV system being supplied by such transformers.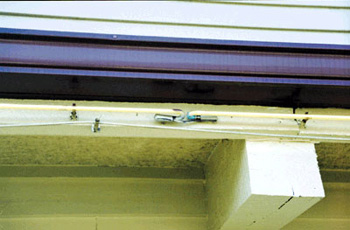 Photo 4. Code violation alert. Without the proper spacing and listed "wet" location electrode enclosures some installations are sure to cause problems–as indicated by the charring behind the rubber boots.
The neon industry and its transformer manufacturers have advocated alternative methods of wiring these runs of glass tubing. The methods applied are called "midpoint" and "virtual mid-point" wiring. This practice minimizes the length of GTO in conduit between the neon transformer HV outputs and the closest pair of electrodes to be energized. In reality it could take a 17- to 20-foot run of energized high-voltage cable in metallic conduit and reduce those runs to 6 inches. This topic, however, is an article by itself.
A prudent avenue to follow in regard to border/electric-discharge outline lighting may be to have this border tubing fabricated in listed (channelized) fixtures and then wired in accordance with Chapter 3 of the NEC.
Need for training
Perhaps the most common challenge is the need for training in Article 600, Electric Signs and Outline Lighting. To say that the neon industry needs training in the rudimentary aspects of commercial electrical wiring practices would not be an understatement. This training should not just be about box fill calculations or ampacity tables; it should also be about grounding and bonding, twisting off of conductors, bending pipe and other rudimentary jobs. Many contractors and installers in the neon industry have received little electrical trade training and, consequently, do not fully understand Article 600 of the NEC and many, unfortunately, are not aware of the existence of the Code. On the other hand, many electrical inspectors have received little neon trade training. Too often, this lack of training in the proper procedures of electrical wiring when it comes to the installation and inspection of neon, that special light source that adorns most commercial structures, could inadvertently lead to fires, ranging from the minor to the serious.
Final thoughts on education
Communication and education are the two main ingredients for safe and code-compliant neon installations. If one feels he is not qualified or is in need of improving knowledge and understanding in Article 600—one of the most misunderstood sections of the Code—the following symposiums offer a chance to turn a weakness into the strength it should be.
Those involved in the industry should be encouraged to attend one of the four symposiums scheduled for this year: January (Fort Worth); mid-February (Normal, IL); June (Columbus, OH); August (Anaheim, CA). These symposiums are either free or charge a nominal fee to the life safety community.
Then there is testing and education on new products that come to market. Since moving the corporation from Vermont to the foothills of western North Carolina, we have encountered opportunities and situations that shaped the foundation of this article. In conjunction with the issues discussed above, four of the major ferro magnetic manufacturers afforded us the opportunity to install a variety of new required 600-23 '96 & '99 code-compliant (UL 2161) power supplies. These transformers, which in most cases were just coming off the production lines, did not demonstrate any of the problems that were prophesied, such as nuisance (false) tripping or unreliability.
If we focus on education instead of our differences and band together the neon industry, electrical inspectors, and manufacturers for the common purpose of life safety, we will all have made a giant stride forward.
---
This article has been passed for review before publishing to various state and provincial electrical inspectors, manufacturers, electrical safety associations, corporate/industrial safety officers and the INA ""Codes and Installation Forum."" Special thanks to: Les Beros, Sask Power, Regina, Saskatchewan; Regan Dickinson: Sign Business Magazine, Broomfield, CO; Telford Dorr, Microtron, Encinitas, CA; Jeff Hinkle, City of Hickory Code Enforcement, Hickory, NC; Kathryn Ingley: IAEI, Richardson, TX; Mike Johnston: IAEI, Richardson, TX; Al Smith, France Transformers, Fairview, TN