To accept or not to accept, that is the question authorities having jurisdiction (AHJs) face on a daily basis. They encounter products with no certification markings, marks from other countries and from a host of testing laboratories. How do AHJs know which mark or service provides compliance with the NEC?
NEC Basis for Equipment Approval
Certification Organizations (COs) such as UL, commonly referred to as testing labs, know their place in the equipment approval process. "Approved" is defined quite succinctly in Article 100 of the NEC: "Acceptable to the authority having jurisdiction." COs, in turn, List (certify) equipment and allow such equipment to be labeled by the manufacturer. "Listed" and "labeled" are both defined in Article 100 as equipment whose production is periodically reviewed by a CO and found to meet appropriate standards or be suitable for a specified purpose. NEC 90.7 provides explicit direction as to the acceptance of listed equipment:
"It is the intent of this Code that factory-installed internal wiring or the construction of equipment need not be inspected at the time of installation of the equipment, except to detect alterations or damage, if the equipment has been listed by a qualified electrical testing laboratory that is recognized as having the facilities described in the preceding paragraph and that requires suitability for installation in accordance with this Code."
The last sentence of the fine print note (FPN) of NEC 110.3(A)(1) suggests how this statement of intent should be put into practice: "Suitability of equipment may be evidenced by listing or labeling."
NEC 110.3(B) addresses installation and use by requiring listed or labeled equipment to be installed and used in accordance with any instructions included with the listed or labeled product.
What Is "Evidence of Listing or Labeling"
A UL Listing, as evidenced by the UL Listing Mark on a product, is the manufacturer's declaration that samples of that complete product have been evaluated by UL to the applicable nationally recognized Safety Standards and found to be free from reasonably foreseeable risk of fire, electric shock and related hazards. Products bearing the UL Listing Mark are manufactured under UL's Follow-Up Service program. Under the program, UL field staff conducts periodic factory production inspections and tests, and quality audits. The purpose of UL's inspections is to monitor the product during and after its production, for continued compliance with UL requirements. (figure 1)

Figures 1, 2, and 3. Figure 1 – UL Listing Mark. Figure 2 – UL Classification Mark. Figure 3 – UL Recognized Component Mark
A UL Classification, as evidenced by the UL Classification Mark, is the manufacturer's declaration that samples of the product have been evaluated for specific properties, a limited range of hazards, or suitability for use under limited or special conditions as identified on the marking. The UL Classification Mark also indicates that the product was manufactured under UL's Follow-Up Service program. UL Classification also meets the definition of "listed" and "labeled" in Article 100 of the NEC. (figure 2)
A UL Recognized Component Mark alone is not evidence of "listing" or "labeling" in accordance with the definitions in Article 100. A UL Recognized Component Mark may be indicated by a backward UR on a component. A UL Recognized Component Mark indicates that the component meets certain requirements but has not been evaluated as a stand-alone product for field installation. It is instead intended for factory assembly into another product that will in turn be subject to a more comprehensive investigation. (figure 3)
UL Solutions to Field Problems
AHJs may encounter products in the field that when manufactured were eligible to bear a UL Listing Mark, though no UL Mark is present. They may find products that do not bear a UL Mark or have been modified in the field. So, what to do?
When a manufacturer claims his product is eligible to bear a UL Mark and none is present, UL can conduct a field inspection. A UL field representative will verify the product's compliance with the manufacturer's UL report and if appropriate, witness the application of the UL Mark.
Other scenarios may involve AHJs encountering products with no certification mark, certified products that have been modified or products with only a CE Marking, or the mark of other non-nationally recognized testing laboratories. These markings are not an indication of compliance with nationally recognized safety standards, nor is the product necessarily compatible with North American power distribution systems. In situations like these, a UL field evaluation can provide a basis for an AHJ's approval decision.
Whatever product AHJs encounter in the field, be it a simple electric sign to complex semiconductor fabrication equipment, no field evaluation is too big or too small for UL's technical staff.
UL Field Evaluations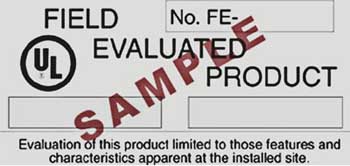 Figure 4. FEP label
So what is the basis for an authority having jurisdiction (AHJ) to approve equipment that arrives on-site without evidence of listing or labeling? NEC 110.3(A), parts (1) through (8) describe the general outline of investigation necessary, culminating in the open-ended phrase of part (8): "Other factors that contribute to the practical safeguarding of persons using or likely to come in contact with the equipment." In other words, if the equipment is not listed or labeled, the AHJ is charged with evaluating the equipment for safety.
The NEC is a challenging document, and it is a career achievement to become an acknowledged expert in its application and interpretation. How many AHJs have the time to concurrently become experts in the established requirements governing the construction and performance of individual pieces of equipment? Individual product safety standards number in the hundreds, and they are continually updated to reflect changes in technology, manufacturing practices, and accepted levels of safety.
This is where AHJs can rely on UL to fully evaluate a product in the field to the same level of safety as if the product was UL Listed.
UL's Field Evaluated Product (FEP) service was specifically developed to evaluate products in the field. Through the FEP Service, experienced UL technical staff conduct thorough on-site evaluations – including construction examination, installation review and testing (if necessary) – of products or systems that have already been installed. During a UL Field Evaluation, products are evaluated to the same requirements used for Listing, with exceptions as appropriate based on specific installation site considerations.
If the product complies with UL's safety requirements, a "Field Evaluated Product" Mark is applied to the product at the installation site. Only products or systems that can be thoroughly evaluated at the installation site are eligible for UL's FEP Mark.
UL's FEP Service is provided by all of UL's five regional facilities and 15 local facilities in the USA as well as by UL's affiliate in Canada. UL's 87 field service offices may also conduct this time-critical work.
Field evaluations differ from equipment Listing programs by their immediacy. Their timely completion is often critical to a business operation, and they must be highly sensitive to jurisdictional concerns. Upon contact from an interested party (by phone, fax, email, or web site inquiry), the FE Service involves the following steps:
1. quickly assessing the situation so that appropriate staff are made available;

2. communicating with all involved parties to ensure that the issues are clearly understood;

3. providing a cost quote with clearly defined assumptions and anticipated results;

4. having qualified staff available for a site visit on a schedule agreeable to the involved parties;

5. conducting a thorough evaluation of the equipment, including a checklist of corrective measures that may be needed to achieve labeling; and

6. rapidly documenting the final results.
Assessing the situation.The first step is to understand the basic nature of the equipment so that the appropriate technical staff can be involved right from the beginning. This involves more than just identifying the appropriate standard(s) and codes. How the equipment interacts with both the built and human environment in which it will be operating is of critical importance to conducting an evaluation.
Phone calls, faxes, or web site inquiries to any of UL's FE program coordinators are typically responded to on the same business day, and often within the hour. The FE coordinators understand the critical time-based nature of most FE inquiries and are able to quickly link the customer with the appropriate technical staff.
Communicating with the involved parties. UL keeps the AHJ and the customer in the loop all the way through the process to ensure that their needs are met and, in turn, that the ultimate result of the FE is understood and accepted.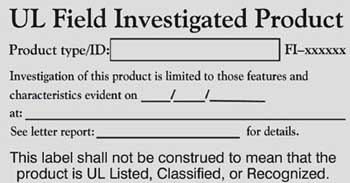 Figure 5. PIP label
Obtaining the necessary information to adequately perform an FE often involves accessing proprietary UL file information or obtaining component specifications from the manufacturer. This can be especially challenging with used or older equipment. UL's access to this information and UL's contact list for component manufacturers is unparalleled.
Providing a cost quote.UL uses a pricing structure for FEs that seeks to match the cost with the value of the service. The urgency and importance of our input to the business operation at risk is blended with our estimates of time and direct expenses to provide what UL expects will be a very competitive bid for providing the requested service. Of great importance in providing a cost quote is ensuring that the customer understands what he can expect to receive from UL — UL's technical expertise, reputation for integrity, and the high probability of acceptance of UL's findings by AHJs. What the customer might get, if the equipment qualifies, is a UL Label for the equipment, and the confidence that the label carries.
Having qualified staff available.UL's operations in the U.S. include more than 1,500 engineering professionals located throughout the country. This helps to reduce costs and meet the time critical deadlines associated with field evaluations. The most qualified staff members are assigned to FE projects in order to bring the most capable decision making to the front line. In all cases, technical experts within UL are available for consultation with the assigned FE project manager to ensure that decisions are sound and options for achieving compliance are fully considered.
Conducting a thorough evaluation.There is no compromise associated with a UL certification Mark. The UL Field Evaluated Product Mark (figure 4) is applied only to equipment that has been thoroughly evaluated and found by UL to comply with all of the applicable requirements. Since UL develops and maintains the equipment standards, UL staff has direct access to the background, rationale, and interpretations of the requirements. This allows for flexibility to develop custom solutions to site-specific compliance issues, while remaining in full accordance with the intent of the applicable safety requirements. An authorized UL FEP Mark on equipment indicates that the equipment at the time of the evaluation provides for the same level of safety as if it bore a UL Listing Mark.
If UL cannot determine compliance of the equipment with applicable requirements, no FEP Mark will be applied. UL provides a report detailing the areas of non-compliance or where compliance could not be determined. If the equipment owner is able to modify the equipment in accordance with UL's findings, a second site visit can be scheduled to review the changes and, if appropriate, apply an FEP Mark.
If there are any non-compliance items noted by UL that are not corrected, a FEP Mark will not be applied and the project will be closed with a report describing the areas of non-compliance. If UL is unable to conduct required tests because they could result in damaging the equipment, a Field Investigated Product label can be applied to the equipment (figure 5). The FIP label is not a certification mark (there is no UL in a circle) but it serves as a means to match the equipment with UL's report wherein the technical findings are detailed. The equipment identification, location, and date of label application are all included on the FIP label.
Rapid documentation.Once an FEP Mark is applied, or not applied (due to non-compliance), UL will advise both the customer and the AHJ of the actions taken. The final report will detail the actions taken and any areas of concern to assist the AHJ in determining the acceptability of the equipment. The involved UL staff remains available for further consultation or to answer questions regarding UL's report, to assist the customer in meeting the AHJ's requirements for equipment approval.
Not All Field Evaluations Are Created Equal
When an AHJ needs a product to be field evaluated, how will the AHJ know if field-evaluated products comply with applicable safety requirements for that particular type of equipment or application? Or, further understand exactly what a third-party organization's field-evaluated label means? These are important questions for AHJs to consider when verifying that products have been evaluated to applicable safety requirements, are installed correctly or are being used as intended.
For example, if a motor installed in a classified hazardous location does not carry a listing mark indicating that it is suitable for such a location and is being field evaluated, how would an AHJ know if the field evaluation applied the appropriate product safety requirements? The motor could have been evaluated for compliance with requirements for ordinary or non-hazardous locations. Most likely, there is no information on the field evaluation label identifying the product category, standard or other requirements that were used to evaluate the motor at the installation site.
A field evaluation can mean different things to different people. Some field evaluations may not include assessments to all of the applicable safety standards and requirements. That is why an AHJ who is making an acceptance decision needs to be familiar with the organization providing the service and specifically what their field evaluation program involves. The AHJ should have some idea of what product safety standards or requirements are applicable to the field-evaluated product. The AHJ can then effectively query the field-evaluation service provider as to what specific safety standards or requirements will be used to conduct the field evaluation and what exactly does their field evaluation label signify.
A useful tool for AHJs to determine the applicable requirements for field-evaluated products is the product category guide information in the appropriate UL product directory (also available by consulting UL's Online Certifications Directory atwww.ul.com/database). The UL Guide Information identifies the appropriate standards used to evaluate products covered under a particular category, although it is important to recognize that specific site conditions or equipment characteristics may necessitate that additional or alternative requirements be applied. AHJs can always contact a Regulatory Services representative at the nearest UL office. AHJs can locate their nearest Regulatory Services representatives as well as other UL support services for regulatory authorities on the Regulators page of ul.com atwww.ul.com/regulators.
It is important that the field evaluation service provider be experienced and have technical expertise with the equipment and the requirements for the equipment being evaluated. Some organizations may not have experience listing specific types of products, yet they may provide a field evaluation service on these same types of equipment.
Canadian regulatory authorities and certification organizations have implemented a program that allows for a Special Inspection, or "SI," of uncertified products for Canada. This program is intended to address one-of-a-kind or customized products that are produced in limited quantities. A Special Inspection is conducted in accordance with a set of general electrical requirements for Canada, not product specific safety standards. Special Inspections are not the equivalent of a listing or a field evaluation (as UL applies the term), both of which use product specific safety standards. Other third-party organizations have recently adopted the generic "SI"approach, calling it a field evaluation and applying their own version of a field evaluation label. AHJs should be alert to this practice and decide whether such a label fulfills the intent of the NEC "listing or labeling" provisions for that installation site.
Summary
Most mass-produced electrical equipment is submitted to third- party testing labs (such as UL) for listing and, if listed, is readily approved by the AHJ. Equipment that is custom designed or produced only in smaller quantities is less likely to be subject to a listing program. Field evaluations on unique or unlabeled equipment by qualified independent parties have thus become an important tool for reducing the risk of injury to workers and the risk of liability exposure for facility operators and jurisdictions alike.
However, all field evaluations are not created equal. Diligence is required to ensure that the appropriate safety standards are used, that the field evaluation provider has sufficient experience and expertise in certifying the specific type of equipment, and that the label applied represents the level of safety anticipated by the AHJ and intended by the NEC. UL's Field Evaluation Service meets all of these criteria.