Health care facilities are an integral part of our lives. We regularly visit them ourselves and take our loved ones to them for care. We assume that we are taking them for help and improvement, and that the technology being used will not cause harm. We think of electrical power as something that exists for our benefit, as a convenience or a tool. Electrical equipment surrounds us and we rarely consider the potential dangers that lie within. We are focused on the expected result: That a heart pump will sustain life during a delicate surgery; that a monitor will display vital information to nurses and doctors; that an X-ray image will be transmitted to the film. We feel confident that the medical and laboratory equipment will be safe for our family and our healthcare workers. We unconsciously rationalize that healthcare facilities are safe havens, places were injuries are treated, not caused. We suppose that there must be someone who makes sure the facility will continue to operate properly and protect us from harm. It would seem reasonable that the hospital has taken measures to protect our loved ones and us from improperly built medical equipment. In reality, how safe are we? Who is responsible for ensuring that the equipment won't expose us to electrical fire and shock hazards?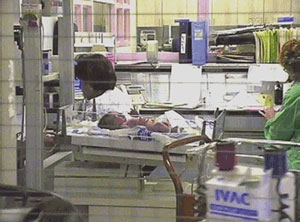 Photo 1. Tiny patient
In the product safety profession, we get answers to these questions in the course of performing product inspections and testing. Over the years we have found that the sense of security that we feel at healthcare facilities is often false. We have discovered a good number of healthcare professionals in many areas of the country are aware of the issues with electrical safety of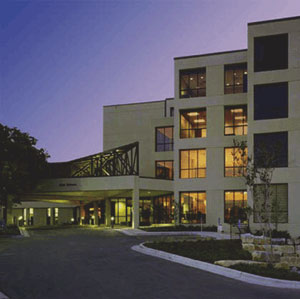 Photo 2. Open for business
equipment. They inspect incoming equipment, set up regular test programs, and instruct the staff to ask questions when selecting new or used products. We have also found that many more healthcare facilities appear to be doing nothing or very little with equipment safety. We are finding that many areas of the U.S. and Canada are disturbingly silent. Entire states and cities have hospitals and clinics that never call for a testing laboratory inspection, never inform their equipment vendors that testing laboratory marks must be on the equipment they are selling. On a consistent basis we inspect equipment that is so far out of compliance it represents an immediate hazard and could cause injury or death at any moment. What about your hospital? Your dental office? While you are there to improve your health, are hazards present that could cause you worse injury or even to perish before your time? If you are not sure, are you comfortable with that? You might say, "Surely somebody is watching out for us, right?"
Authority Having Jurisdiction
In the beginning, there was an authority having jurisdiction. This was very clear to the architects, engineers, contractors and property owners: Every major decision affecting public safety was overseen by qualified inspectors and plans reviewers. Something needed improvement; changes had to be made; electrical products installed required third party certifications. Delays were necessary while everybody worked hard to raise the level of safety. Sometimes tempers flared, especially when time became a factor. Eventually, the project was complete and the hospital staff started moving in, the medical and dental offices were ready for business. Contractors picked up the last of their tools and materials, and owners breathed a sigh of relief. After a short period of time, almost nobody thought about the authority having jurisdiction anymore. Their work was done. Not much later, more equipment was bought, new people were coming every day, and the electrical inspector wasn't there to watch over the process. So now who has the authority and responsibility?
The National Electrical Code, NFPA 70, defines the responsibility this way, "Where public safety is primary, the authority having jurisdiction may be a federal, state, local, or other regional department or individual such as a fire chief, fire marshal, chief of a fire prevention bureau, labor department, or health department; building official; electrical inspector; or others having statutory authority." Now, the doors are open, but who has statutory authority? Who will ensure workplace safety? Electrical and building inspectors may never know the specifics of equipment purchased and installed in a healthcare facility. Sometimes a permit has to be pulled. In these cases, the inspector may have an opportunity to get a close look at the equipment. But what about the rest of the time? After all, the day after such an installation might be the day a complex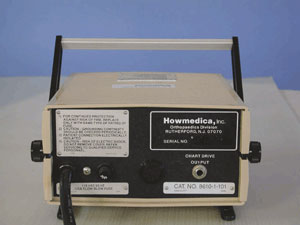 Photo 3. Used equipment for sale: Where's the label? This equipment was found for sale on the internet, using the search phrase "Used medical equipment."
piece of equipment arrives on the dock and needs to be connected or plugged in. Who is responsible now? Will someone exercise the authority needed for public and employee safety?
Hospital and Biomedical Engineering, Purchasing
In the hospital, there may be several people with the authority to carry on the role of the inspector, whether or not they realize this role. Hospital engineers can oversee electrical equipment installations, biomedical engineers test and repair equipment. Purchasing managers can specify equipment listing and labeling requirements in purchase orders and contracts. In many hospitals, purchasing and materials management inspects equipment before it is delivered to biomedical or hospital engineering departments. Many hospitals do not. What about doctor's offices and clinics?
Many states and jurisdictions have lists of acceptable third party testing agencies qualified to list, label, and field evaluate non-certified equipment. Most of our inspectors are familiar with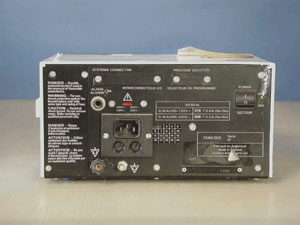 Photo 4. Used equipment for sale: Where's the label? This equipment was found for sale on the internet, using the search phrase "Used medical equipment."
these lists, and many reference the OSHA Nationally Recognized Testing Laboratory (NFTL) listwww.osha.gov/dts/otpca/nrtl/index.-html. This list can be accessed on thewww.osha.govwebsite, by selecting "n" on the alphabetical index, then scrolling down to the Nationally Recognized Testing Laboratory link. This site also shows examples of certification marks:
Do all purchasing departments inspect incoming equipment for these marks? Do all biomedical technicians look for these marks before testing and applying an "approved" label?
Photo 3, Photo 4, and Photo 5. Used equipment for sale: Where's the label? This equipment was found for sale on the internet, using the search phrase "Used medical equipment."
John Palmer, clinical engineering manager for Carolinas HealthCare System in Charlotte, NC, explains how their system works: "We have an understanding with the Materials Management department that all purchases for medical equipment must be approved by the director of corporate clinical engineering. This opportunity allows us to ensure all the proper certifications are in place before the equipment arrives at the hospital. Additionally, Clinical Engineering checks in all medical equipment upon arrival whether it is a new purchase, demonstration, loaner or evaluation to ensure the proper requirements are met."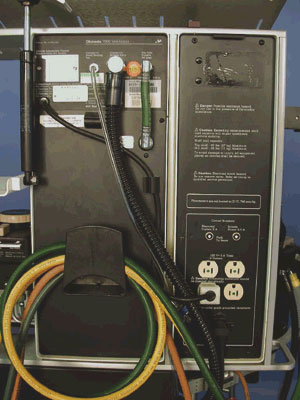 Photo 5. Used equipment for sale: Where's the label? This equipment was found for sale on the internet, using the search phrase "Used medical equipment."
As John and his staff know, most certification marks will be placed on the product near the electrical ratings label. If a product does not have a certification mark or an electrical rating label, it is most likely not certified. If the product markings or ratings are questionable, or appear incomplete, the testing laboratory can verify the status of the product manufacturer, model and serial number. Then, if it is determined that the equipment is not certified, a decision can be made. The healthcare facility can ask the manufacturer or distributor to have the equipment field evaluated, or decide to look for an alternate source. In some cases, the hospital might elect to pay for the evaluation, or share the cost with the manufacturer.
The Tests
So, what do these certification marks mean? There are some common misconceptions regarding the differences between tests that biomedical engineers perform and the product certification evaluation and testing undertaken by a testing laboratory. Preventive maintenance and periodic safety tests are not safety certification. While it is true that these tests are very important, and have prevented many potential disasters, they are not safety certification. To further confuse the issue, the "CE" label appears everywhere, and is represented as an assurance of electrical safety. Unfortunately, a "CE" mark, by itself, means nothing in comparison to the North American conformance assessment processes. "CE" stands for "conformity European" and that means the product meets the Europeon directives. This is a summary of the differences: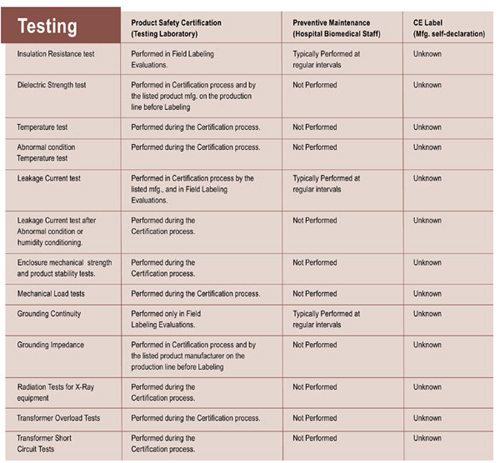 Table 1. Summary of differences between tests that biomedical engineers perform and the product certification evaluation and testing undertaken by a testing laboratory
As this table illustrates, there are critical differences. Very often listing certification testing is potentially destructive in nature, or required to be intentionally destructive. For example, abnormal condition testing for temperature may include blocking the vents on a product. Other tests may also be required, such as: short circuit tests, hazardous energy tests, flammability of plastic enclosures, over-voltage tests, leakage current and dielectric strength after humidity conditioning, stability and impact, grounding system impedance, and many more. All these tests are related to undesirable consequences in product failure, resulting in shock or electrocution, combustion, fires and explosions, even chemical and radiation injuries and deaths. Testing laboratory project engineers use current product standards and receive intensive training to select these tests and make sure they can be repeated with the same results. Some of these tests rely on special circuits specified by the product standards. Without a test program indicated by the product safety standard, all the passing and failing results might never be seen.
Column 3, preventive maintenance, shows which of these tests are performed by biomedical or clinical engineering staff in a hospital or clinic. These tests are critical, even for a testing laboratory certified product. All the pieces of medical equipment represent an enormous investment to a healthcare facility, and when a regular testing program is established, a higher level of safety is achieved. In this way, testing laboratory and biomedical engineers work together to ensure a "healthy" lifetime for the equipment. Still, these tests represent only a small number of the tests required by the testing laboratory. Without a certified product, these preventive maintenance tests may only protect us for a short period of time.
As column 4 shows, products marked only with ""CE"" represent even more unknowns. Some of these products only bear the letters, and nothing else has been done. Some come with paperwork from the manufacturer assuring us that the product meets certain U.S. standards or European directives. In some cases, actual testing has been done, but in many instances, the manufacturer does not even have any staff qualified to perform tests or review the applicable requirements. Testing laboratory engineers often get to see if these CE marked products really comply. They rarely do. Some are so far from safety compliance that the company has to completely redesign their product.
The Evaluation
Certified products also undergo rigorous construction evaluation. Many pieces of non-certified equipment may pass the basic biomedical engineering tests, but due to their construction, represent a high degree of risk. Incorrect construction can result in internal wiring and component failure. These failures are likely to result in electrical fire, electrical shock hazard, energy hazard, chemical hazards, radiation or mechanical hazards. These hazards directly affect the well being of the medical staff and patients.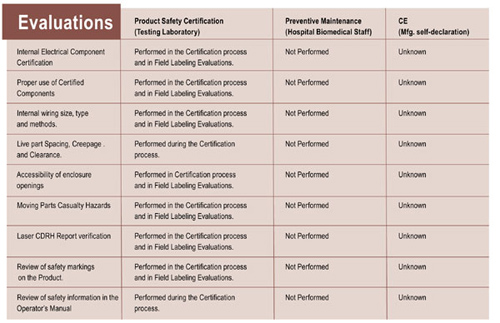 Table 2. Comparison of evaluations performed by testing labs, hospital biomedical engineers and self-declaring manufacturers
In this table, you can see that the testing laboratory performs the only evaluation that will ever be done. Hospital biomedical engineers or contract biomedical testing technicians will most likely never be aware of these evaluation categories. Again, a CE mark gives no assurance these evaluations have been done. Some equipment manufacturers mistakenly assume that building a product from certified or "recognized"" components assure their equipment won't cause fire or electrocution. In product evaluation, we see that there are unlimited ways of combining certified components in an electrical product. Unfortunately, many of these construction methods might result in electrical fire or shock.
Doctor and Dentist Offices Are Healthcare Facilities
NEC 517.2 defines a healthcare facility as "Buildings or portions of buildings in which medical, dental, psychiatric, nursing, obstetrical or surgical care are provided. Health care facilities include, but are not limited to, hospitals, nursing homes, limited care facilities, clinics, medical and dental offices, and ambulatory care centers, whether permanent or moveable." For some reason, many people don't consider doctor and dentist offices to be healthcare facilities. Even chiropractors' offices are healthcare facilities by this definition, because they use, for example, electrically operated beds. Next time you are in your doctor's office, take a look around. Is the equipment certified by an approved testing agency? Are the receptacles in patient areas "hospital grade"? Is the equipment subject to preventive maintenance tests and safety testing? Again, our records and the records of other testing labs show that many jurisdictions may not be paying particular attention to these facilities. The jurisdictions that do scrutinize these facilities are asking questions about equipment that will be installed and plugged in. Owners of these facilities are asked to show proof that their equipment will not be hazardous to their patients before being granted their certificate of occupancy. The proof required is a listing certification mark or a field evaluation label.
Leakage Current, IT and Television Equipment
Many product standards include requirements for leakage current testing, but the testing for medical products has the most stringent and specific of these tests and acceptable limits. For example, there are different requirements for patient vicinity, non-patient vicinity, isolated patient contact, non-isolated patient contact, and patient applied voltage. In general, leakage current can be defined as the amount of current that flows through the grounding conductor, and would flow through the human body if a piece of equipment lost its grounding conductor. Only a few years back, it was discovered that patients were dying on the operating table from small amounts of current. As it turns out, the human body is especially susceptible to electrical shock when the skin is broken or open. It only takes a small amount of current in direct contact with the skin to cause cardiac arrest in a healthy person. With patients in healthcare facilities, the acceptable limits are very low, measured in microamperes. Some limits for leakage current are as low as 10 microamperes.
Medical products are certified with the end use specified in the manuals. Sometimes certified products end up in the wrong place. For example, an ordinary television or office computer may end up in a patient area or surgery room. These products would most likely not pass the requirements for medical equipment. In a situation where a patient was especially vulnerable, they could cause shock or cardiac arrest. Keep in mind, healthcare workers are often touching the equipment and the patient at the same time, increasing the exposure to hazards from improper equipment.
For the Benefit of My Patients
The above powerful words of Hippocrates have been sworn to by medical professionals for centuries. However, in the 21st century, the implications are new. The practice of medicine is inextricably tied to the equipment we use, and the electricity that powers it. Many doctors, nurses and health clinic employees are unaware of the requirements for equipment certification. Doctor's offices, urgent care facilities, dentists and eye doctors do not have engineering departments, and few have contracted biomedical engineering firms to test their equipment. Does this mean that doctors might be unintentionally doing harm to the patients they are sworn to protect?
The facts are evident when we look at the results from field evaluations of healthcare equipment. We knew the numbers were high, just from remembering how many pieces of medical and laboratory equipment failed on the first inspection. Still, it is surprising to see the types and amounts of serious hazards this non-certified equipment represents. These days, a good percentage of the new equipment being sold is safety certified at the factory, but the amount of used equipment still in use and still being sold is staggering. From the testing records, we estimate that 8 out of 10 pieces of equipment field-evaluated failed on the first evaluation. After this initial evaluation, these healthcare facilities often elect to discontinue use of some equipment, rather than attempt to get the manufacturer or distributor to make changes and repairs. The failures uncovered are critical, including: risk of fire; risk of electrical shock; incorrect grounding methods; unknown flammability of plastic enclosures; non-certified components and test failures.
Knowing this, will you have that false sense of security the next time you go to the hospital or doctor's office? Ask some questions, look at the equipment being used. If you cannot immediately determine if a product has been safety certified, ask your nurse or doctor. If they are unsure, ask if you can speak to someone in biomedical engineering or hospital engineering. Ask if they know about the rules for equipment purchasing, and what kinds of incoming inspections are performed. If you can't get any satisfactory answers, there may be trouble in your healthcare facility. You may want to make some calls to some other facilities, check with some safety organizations. After all, this is where we take our families, and there may come a day when our citizens are calling you, asking these questions.
Together, we have the responsibility, some of us actually have the authority. Consider the definition of authority having jurisdiction from the NEC, and the phrase, "statutory authority." Since statutory is defined as "enacted, regulated, or authorized by statute." Statutory authority for healthcare facilities may include a number of local or state people, but most certainly the electrical inspector. On hospital construction projects, our AHJs will most likely be aware that equipment is being installed that needs to be examined for a testing laboratory certification or labeling. X-ray and nuclear medicine, physical plant equipment and HVAC, water purification equipment will be inspected for the correct safety certifications. But what about the equipment that comes later? What about all the cord-connected equipment that will be brought in? Many inspectors are unaware of the dangers posed by non-certified equipment that is cord-connected. In fact, cord-connected equipment is more likely to lose its ground and expose people to leakage current and shock. Unfortunately, our inspectors may never get to see this equipment.
Get more involved with your electrical safety counterparts in the healthcare community, especially biomedical engineering and hospital engineering professionals. City/county electrical inspectors and testing laboratory inspectors can benefit from an association with these people and their organizations. For example, on a national level, there are ASHE and AAMI. ASHE is the American Society for Healthcare Engineering; their website iswww.ashe.org. AAMI is the Association for the Advancement of Medical Instrumentation, and can be found atwww.aami.org. On your state level, there are also many resources you can call upon. For example, in North Carolina, there are the NC Biomedical Association (NCBA), and the NC Healthcare Engineer Association (NCHEA). In Florida there is the Florida Healthcare Engineering Association (FHEA), working with the Agency for Healthcare Administration (ACHA). These are just some examples of the organizations available for your interaction. Consider making arrangements to visit your local hospitals and clinics. It might be beneficial to attend their meetings, and invite them to yours. Working together, we can help to increase the level of safety in our healthcare facilities.
Equipment that has not been tested by an accredited testing laboratory represents potential risks to patients, doctors, and other medical and service personnel. Healthcare engineering, biomed departments and contract biomed service companies need to be aware of these risks, and be vigilant in reporting any non-certified equipment to their risk management and facilities engineering departments. But when it doesn't get reported, it will still be there: in your jurisdictions, in our communities.