The traditional distinction between MC and AC cable applications is changing because of a new interlocked armor ground Type MC cable. In the last few years, contractors have been using Type MC cable for branch circuits because of the installed-cost savings MC delivers. Now, a new form of Type MC —MCAP™ cable — promises to reduce installation time further. In addition, the new cable can also be utilized in applications formerly reserved for Type AC cable, increasing productivity.
For both those reasons, MCAPcable and its health-care-facility version, HCF MCAPcable, are likely to be encountered by inspectors in the field. This article will update you with the latest information and background regarding the new cable, as well as provide the information you will need to recognize it and determine proper installations.
Although the new product resembles ordinary Type MC or AC cable, it differs in several respects that will be noticeable during an inspection (see figure 1).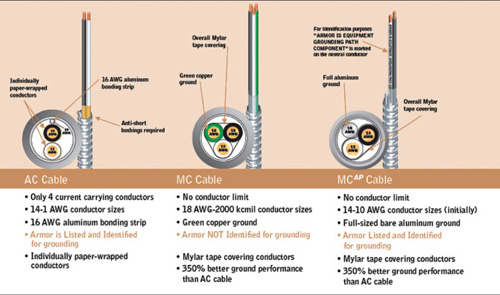 Figure 1. Cable differences
What Is MCAPCable?
MCAPcable is Type MC cable constructed with THHN copper insulated circuit conductors and interlocked armor that is listed and identified for grounding. Prior to Alflex being acquired by the Southwire Company, the cable was originally referred to as MC SMART. After considering potential cable applications, Southwire decided to change the product name to MCAPcable to better reflect the all-purpose aspect of the product. The "AP" in MCAPstands for All-Purpose, which means that MCAPcable can be used in both MC and AC cable applications. The dual use is permitted because the armor of MCAP cable is listed and identified as a suitable equipment grounding path, unlike conventional MC.
Here's How the Armor Ground Path Works
A full-sized bare aluminum grounding conductor, located outside the Mylar tape covering, is in direct contact with the interlocked armor throughout the entire cable length. This allows the armor of MCAPcable to serve as an equipment grounding conductor with full UL® and NEC® compliance. The MCAPcable armor ground path is equivalent to the green copper ground in conventional MC cable. Unlike Type AC cable, the bare aluminum ground conductor increases based on the size of the copper circuit conductors just like the green ground in conventional MC Cable. For example, an MCAPcable with 10 AWG copper circuit conductors would contain an 8 AWG aluminum grounding conductor (see figure 2).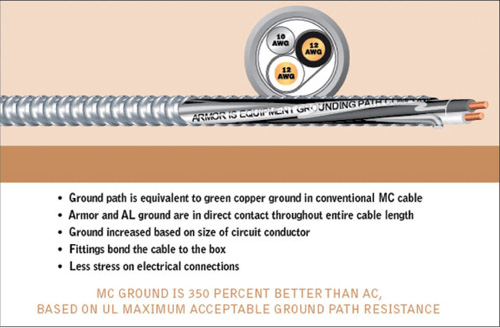 Figure 2. Interlocked armor ground MC
Armor Ground Yields Productivity Benefits
UL-listed and NEC-compliant, MCAP and HCF MCAPcables provide an innovative built-in armor ground that eliminates the need to make up equipment grounding conductors in every outlet box, luminaire, and panel. One immediate benefit for contractors is that with MCAPcable, there's no need for separate equipment grounding conductor connections inside the box. This may sound like a small detail, but MCAPcable can make a big difference in the contractor's installation time and total installed costs.
With MCAPcable, contractors save time in every box, outlet, light fixture and panelboard, over and over again. Where contractors install hundreds — or thousands — of cables, outlet boxes, and luminaires in a project, the time savings can really add up. Branch circuit make-up productivity can jump by 20 to 30 percent. That's why you're likely to see MCAPcable on the job site.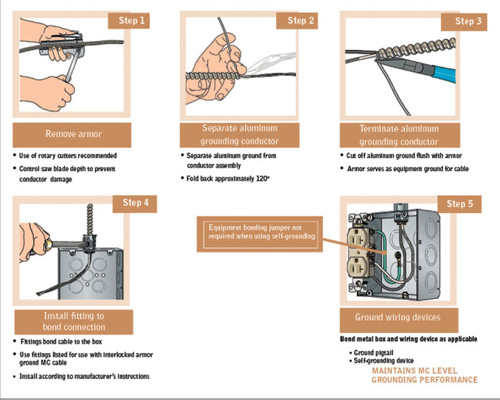 Figure 3. 5-step installation process
Installation Instructions Provided with Every Reel and Coil
Installation instructions are required by UL to be provided with every reel and coil. When MCAPcable is installed, the installer cuts the aluminum grounding conductor flush with the armor, then secures the cable into a fitting listed for the new cable. The listed fitting provides a bonding connection between the armor and the box. An effective ground-fault current path is established because the armor is equivalent to the green insulated equipment grounding conductor in a conventional MC cable.
With self-grounding wiring devices, no equipment bonding jumper between the device and the box is needed. If the wiring device is not self-grounding, a bonding jumper from the device to the box is required. See figure 3 for the 5-step installation process.
The use of the armor as an equipment grounding conductor path distinguishes MCAP cable from conventional MC cable.
Listing Process for Cable and Fittings Now 100% Complete
The new armor ground system in MCAPcable is the culmination of several years of development, testing, UL standard changes, and UL listing. To give a sense of the time required to move a new electrical product through the approval processes, an early article about MCAPcable (formerly MC SMART) appeared in this magazine in May 2004.1 At that time, nearly four years of development had already gone into the design. Some of the descriptive information in this article is based on that earlier piece.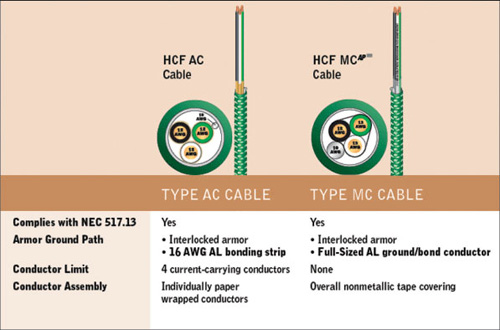 Figure 4. HCF MCAP cable is the first interlocked armor MC cable that meets NEC requirements for redundant equipment grounding conductor paths in health care facilities.
Since that article, additional changes have taken place in both the product and the related documentation. Some of those changes were based on comments from inspectors who were involved in UL's Standards Technical Panels.
The UL-listed method for terminating the aluminum grounding/bonding conductor changed. Folding back and placing the aluminum ground under the fitting was revised to cutting off the aluminum ground flush with the armor to eliminate potential interference with the fitting cable securement means.
UL 514B Standards for Fittings was revised to include references, listing criteria, and marking requirements for "interlocked armor ground MC Cable." This process alone took a year and a half, and involved close coordination between the cable manufacturer and the fitting manufacturers.
UL Guide Information for MC Cables, MC Cable fittings and Metallic Outlet boxes have also been updated to reflect the new interlocked armor ground MC Cable Listings, markings and grounding over 250 volts. MC Cable Fittings listed for use with cable Type MCI-A under category PJOX are suitable for bonding over and under 250 volts. See excerpts from the UL guide information provided below.
All boxes with eccentric or concentric knockouts listed under category QCIT are suitable for grounding and bonding over and under 250 volts. See excerpts from UL Guide information provided below.
UL White Book Information
The following key excerpts regarding MCAPhave been taken from UL's Online Certification Directory and can be found on UL's website,www.ul.com.
UL Online Certifications Directory
PJAZ.Guide Info
Metal-Clad Cable
General
"Cable with interlocked armor that has been determined to be suitable for use as a grounding means has interlocked aluminum armor in direct contact with a single, full-sized, bare aluminum grounding/bonding conductor. This cable is marked to indicate that the armor/grounding conductor combination is suitable for ground."
Product Markings
"Cable with an interlocked armor that is intended as a ground path is marked 'armor is grounding path component,' and is provided with installation instructions."
UL Online Certifications Directory
QCIT.GuideInfo
Metallic Outlet Boxes
Concentric or Eccentric Knockouts
"All boxes with concentric or eccentric knockouts have been investigated for bonding and are suitable for bonding without any additional bonding means around concentric (or eccentric) knockouts where used in circuits above or below 250 V and may be marked as such."
UL Online Certifications Directory
PJOX.GuideInfo
Metal-clad Cable Connectors, Type MC
General
"This category covers … (b) metal-clad interlocking armor ground cable" (MCAPand HCF MCAPcables.)
Grounding
"Metal-clad connectors for use with metal-clad interlocking armor ground cable … are considered suitable for grounding for use in circuits over and under 250 V and where installed in accordance with … National Electrical Code."
Additional Benefits
As an alternative to conventional AC cable, MCAPcable yields significant benefits. To begin with, it reduces termination steps, compared to AC (see table 1).
More conductors than AC
Types AC and AC cables for health care facilities are limited to four current-carrying conductors. MCAPand HCF MCAPcables have no limits on the number of conductors in a cable. That means you may see multiple neutrals and home run cables where MCAPcable is used, even in health care facilities.
Equipment grounding conductor capacity
The armor of MCAPcable delivers 350 percent more effective ground-fault current path capacity than AC. This is based on the UL maximum permitted armor resistance for MC and AC cables. With the addition of a green insulated grounding conductor, HCF MCAPcable meets NEC 517.13 requirements for health care facilities.
No bushings, less support than AC
Because MCAPand HCF MCAPcables are Type MC products, they require no anti-short bushings where the armor has been cut. For more information regarding the use of anti-short bushings, refer to NEMA's Engineering Bulletin No. 90, "Use of Anti-Short Bushings for Terminating Type MC Cable" (available atwww.NEMA.org). In addition, they require less securing and supporting than Type AC cables. Like conventional MC, MCAPand HCF MCAPcables need support only every six feet, compared with 4.5 feet for the AC constructions.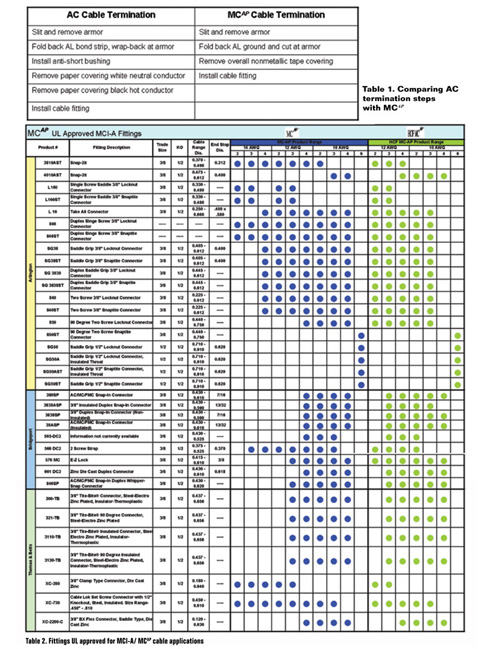 Table 1. Comparing AC termination steps with MCAP
First Interlocked Armor Type MC Cable for Health Care Facilities
HCF MCAPcable is the first interlocked armor MC cable that meets NEC 517.13 requirements for redundant equipment grounding conductor paths in health care facilities, and, as noted above, HCF MCAPcable has a 350 percent better ground-fault current path in the armor than the armor of AC cable suitable for use in health care facilities. Figure 5 shows a comparison of HCF MCAP cable with AC cable suitable for use in health care facilities.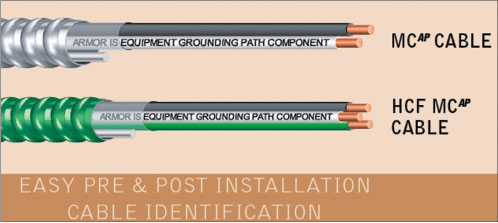 Figure 5. Pre and post cable identification
Identification of MCAPCable
Coils of MCAPcable will be shrink-wrapped and color-coded to identify gauge and voltage. This will make it easier to identify MCAPcable and to distinguish it from AC and standard MC. Every package of MCAPcable will carry an identification tag that indicates the cable type and the information that the armor and grounding conductor combined are an effective ground-fault current path. The tag also provides installation instructions.
For post-installation identification, the white neutral (ungrounded) current-carrying conductor of MCAPcable is marked "armor is equipment grounding path component." The conductor marking makes it easy to identify MCAP cable after installation (see figure 5.)
Initial Cable Availability Includes Common Conductor Sizes
Inspectors will see MCAPand HCF MCAPcables first in branch circuit sizes from 14 to 10 AWG, with 120 V and 277 V conductor colors. Other conductor combinations will be available later.
MCAPand HCF MCAPcables are rated for 90ËšC dry locations and for use in cable trays. They are also classified for use in one-, two- and three-hour through penetration systems. The UL Online Certification Directory provides more detail on these applications.
Table 2. Fittings UL approved for MCI-A/MCAP cable applications
Listed Fittings and Boxes Are Now Available
Fittings used with MCAPand HC MCAPcables must be listed for use with MCAPcable, or for use with interlocked armor ground MC cable, and are marked for use with
Type MCI-A cable. Tables 2 and 3 show a list of approved fittings and boxes.
Field Inspection Guidelines for MCAPcable
Here is a list of details to verify for when inspecting installations of MCAPand HC MCAPcables.
Aluminum ground conductor cut flush with armor
MC Cable Fitting packaging marked MCI-A
Installation instructions are followed based on instruction tag included with every package of MCAPcable.
Bonding jumpers are required on non-self-grounding devices only.
Post installation identification via white neutral (ungrounded) current-carrying conductor is marked "armor is equipment grounding path component."
Support required every six feet.
MCAPand HCF MCAPcables are allowed in
— Branch circuits
— Exposed or concealed dry locations
— Cable trays
— Places of assembly
Educational Efforts Are On-Going
Southwire Company, manufacturer of MCAPcable is actively engaged in efforts to educate and increase awareness of this new form of MC cable with contractors and the inspection community. Additional information is available on the manufacturer's Web site atwww.Southwire.com.
1New Products Don't Grow on Trees!,Trainor, Thomas and Johnston, Michael J.,IAEI News, May-June, 2004, pp. 36 – 45.