The European Union leads the world through enacting sweeping and comprehensive environmental regulations. The latest regulatory enactment is the EuP (Energy-using Products) directive 2005/32/EC. Global electrical and electronic manufacturers should take notice. This directive applies to all energy-using products, except those used for transporting persons or goods.
Although the directive applies to any energy input, including fossil fuels and renewable energy sources, electricity is clearly singled out for potential improvements in energy efficiency. The directive predicts electricity will be the fastest growing energy end-use category in Europe over the next twenty to thirty years.1
At first glance, the EuP directive may appear similar to the other codes / standards / regulations in the United States. For example, ENERGY STAR, a joint program of the U.S. Environmental Protection Agency and the U.S. Department of Energy, is a voluntary labeling program to identify and promote energy-efficient products. The ENERGY STAR rating is now found on major appliances, office equipment, lighting, home electronics, and more. EPA has also extended the label to cover new homes and commercial and industrial buildings.2 However, unlike the EuP directive, ENERGY STAR is exclusively focused on energy consumption.
Individual state codes in the U.S. also target energy consumption. For example, specific codes and products have been developed to combat heat loss in a building, which can adversely affect overall energy efficiency and ultimately the utility bill. It is interesting to note that small areas such as electrical outlets and wall switches can make a significant difference. Some tests indicate that up to 20 percent of the total air leakage heat losses in existing houses can occur through the electrical outlets.3 In order to address this issue, the Minnesota Energy Code specifically requires that barriers against air leakage must be installed to prevent moisture-laden air from escaping from the conditioned space into the building envelope.4 Various electrical outlet box manufacturers offer a foam gasket to seal the exposed areas in order to comply with this code (see photo 1, showing the product in this application).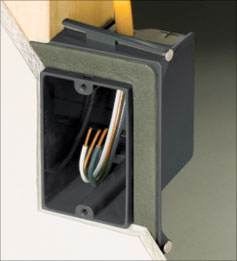 Photo 1. A foam gasket seals the exposed areas in order to comply with the code that requires barriers against air leakage to prevent moisture-laden air from escaping from the conditioned space into the building envelope. Photo courtesy Thomas & Betts
The EuP directive, however, takes a much more holistic approach to providing solutions for protecting the environment. Instead of focusing on energy conservation alone, it strives to reduce the total environmental impact of each energy-using product during its entire lifecycle, from concept to disposal (or recycling). It all starts with the most important phase of the product lifecycle, the ecodesign phase, where environmental concepts are integrated into the product design. The entire environmental performance of the EuP throughout its lifecycle is determined at this initial stage.5
Key points for consideration at this development stage include:
What materials should be used to make this product? Are they environmentally friendly and safe for human use?
How will this product be made? Will its production negatively impact the environment?
How will it be packaged, transported, and distributed?
How will it be used?
How will it be maintained? How much will it cost to maintain it?
Without compromising the functionality of the product, how much energy efficiency can be achieved?
What type of noise, vibration, radiation, and electromagnetic fields will this product generate?
How long will these products last?
What issues can arise with the end-of-life disposal? Will there be any environmental impact with disposal?
What is the best way to collect and recycle the material contents?
A comprehensive ecodesign phase becomes a significant, but necessary, change from the current norm. All manufacturers must address—and forward-thinking manufacturers will embrace—these challenges by implementing internal, structural, and design approach changes. Ecodesign is at the heart of the EuP directive as the most effective strategy for improving the cumulative environmental impact of a product throughout its entire lifecycle.
To prioritize its efforts, the European Community plans to target products that represent a significant volume of sales and trade—more than 200,000 units a year within Europe according to most recent available figures.6 The directive will be implemented in phases by product category. The following categories have been identified as having the greatest potential for cost-effective reductions in greenhouse gas emissions:
Heating and water heating equipment
Electric motor systems
Lighting, in both the domestic and tertiary sectors
Domestic appliances
Office equipment, in both the domestic and tertiary sectors
Consumer electronics
HVAC (heating ventilating air conditioning) systems7
As a European directive, why should U.S. manufacturers be concerned? Regardless of origination, this directive will globally impact the manufacturing of electric and electronic devices.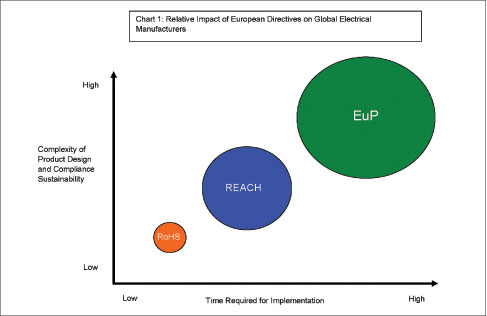 Chart 1. Relative impact of European Directives on Global Electrical Manufacturers
A wave of environmental concern continues to sweep each and every continent, with regulations in individual countries being implemented and revised based on changes around the globe. In this respect, the European Community leads the way. The impact of other European directives like RoHS (Restriction of Hazardous Substances), WEEE (Waste of Electrical and Electronic Equipment), and REACH (Registration, Evaluation, Authorization of Chemicals) can be felt as far away as China, Korea, and Japan, which have already adopted their own versions of these regulations. Closer to home, Massachusetts and California have passed laws that, in part, mimic these European directives (and in crucial aspects go beyond the European directives), and many other states are preparing to follow suit.
There exists growing concern that proliferation of these regulations at the state level could create a nightmare for manufacturers. In order to avoid this scenario, NEMA (National Electrical Manufacturers Association) approached Congress to adopt a federal regulation very closely related to the European directives in order to preempt further state regulations. NEMA also encourages its members to proactively respond to these challenges by setting aggressive goals for eliminating hazardous substances in electrical products.8
A recent comprehensive report published by the University of Massachusetts Lowell concludes that the 30-year-old Toxic Substance Control Act (TSCA) has proved largely ineffective at restricting problem chemicals in commerce or at minimizing or mitigating their harm to humans and the environment. The report calls for far-reaching changes in U.S. regulations and recommends solutions similar to the European REACH directive.9
Independent of, or perhaps spurred by, government regulations, some industries are adopting and incorporating similar environmental measures through voluntary programs. The U.S. Green Building Council, the foremost coalition of leaders from across the building industry in the U.S., sponsors a LEED (Leading in Energy and Environmental Design) Rating System for green, high-performance buildings. This rating system provides credits based on sustainable planning, water efficiency and management, energy and atmosphere performance, materials and resources used, indoor environment quality, and innovation and design.10 This comprehensive approach to environmental planning and management throughout the lifecycle of the product closely resembles the European directives.
Rapid growth of the LEED rating system in high-profile projects in the U.S. and around the world clearly evidences that this trend will shape the future in which we will live.11 If we look closely, there exist common themes and objectives that unify all of these directives / regulations / laws / certifications. The bottom line remains that societies and governments possess a heightened awareness of our limited energy resources and environmental impact, and these concerns can no longer be regarded as regional or local issues.
What will be the exact impact of the EuP directive on U.S. electrical and electronic manufacturers? While difficult to quantify precisely, it is clear that U.S. companies must rethink product development and manufacturing to respond to these challenges. Proactive manufacturers will develop opportunities to further differentiate their products from those of their competitors. Manufacturers that develop innovative solutions for providing the most energy-efficient products with the fewest environmental negatives will be positioned to gain significant advantages from this new regulation.
References
1 Official Journal of the European Union, 22.7.2005 Directive 2005/32/ of the European Parliament and of the Council page 1
2 History of ENERGY STAR, www.energystar.gov
3 Home Energy Guide, Minnesota Department of Commerce, page 8
4 Minnesota Energy Code, Chapter 7670, Department of Public Service, Energy Division
5 Official Journal of the European Union, 22.7.2005 Directive 2005/32/ of the European Parliament and of the Council, Article 2
6 Official Journal of the European Union, 22.7.2005 Directive 2005/32/ of the European Parliament and of the Council, Article 15 (2) (a)
7 Official Journal of the European Union, 22.7.2005 Directive 2005/32/ of the European Parliament and of the Council, Article 16 (2)
8 NEMA Environmental "Call to Action", Goals and Statement of Principles,www.nema.org
9 Option for State Chemical Policy Reform, Lowell Center for Sustainable Production, January 2008
10 New Construction & Major Renovation, Reference Guide, Version 2.2, USGBC, Sept. 2006, p. 14
11 Cities Around the World Are 'Going Green', Voice of America, Dana Demange, 3/18/2008