Was this done to encourage pole-ish jokes? Where was the building inspector? Where was the electrical inspector? I understand the contractor obtained a building permit and when the addition of the bar to the restaurant was complete, the owner received a certificate of occupancy. On the good side, the roofer did a great job of installing flashing around the pole so the roof wouldn't leak. The cement contractor poured a beautiful floor around the pole. The bottom twenty feet of the pole would probably last a long time. For a few weeks, the pole was a substantial support for a pretty sign inside the bar advertising a particular brand of beer, and I'm sure the pole was a common source of discussion until someone in the power company stopped by for a beer.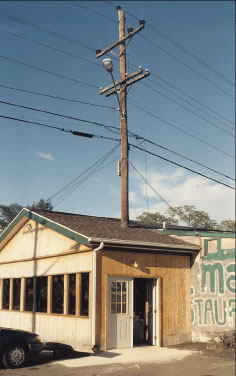 Photo 1. Utility pole through a building
How could this happen? Prior to the construction of the addition, the restaurant and the power lines passing over it were in full compliance with the NEC and the National Electrical Safety Code (NESC). And now? Where in the NEC or NESC does it say you can't install poles inside buildings? OK, so maybe it is a gray area relative to the codes, but the utility that owns the pole considers this to be an infringement upon their right to access the pole for maintenance. Replacing the pole might be a little difficult. Particularly with the concrete slab poured around it. I understand the utility was willing to abandon the bottom twenty feet of the pole in place and set another pole outside the addition for a hefty fee. I understand that the regional department of license and inspection had different ideas. The thought of a creosote treated pole inside a building serving food and drink might have influenced their decision. The addition was removed.
Photos 2 and 3 show a clear violation of the NESC and a dangerous condition. It amazes me how the construction workers built the addition without getting killed. I understand that the homeowner purchased two house lots. The power lines ran down the property line between the two lots. The house was constructed on the lot on the right. The homeowner then had the two-car garage added on to the left side of the house. The addition extended under the power lines into the adjacent lot. The communications lines rested on the garage roof. The triplex secondary conductor was 18″" above the roof. The two 7200-volt phase conductors were 6′ above the roof. I understand the contractor got a building permit for the addition and the homeowner received a certificate of occupancy. In this case, the homeowner paid the utilities to move their lines.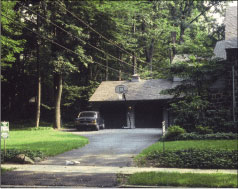 Photo 2. Two-story house
Working Space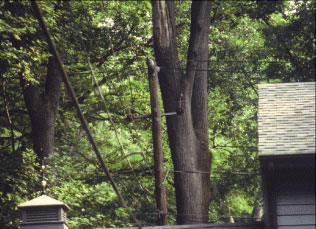 Photo 3. Close-up of lines crossing the garage roof