In most jurisdictions in this country, there has been implemented some version of a building code.
Beyond the quality and safety issue, the electric sign or outline lighting installation shall comply with the building code. The building code, which is either adopted by local ordinance or by state mandate, requires electrical utilization equipment (electric signs) to be installed in accordance with the provisions of NFPA 70, the National Electric Code.
Reprinted from the widely adopted 2009 International Building Code:
Chapter 27 Electrical:
2701.1 Scope.This chapter governs the electrical components, equipment and systems used in building and structures covered by this code. Electrical components, equipment and systems shall be designed and constructed in accordance with the provisions of NFPA 70.
Reprinted from the 2008 National Electric Code (NFPA 70):
ARTICLE 110, Requirements for Electrical Installations.
(B) Installation and Use.Listed or labeled equipment shall be installed and used in accordance with any instructions included in the listing or labeling.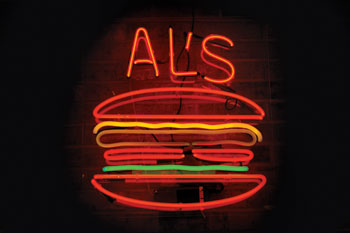 Photo 1
Now whether the local building official or electrical inspector arrives to do the inspection, he or she should have been provided with, or should ask for, the installation instructions, which outline how the listed equipment is to be installed and connected.
Listing and labeling of electric signs demonstrates a company's commitment to the industry that they are committed to build and install safe products. This also demonstrates to their customers and to the general public their commitment to quality and public safety.
ARTICLE 600, Electric Signs and Outline Lighting.
600.3 Listing.
Electric signs, section signs, and outline lighting—fixed, mobile, or portable—shall be listed and installed in conformance with that listing, unless otherwise approved by special permission.
When you arrive to approve the installation and see the listing label, you may just look at the installation, primary electrical connections, remote wired channel letters, (sub-assemblies) or other work completed on site to see that it complies with the code and the installation instructions.
If there is no label, then you must inspect the entire product and provide written special permission if you wish to accept the liability of the product compliance. You may also require a field evaluation or inspection by a certification company, or you may reject the installation.
Why should companies list and label their electric signs?
Listing and labeling starts with a commitment to align your company's manufacturing process to the electric sign standard which applies.
In the United States, electric signs are evaluated to UL 48. In Canada, electric signs are evaluated to CSA C22.2 NO 207-M89-CAN-CSA.
Since there is no harmonized standard for electric signs at this time, the sign manufacturing company will need to submit their product(s) to an approved nationally recognized testing laboratory (NRTL) who can certify that their product complies with the appropriate standard that applies to where the sign will be installed.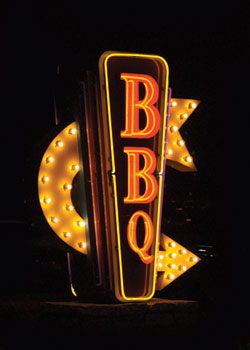 Photo 2
Underwriters Laboratories Inc. (UL) and Canadian Standards Association (CSA) are the only organizations in North America that write and publish standards for the sign industry. Once these organizations publish standards and receive ANSI (American National Standards Institute) approval, they are available to any NRTL to test, certify and list products to these standards.
The United States Department of Labor through the Occupational Safety and Health Administration (OSHA) in the U.S., provides the authority to test and certify NRTLs to provide this service.
You can go to www.OSHA.gov, select Occupational Health and Safety Standards and go to 1910.7 for a complete review of the standard and what is required to become a NRTL or you can Google "OSHA NRTL Presentation" and view a PowerPoint or view slide-by-slide for updated current information.
Current approved providers
I have included the current approved providers as of the date of this newsletter:
Canadian Standards Association (CSA)
(also known as CSA International)
416-747-4000
178 Rexdale Boulevard
Etobicoke (Toronto), Ontario M9W 1R3
Canada
Intertek Testing Services NA, Inc. (ITSNA)
(formerly ETL, Inchcape)
800-345-3851
3933 U.S. Route 11
Cortland, New York 13045
MET Laboratories, Inc. (MET)
800-638-6057
914 West Patapsco Avenue
Baltimore, Maryland 21230
NSF International (NSF)
800-673-6275
789 Dixboro Road
Ann Arbor, Michigan 48105
Email: phillips@nsf.org
TUV America, Inc. (TUVAM)
978-739-7000
5 Cherry Hill Drive
Danvers, Massachusetts 01923
Email: info@tuvam.com
TUV Rheinland of North America, Inc. (TUV)
203-426-0888
12 Commerce Road
Newtown, Connecticut 06470
Underwriters Laboratories Inc. (UL)
847-272-8800
333 Pfingsten Road
Northbrook, Illinois 60062
Wyle Laboratories, Inc. (WL)
256-837-4411
7800 Highway 20 West
P.O. Box 077777
Huntsville, Alabama 35807
Email: service@hnt.wylelabs.com
Important documents
For your information, electric sign manufacturers in the U.S. use UL 48 which is a construction standard, and the NRTLs' follow-up inspectors will do most of the work in their factories. The reason a company in the U.S. would submit a sample is if they would like to provide technology that would, upon testing, meet the intent of the standard, be acceptable, and would become part of their file. In Canada, they have a test standard which requires a sample product to be evaluated at a NRTL's laboratory.
Another important document, provided by UL, is the Sign Accessory Manual (SAM); this ia available at www.ul.com/signs/manual. This manual contains a list of UL Recognized Components, Classified Components and other non-Listed products that have been accepted for use within their conditions of acceptability. This is helpful for those inspecting field-installed products, components and how they can be used in the field.
I always harp on the Conditions of Acceptability. These conditions are how the product has been developed and certified to function safely. Violating these conditions is like taking a knife to a gunfight. For example, damp-rated products will quickly fail in a wet condition. Low-voltage power supplies, not class 2 rated, can produce more power and create early failures, equipment grounding issues, and on and on. Always use the products as intended, in the correct environmental conditions (wet, damp, dry), and as specified in every manufacturer's installation instructions. Installation instructions are a requirement of listing or recognition and should be a common request by local inspection authorities, especially for field-installed channel letters.
The current 14th edition of the standard is vague and these instructions appear more in the follow-up sections (FUII pages) and will become clear when included in the regulations in the proposed 15th edition, under construction at this time.
Your current edition of Neon Lighting, A Professional Advantage should be a must-have document when inspecting electric signs. The publication outlines both the NEC and CEC codes and refers to UL documents, and it provides example drawings, installation instructions and some background information.
Another good document is LED SIGNS—A Technical Overview available from United States Sign Council (USSC); and as a member of IAEI, it is available to you for free. You may contact the office and request a copy at 215-785-1922. I have also written an article as a member service of USSC on inspecting the LED; it is available on my site in PDF format for downloading: www.rkw-consulting.com. Go to "news and Information" and click for a download "LEDs and how to inspect them."
In closing, changes are coming in the National Electric Code 2011 and in the new version of UL 48, in the fifteenth edition. New products are flooding into this country as we become a global economy, and you are the last level of protection concerning electrical safety.