Keeping up with local codes can pose serious challenges for electricians and inspectors, as some states adopt codes locally — not statewide. In some cases, regulations can vary from county to county, which makes keeping track of local policies difficult at best. This edition of Safety in Our States provides an update on the code adoption process across the United States and a look into how one IAEI chapter is working to increase adoption of the latest updates NFPA has to offer by "Cooking Up Safety" in Alabama.
Every three years, the National Electrical Code (NEC) is revised. Then, it is up to the states and, in some cases, local municipalities to adopt the latest updates from the NFPA. The adoption process can take time. As you read this,NEC-2008 is nearly completely embraced across the United States, just in time forNEC-2011 — and so the adoption process begins again.
State Adoption Update
The 2009 September–October issue of IAEI News included an article on the implementation of the latest policies, "NEC-2008 State-by-State Adoption Process Raises the Bar."[1]At that time, the 2008 NEC was reviewed by twenty-eight states, and some states had amendments to the code. There have been nine additional adoptions since the last article, five of whom have had amendments (see table 1). As I write this article, thirty-seven states have gone through the adoption process.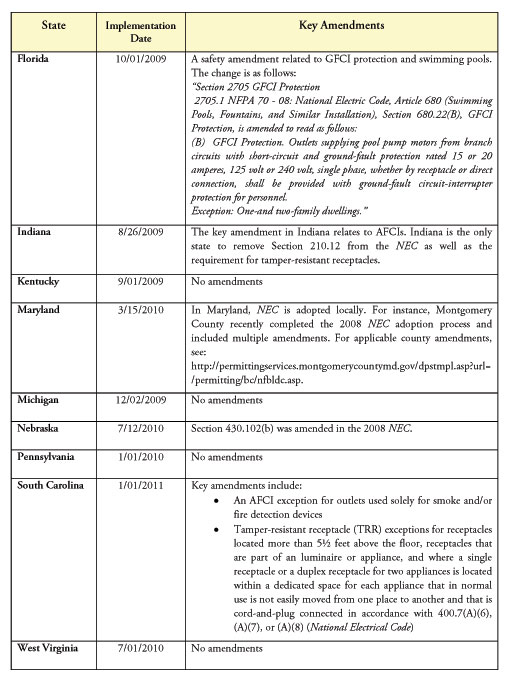 Table 1. The latest states to adopt the 2008 NEC and key amendments and implementation dates by state
Local Adoption States
Understanding how states adopt the latest NEC can be confusing; and when you consider those that do not adopt it statewide, it becomes even more difficult. Fourteen states have some form of location adoption. Seven of those states are strictly local adoption on a county, city or other basis. The other seven states have a state code but local counties/jurisdictions may have amendments. The local-adoption-only states include Alabama, Arizona, Hawaii, Illinois, Kansas, Mississippi and Nevada. While Idaho, Maine, Maryland, Oklahoma, South Carolina, Tennessee and Texas have a state-level code, they permit local amendments. In the latter group of states, NEC-2008 has been adopted at the state level.
Local-adoption states can present difficulties for both inspectors and installers. In some cases, local adoption practices may even present a challenge in understanding the code requirements from one side of the street to another. Unfortunately, in some instances, local jurisdictions may elect to not adopt any code. That said, when not presented with the situation of statewide adoption, a deliberate effort to ensure all local municipalities, counties or cities are on the same version of theNECcan make a difference.
Cooking Up Safety in Alabama
For example, let's take a look at the code adoption in Alabama, which is a local-adoption state. A fundamental part of getting various jurisdictions on the same version of the NEC can be as basic as educating everyone involved. Earlier this year, Donny Cook, chief electrical inspector for Shelby County, hosted a question and answer forum at his IAEI meeting in Shelby County, Alabama. This meeting focused specifically on AFCIs, troubleshooting and installation practices. Selecting a single topic covered by the NEC for a training session can be effective in that it can demonstrate the NFPA process and the detailed information pertaining to the requirement. Including key decision makers in the training is also important. In this case, each manufacturer of AFCIs and UL were represented. The more than 150 attendees at this event included inspectors, electrical contractors, code officials, a home builder and a few real-estate agents.
Events like these are keys to raising awareness of electrical safety and of the need for adopting the latest version NEC. The impact may not be seen immediately. The fruits of these efforts will play out over time. For Alabama, local adoptions include NEC versions ranging from NEC-1999 to NEC-2008. In states with local adoption of the NEC, local adoption is not mandatory. Hence some jurisdictions may not have a code requirement or inspection requirement at all. Alabama is not an exception. This presents issues for the inspectors and the installers. Unfortunately, it is the homeowners who must live with the fact that their homes may not meet the latestNECsafety standards.
Ultimately, education is the key to code adoption, and it is a critical role of the IAEI. That said, leveraging your resources is vital. Together we can make a difference.
References
1 The 2009 article focused on Ground Fault Circuit Interrupters (GFCI), Arc Fault Circuit Interrupters (AFCI) and Tamper Resistant Receptacles (TRR).