The 90-year-old technology of using rubber gloves for shock and leather gloves for protection of the rubber soon could be turned on its head by innovation.
For years, we have heard the question, "What about gloves in arc flash?" The reason this question wasn't answered sooner is complicated, but the standard is now available. ASTM F2675-13, Test Method For Determining Arc Ratings of Hand Protective Products Developed and Used for Electrical Arc Flash Protection, is an ASTM International standard with an approval date of June 1, 2013, that was expected to be published by ASTM International within the month of July. Testing is progressing already, with more than 25 types of gloves tested in the past few years, now having a specific standard to target.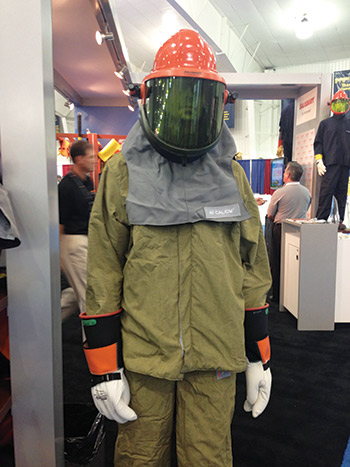 Photo 1
Gloves meeting this standard may not be designed for shock. Only ASTM D120-compliant gloves are currently approved for use for protection from shock, but some ASTM D120 gloves, all of which are made of rubber, have been tested by this method and could begin to be labeled as such in the near future for the information of the end user. The method, however, really was designed for protection from arc flash only, thus the title.
ASTM D120 gloves on the market today are made only of rubber and are primarily for shock protection, though historically, they have been covered with an ASTM F696 leather protector glove and provide excellent arc-flash protection. The rubber gloves, however, can ignite in arc flash, so a small contingent of the ASTM F18 committee wanted them excluded from the required testing to avoid a possible legal requirement that could not be met. However, rubber gloves that have been tested have shown a strong performance in this arc test method, and certain additives could make them even more flame-resistant in the future. Research is ongoing, but some suppliers plan to label their D120 gloves with F2675 arc ratings and ignition values. Check to see if your supplier has data. Different colors will have different results; and the results, to date, have varied between suppliers even with the same colors because the colors are formulated with different additives to achieve the color.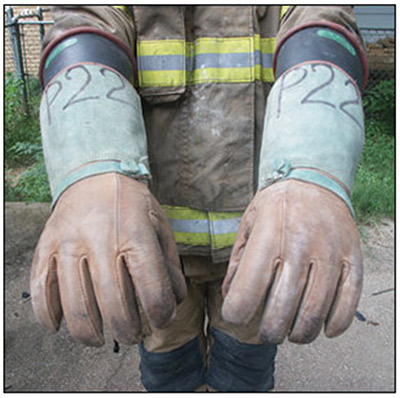 Photo 2.  Rubber gloves with leather protectors are quite protective from arc flashes.  New technologies might make them more flexible and offer a better grip.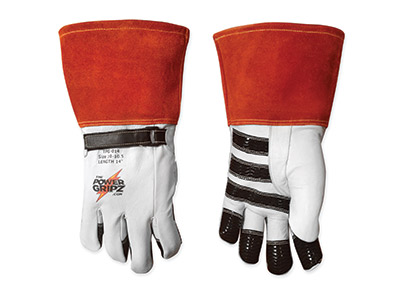 Photo 3.  A new leather protector has patented "grip strips" developed by a Canadian lineman. It also has a 40 cal/cm² arc rating
Advantages for End Users and Manufacturers
So if this standard is for arc-flash gloves that might not meet ASTM D120 for shock, what good are they? The gloves are useful for arc flash as work gloves. If your hazard assessment for an electrical task includes a shock hazard, ASTM D120 gloves are still your only option, with or without a leather protector (see OSHA, NFPA 70E, and ASTM F496 requirements for protector gloves).
Uses for arc flash gloves include the following:
1. "Heavy duty leather gloves" for arc-flash protection (NFPA 70E-2012, Standard for Electrical Safety in the Workplace, required these for several jobs without shock hazards). But because there was no arc flash test method for gloves, the committee had to make the gloves of a certain thickness. Now, the gloves could be made thinner and still meet minimum protection for the hazard.
2. To replace "heavy duty leather work gloves" when they are inadequate for other multiple threats. Non-leather gloves are being worn in more workplaces today. Non-leather specialty gloves that grip when wet or oily can be engineered to make the gloves more task-specific and ergonomically designed. Now, these gloves also can be arc-rated so that a machine operator who is operating a disconnect will have no need to change gloves when the tables are used for arc-flash hazard assessment but needs a cut-resistant para-aramid.
3. The NFPA 70E Table 130.7(C)(15)(a) Hazard/Risk Category Classifications and Use of Rubber Insulating Gloves and Insulated and Insulating Hand Tools-Alternating Current Equipment and 130.7(C)(15)(b) for DC Equipment require "arc-rated gloves" or D120 gloves with F696 leather protectors for certain tasks. Now, there will be "arc-rated gloves" for the non-shock hazard tasks that have arc flash potential.
4. The additional option the ASTM F18 committee is working on now is to allow OSHA-required (1910.137) "protector gloves" to be something other than leather. The 90-year-old technology of using rubber gloves for shock and leather gloves for protection of the rubber soon could be turned on its head by innovation because the cut standards, puncture standards, and now arc-flash standards for gloves are in place to specify new options to protect workers from shock and arc flash while making gloves lighter, thinner, and giving a better grip.
A new glove on the market from Canada is an ASTM F696 leather glove with a patented added polymer strip on part of the palm, making the leather protector glove have improved grip when oily or wet. This was developed by a lineman in Canada and tested for arc flash last year. It is a potential game changer for protectors. Watch for other innovative designs in protectors soon, now that a performance based test method is available.
Because OSHA mentions "protector gloves" in the standards but doesn't call them "leather" (though F696 is listed in the standard as acceptable), it is possible we could see knit "protector gloves" being adopted for low voltage within the year. What other options could we see with test methods to test for real product performance? Could we have other improvements in safety equipment for arc flash? Testing has been driving innovation for several years, so expect change for the better.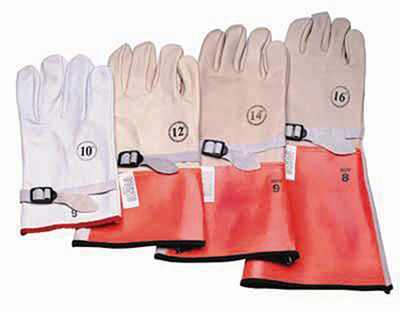 Photo 4: Traditional leather protectors provide puncture, cut and arc flash protection but with this new standard the bar may be raised to allow materials other than leather to be protector gloves with better cut, puncture and even better arc protection in a thinner package.  The possibility is now there.
Selection Considerations
Caution: When selecting gloves for arc flash exposures, two considerations must be followed:
1. Assess the hazard for shock first. If shock hazards exist, use an ASTM D120 rubber insulating glove under the arc flash protector glove and properly match the length of the rubber to be the proper length for the protector gloves. Most companies choose ASTM D696 leather protectors. Additionally, the protector must be shorter than the rubber glove by a distance set in ASTM F496.
2. Assess the arc flash hazard from a realistic distance from the hazard. Most arc flash calculations are for a working distance of 18–36 inches. The hands may well be closer, and this should be considered in the hazard assessment.
Could arc flash crossover, multi-threat gloves for cut, chemical, and arc flash protection be something to consider to update your safety program? Stay tuned as these glove choices increase in the near future.
---
Hugh Hoagland is senior managing partner of e-Hazard.com, a leading provider of arc flash and electrical safety training, and senior consultant at ArcWear.com, the leading testing company for arc rated materials and PPE.
Reference:
Hand Protection — Occupational Health & Safety,
http://ohsonline.com/articles/list/ht-hand-protection.aspx (accessed August 21,
2013).
This article was published in the August 2013 issue of Occupational Health & Safety magazine.
©1105 Media Inc. Reprinted by permission from 1105 Media.