As emergency power systems increase in complexity, increased immunity to power surges is essential in maintaining electrical sustainability. Surge protective devices (SPDs) are a necessary part of the power distribution system for all facilities. Whether incorporating surge panels, surge strips, or surge receptacles, surge protection is a valuable tool for prolonging the life of electrical and electronic equipment.
Introduction
Emergency power systems exist for the purpose of providing an alternate source of electrical power in instances where the normal source of electrical power is interrupted. In many cases, these systems are considered life safety equipment, and are legally required to be installed by local, State, Federal and other governmental building codes. There are a number of codes and standards, such as NFPA 110 Standard for Emergency and Standby Power, NFPA 99 Healthcare Facilities Code, and NFPA 101 Life Safety Code, which dictate the application and performance specifications for these systems.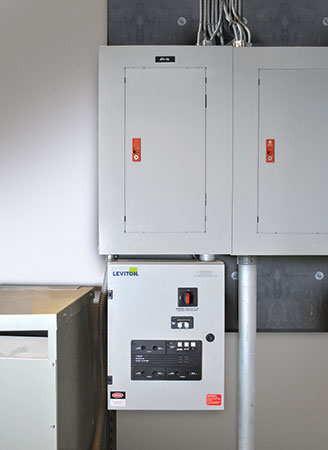 Within NFPA 70  National Electrical Code, Article 700 addresses proper installation, operation and maintenance methods for emergency power systems. Article 700 was developed to ensure the reliability and durability of these systems. A facility may also need to achieve certain emergency system requirements such as a condition of obtaining a permit to operate. The authority having jurisdiction (AHJ) determines whether an emergency system is necessary at any given facility. The AHJ also determines specific emergency system requirements, based on intended use and operations.
Emergency systems provide power for exit lighting when there is a fire or loss of power. The purpose of an emergency system is not to provide power for normal business operations, it is to provide lighting and controls essential for human life. Emergency power systems may also provide power to maintain fire detection and alarm systems, elevators, fire pumps, public safety communications systems and industrial processes where current interruption would produce serious life safety or health hazards, and similar functions.
Sensitive electronic circuits are embedded within the emergency power systems of facilities. These electronics monitor and control the building fire alarm systems, emergency lighting and exit lighting, generator and transfer equipment, and automatic load control relays.
NFPA 70 Code-Making Panel (CMP) 13 recently added "Article 700.8 Surge Protection. A listed SPD shall be installed in or on all emergency systems switchboards and panelboards."
CMP 13 acknowledged that surges could cause failures in emergency electrical systems and requested that the specific levels of surge protection be recommended. A proposal was then entered noting that UL Standard for Safety for Surge Protective Devices, ANSI/UL 1449 Third Edition defines different types and levels of surge protection and indicates where each type can be applied. UL 1449, 3rd Edition certifies SPDs by type depending, in part, on their location in the power system and their tested level of protection. Below is an overview of SPD types with a description related to how they are applied.
"Type 1 – Permanently connected SPDs intended for installation between the secondary of the service transformer and the line side of the service equipment overcurrent device, as well as the load side, … and intended to be installed without an external overcurrent protective device." They must have overcurrent either built in or included with the SPD. Type 1s are intended for installation prior to the main service disconnect; the SPDs can be installed in Type 2 and Type 4 locations, such as end-use equipment. Residential installations are often Type 1, installed near the incoming meter.

"Type 2 – Permanently connected SPDs intended for installation on the load side of the service equipment overcurrent device; including SPDs located at the branch panel…." While some will have internal overcurrent protective components, Type 2 SPDs can rely on the service-entrance overcurrent disconnect device for overcurrent protection. These SPDs can be installed in service equipment, distribution panels, and end-use equipment.

"Type 3 – Point of utilization SPDs, installed at a minimum conductor length of 10 meters (30 ft.) from the electrical service panel to the point of use, for example cord connected, direct plug-in, receptacle type and SPDs installed at the … equipment being protected."

Type 4 – Component SPDs, including discrete components and component assemblies. Permanently installed self-contained SPDs are usually Type 1 or Type 2. SPDs are tested and rated in accordance with UL 1449, 3rd Edition.
The UL standard defines performance requirements for each of these different types of SPDs. Furthermore, IEEE C62.41 makes recommendations of size based on geographic location and incidents of lightning strikes. These are good guides and represent a significant amount of formal research that has been completed to define levels of protection.
The new article (700.8) has been added to improve the sustainability of facility emergency power systems. NEC 700.2 defines emergency power systems as those systems legally required to automatically supply power to designated loads upon loss of normal power.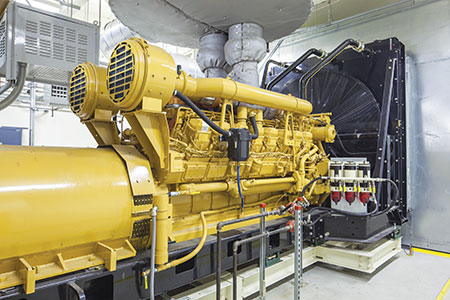 Health care, manufacturing and other facilities where emergency power systems are incorporated require a surge protective device to protect the emergency power system. Emergency power systems typically include voice/alarm communication systems in public buildings or shopping malls, elevators in high-rises and back up lighting systems for emergency exit from the building. Other applications include means of egress illumination, exit signs fire alarms and exhaust ventilation, power operated doors, smoke control systems and critical infrastructure facilities, such as cell towers, financial institutions and airport towers.
Externally mounted surge panels provide the best opportunity for monitoring and maintaining SPDs since the surge panel is typically mounted outside of the service equipment. Surge devices mounted within service-entrance enclosures add risk when maintenance of the SPD is in an environment with energized parts. By definition, servicing an internally mounted SPD causes a forced access into energized parts within the service equipment.
The 2014 NEC Handbook addresses this issue by stating certain provisions to the intent of Article 408.3(A)(2): "Where disconnecting or de-energizing the service conductors supplying a service switchboard or switchgear is not feasible, qualified electricians may be required to work on these switchboards or switchgear with the load terminals de-energized but with the service bus energized. Barriers are required in service switchboards and switchgear to provide physical separation between load terminals and the service busbars and terminals, thus providing some measure of safety against inadvertent contact with line-energized parts during maintenance and installation of new feeders or branch circuits. In most multisection switchboards and switchgear, barriers are not required, because the line-side conductors and busbars are not in the same sections that contain the load terminals."
A conventional SPD installed in a separate panel on the load side of a dedicated service disconnect reduces liability concerns. A facility manager can do maintenance on a dedicated SPD panel by de-energizing the circuit breaker for the SPD and performing the necessary cleaning or repair on a safe and separate de-energized panel.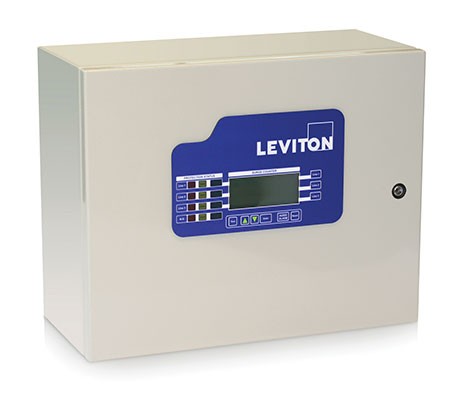 Figure 2 shows an example of an SPD installation with an external panel SPD. The modules inside the panel are replaceable. The panel offers both visual and audible diagnostic to provide user status, and the diagnostics are backed up with a battery back-up system.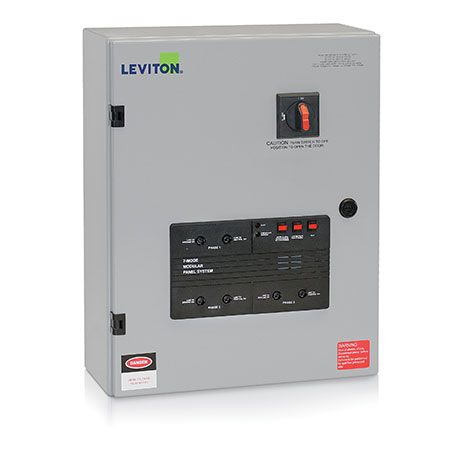 Like many manufacturers, Leviton offers a comprehensive suite of Type 1 and Type 2 surge-protective panels that provide surge protection and additional noise filtering to improve power quality. The line includes models for both 3-phase and single-phase electrical systems up to 600 VAC, with maximum surge current ratings up to 320 kA per mode. Surge panels include a battery backed up diagnostic system and modular platforms incorporate easy-to-replace surge modules — eliminating the need to replace the entire surge panel following a destructive surge event. Leviton surge protective panels are listed to UL 1449, 3rd Edition standards.
Conclusion
After reviewing all the characteristics of the two approaches to applying surge-protective devices it becomes apparent that an external SPD offers significant advantages with regard  to safety, maintenance, performance and ease of use over an internal SPD.
References
1National Electrical Code, 2014 Edition. National Fire Protection Association Inc., Quincy, Ma 02269-9101
2UL Standard for Safety for Surge Protective Devices, ANSI/UL 1449 Third Edition
32007 IEEE Guide for the application of surge protective devices for low voltage (1000 V or less) AC Power Circuits; the C62.72 document states in Paragraph 14.1: page 30
4IEEE-1100 Emerald Book, 8.4.2.5 Surge Protective Device Considerations: page 269