Flooding forces home and business owners to ask many difficult questions about water-damaged electrical equipment in their homes and businesses, such as:
Can I use appliances after they dry out?
Are circuit breakers and fuses safe to use?
Will I need to replace electrical wiring?
Floodwater contaminants can create serious fire hazards if electrical wiring and equipment have been submerged in water. Even with professional cleaning and drying, sediments and toxins are difficult to remove.
As communities begin to clean up after a flood, there may be hidden electrical hazards. Dealing with these hazards is not a do-it-yourself project! Before energizing any electrical equipment have a qualified electrician or electrical inspector check it thoroughly, assess the extent of the damage, and proceed with repair or replacement work.
It is important to follow these important safety tips:
Do not flip on a switch or plug in an appliance until an electrician tells you it is safe.
Do not touch a circuit breaker or replace a fuse with wet hands or while standing on a wet surface. Use a dry plastic- or rubber insulated tool to reset breakers and use only one hand.
Do not allow power cord connections to become wet. Do not remove or bypass the ground pin on a three-prong plug.
Use portable ground-fault circuit-interrupters (GFCIs) to help prevent electrical shock injuries.
If electrical devices such as circuit breakers, receptacles and switches have been submerged, discard and replace them.
When using a wet-dry vacuum cleaner or pressure washer, follow the manufacturer's instructions to avoid electric shock.
Personal Protective Equipment
Any emergency responder, recovery worker or volunteer needs proper personal protective equipment (PPE) when aiding in disaster situations. For this type of response, equipment such as hard hats, safety glasses, waterproof gloves, watertight boots (steel toe preferred), rain gear and hearing protection are recommended. In some cases, respirators may be required.
Not wearing proper PPE can lead to infection, concussions, blindness, punctures/ fractures, trench foot or worse. Bacteria are one of the main risks, with symptoms of infection ranging from a stomachache to fever to vomiting and diarrhea.
PPE for the Head
Workers should wear head protection at any time:
Objects might fall on their heads
They might bump their heads against fixed objects
They work near exposed electrical conductors
Types of Head Protection
Class G (General) helmets (formerly Class A helmets)

General service
Good impact protection
Limited voltage protection

Class E (Electrical) helmets (formerly Class B helmets)

Electrical work
Protect against falling objects and high-voltage shock and burns

Class C (Conductive) helmets

Lightweight and designed for comfort
Offer limited protection
Protect from bumps against fixed objects
Don't protect against falling objects or electric shock
Inspection and Maintenance
Paints/thinners may reduce physical protection or electrical resistance.
Clean shells with detergent, and rinse with clear, hot water.
Do NOT store hard hats in direct sunlight.
Replace damaged helmets!
PPE for the Eyes and Face
Wear eye protection anytime you may be exposed to the hazards that typically cause eye and face injuries. Examples of these hazards include:
Splashes of toxic or corrosive chemicals
Hot liquids and molten metal
Flying objects
Fumes
Gases and mists of toxic or corrosive chemicals
Aerosols of biological substances such as blood
Intense light
Optical radiation
Eye and face protection may include:
Safety glasses
Face shields
Impact-resistant glasses
Eyeglasses
Side shields
Welding shields
Laser glasses or goggles
Goggles
Choose the appropriate PPE for any given set of hazards, keeping in mind that different types of PPE offer different amounts of coverage for your eyes and face. Inspect eye and face protection before use, and keep it clean and disinfected regularly with soap and water.
PPE for the Hands and Arms
Wear hand and arm protection anytime you may be exposed to the hazards that typically cause hand and arm injuries. Examples of such hazards include:
Objects with sharp edges and pinch points
Objects that can cause puncture wounds
Objects that can strike your hands and arms and break or fracture the bones
Corrosive or toxic chemicals
Electrical sources
Extremely cold or hot objects that can irritate or burn your arms or hands
Glove and sleeve materials may include:
Metal mesh
Coated fabric
Insulating rubber
Canvas
Chemical-resistant material
Fabric
Liquid-resistant material
Leather
Choose gloves and sleeves made of the appropriate material. Inspect and maintain hand and arm protection before using it. Always replace gloves and sleeves that are worn or torn. Remember to store PPE in a clean and dry location.
PPE for the Body
Require your workers to wear body PPE anytime they may be exposed to the hazards that typically cause body injuries. These hazards may include:
Intense heat
Splashes of hot metals and other hot liquids
Impacts or cuts from tools, machinery and materials
Hazardous chemicals
Blood and other potentially infectious materials
Radiation
Your workers should wear body PPE that covers the body part at risk. Examples of PPE for the body include:
Vests
Coveralls
Jackets
Aprons
Full-body suits
Body PPE may be made of the following materials:
Paper-like fiber
Rubber
Treated wool and cotton
Plastics
Cotton duck
Neoprene
Rubberized fabric
Leather
Choose body PPE made of material that is appropriate for each hazard. Before your workers wear any kind of body protection, they should check it for signs of wear such as rips, tears, scuffs or loss of elasticity. If the body protection is damaged, do not allow your workers to use it. Provide training on how to clean and disinfect your body protection to prolong its life. Require your workers to store their body PPE in a clean and dry location.
PPE for the Feet and Legs
Require your workers to wear foot and leg PPE anytime they may be exposed to the hazards that typically cause foot or leg injuries. These hazards may include:
Sharp objects
Heavy objects
Electricity
Extreme heat
Extreme moisture
Slippery surfaces
Liquids such as acids, caustics and molten metal
Types of foot and leg PPE may include:
Leggings
Metatarsal guards
Safety shoes
Toe guards
Combination foot-and-shin guards
Electrically conductive shoes
Electrical hazard/safety-toe shoes
Foundry shoes
Choose the appropriate foot protection for the hazards present in your employees' work environment. Before your workers put on any foot protection, be sure they check it for signs of wear. Replace damaged PPE. Train your workers to clean PPE according to the manufacturer's instructions and to store it in a clean and dry location.
Hearing Conservation Awareness
Any kind of loud noise is potentially hazardous.
Continuous noise occurs when the interval between occurrences of the maximum noise level is one second or less.
All noise that is not continuous is defined as impact noise.
Require your workers to wear hearing protection if they are exposed to noises of 85 decibels or higher for eight hours per day.
Hearing protection may include:
Earplugs
Earmuffs
Preformed or molded earplugs
Help your employees choose the appropriate hearing protection for the noise hazards present in their work environment, and train them to inspect hearing protection before wearing it.
Non-disposable ear protection should be cleaned with soap and water. Disposable and damaged ear protection should be discarded. When your workers are not using ear PPE, they should store it in a clean, cool, dry place.
Respiratory Protection
Workers should wear respiratory protection anytime they may be exposed to hazards that may damage their respiratory systems or anytime they may be exposed to hazardous or toxic chemicals. Always inform your workers about areas where these hazards may be present.
Workers must go through fit testing, medical clearance and special training before using a respirator. They should inspect their respirator before using it and have it repaired or replaced if they find anything wrong with it. After using a respirator, workers should clean and disinfect it. They need to store respirators in a sealable bag away from:
Dust
Extreme cold
Sunlight
Moisture
Damaging chemicals
Heat
Electrical Protective Devices
Workers should always follow proper safety precautions and work only on de-energized equipment and circuits that are equipped with lock-out/tag-out devices. Permit only trained, qualified and authorized employees to work on electrical equipment and circuits.
OSHA Standard 1910.137 covers electrical protective devices and requirements. Electrical protective devices may include:
Insulating blankets
Matting
Covers
Line hose
Gloves and sleeves made of rubber
The type and class of each electrical protective device will indicate the device's limitations in terms of voltage protection and ozone resistance. Wearing the right protective equipment can mean the difference between life and death. Workers need to make sure electrical protective equipment is clean, safe and in reliable condition. Repair or replace any equipment that is not safe to use. Workers should store electrical PPE away from light, temperature extremes, excessive humidity, ozone and other potentially damaging substances and conditions.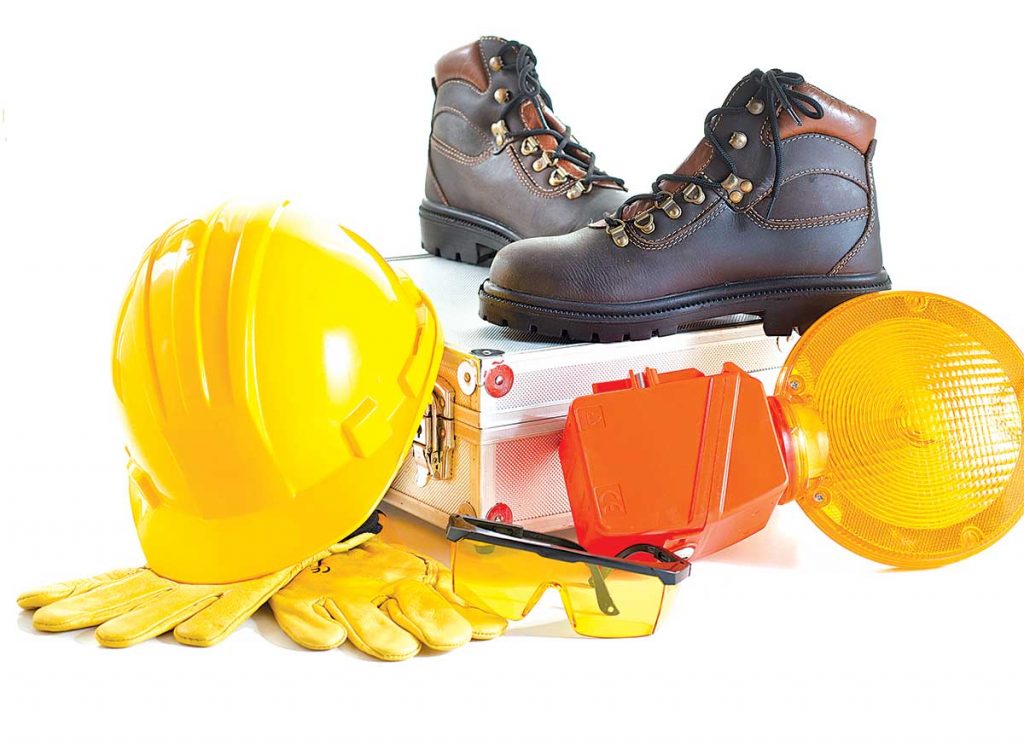 Levels of Protection and Protective Gear
When you select PPE, consider the:
Hazards or suspected hazards that will be present
Potential routes of exposure

Inhalation
Skin absorption
Ingestion
Eye or skin contact

Performance of the PPE materials (and seams) in providing a barrier to hazards

Material-specific limitations
Breakthrough time
Durability
Work conditions, such as heat stress, that may affect the performance of the PPE
Choose the correct level of protection:
Level A is appropriate when the greatest level of skin, respiratory and eye protection is required.
Level B is appropriate when the highest level of respiratory protection is necessary, but a lesser level of skin protection is needed.
Level C is appropriate when the concentration and type of airborne substances are known and the criteria for using air-purifying respirators are met.
Level D is a work uniform affording minimal protection and should be used only for nuisance contamination.
Safety Precautions to Be Considered
Use double gloving with waterproof gloves under work gloves.
Boots and rain gear can be used to lower skin exposures.
Be aware of site-specific information for the work environment.
Avoid working alone.
Do not stay in wet clothing or PPE for extended periods due to risk of dermal irritation.
Hands and exposed areas should be cleaned regularly.
Respiratory protection could be needed as conditions dry out
Field Evaluations
UL offers services to evaluate industrial/commercial equipment that have been water damaged as a result of a storm or flooding, and that may have been subjected to a reconditioning process. This service is being offered without cost to the Authorities Having Jurisdiction (AHJ) in those areas affected by natural disasters.
Key considerations for water-damaged electrical equipment
When evaluating water-damaged equipment, the following factors should be considered:
The extent of the water damage
The effect of contaminants on the equipment
The effects of corrosion
The overall age and condition of the equipment
The function the equipment serves and where it will be used (life safety vs. general control, residential vs. industrial/commercial)
Reconditioning water-damaged equipment
Certain types of industrial and commercial equipment are constructed in such a manner that allows trained personnel to recondition the equipment if damaged by water. It is important that such reconditioned equipment be subject to appropriate controls. This includes a thorough review of the:
Reconditioning process
Inspection with basic field testing of the reconditioned equipment, if applicable
In addition to the electric shock and fire hazards associated with water-damaged equipment, chemical and biological hazards also exist. Therefore, it is imperative that the equipment be reconditioned by the original equipment manufacturer, by personnel qualified by the OEM or by recognized third-party businesses with established expertise. It is strongly recommended that the OEM develop the reconditioning process within a formal risk-management system.
Types of equipment suitable for reconditioning
The following list indicates some of the equipment for which reconditioning is possible. Note that while the overall equipment may be reconditioned, many of the components may need to be replaced.
Panelboards
Manual and magnetic motor controllers
Motor control centers
Switchboards and switchgear
Motors
The following list indicates equipment that should not be reconditioned and should be decommissioned:
Gas-fired equipment
Appliances (washing machines, ovens, refrigerators, toasters, televisions, etc.)
Solid-state controllers
Molded case circuit breakers
Fuses
Dry-type transformers
Receptacles, GFCIs, AFCIs and switches
Transient voltage surge protective devices
Wiring not suitable for wet locations
Solid-state or electronic equipment such as controls, signaling and security
Water-immersed Type NM cable
Type NM-B nonmetallic-sheathed cable (commonly called "Romex®" in the industry) is Certified (Listed) by UL for use in normally dry locations in accordance with the National Electrical Code®. Decades ago, the outer jacket of this cable (Type NM) changed from an impregnated, braided covering to polyvinyl chloride (PVC).
The older, braided jacketed version of this cable has less resistance to water ingress than the newer, PVC-jacketed version, and if subject to immersion, such as from flooding, the suitability for continued use is unknown. Any cable of this type that has been subjected to flooding should be replaced without question.
In general, cables with PVC insulation and jacket can withstand immersion in clean water for a short period of time without being damaged as long as the ends are not immersed. If the ends of the cable are immersed for any period of time, however, the internal paper wrapping around the bare equipment-grounding conductor will absorb and transfer the water into the cable assembly. The water may then start degrading the insulation or possibly corrode the conductors. If the cable comes into contact with contaminated water, the contaminants may also act on the insulation or conductors. Over time, failures can occur.
The safest approach is to replace any nonmetallic-sheathed cable that was immersed in water for any period of time during the flooding.
The devastation of a flood is enormous. As the contaminated waters recede, there may be even more threats to your personal health and safety. By taking basic precautions, you can help prevent many injuries. UL urges you to always put the safety of your family or employees first.
Temporary use of critical equipment
While it is UL's goal to assist the AHJs by evaluating the suitability of the long-term use of reconditioned equipment, UL recognizes that some types of critical equipment may need to become temporarily operational until replacement equipment can be installed. This equipment includes, but is not limited to, food refrigeration units and generators. In these cases, the OEM should ensure that any residual risks are clearly identified. Food refrigeration equipment must also be sanitized after a complete cleaning.
Due to the difficulties in refurbishing and monitoring equipment in residential settings, it is recommended that all water-damaged residential equipment be decommissioned and replaced with new equipment.
Contact
For more information on UL Field Evaluation Services go to www.ul.com/field or contact us at 877.854.3577, #2 or fieldevaluations@ul.com. For more information on storm safety visit www.ul.com/stormsafety.
Resources
http://www.cdc.gov/niosh/topics/emres/flood.html