…The heat is (drum, drum, drum, drum) — ON…(saxophone solo)…
The summer heat is here! Swimming pools are a summertime staple and a great way to help beat the heat. And if you can hum the saxophone solo to "The Heat is On" by memory, knowing the movie that this Glenn Frey hit was the title song for, you likely are a part of my generation or my elder. It's been 38 years since Beverly Hills Cop debuted on the silver screen and my doctor keeps reminding me at my checkups that I am starting to get more silver myself and that maintaining my body is crucial to its longevity. Truth is, the years can impose their will on many things that aren't maintained properly, causing them not to operate as they should. Even swimming pools used to cool down from the sweltering summer heat can fail if they don't receive proper inspection and maintenance.
In many areas of the country, swimming pools are shut down through the harsh winter months. While lying dormant, snow and ice can wreak havoc on the swimming pool's electrical system components exposed to the elements. Pool equipment installed indoors within corrosive environments, such as areas where pool sanitation chemicals are stored or handled, can regularly deteriorate over time based on the constant corrosive environmental exposure. Still, the seasonal opening of swimming pools often focuses on the removal of winter covers, shock treatments, and chlorine levels before taking that first dip into the water. Electrical systems are often an oversight, which is hard to fathom considering the safety hazards that abound when electricity and water are in the same vicinity. To ensure that a swimming pool is in top shape and ready for a summer of fun,  electrical systems should be inspected by a qualified professional.
When examining swimming pools, there are many areas that need to be inspected to help ensure a safe electrical system. Within NFPA 70®, National Electrical Code® (NEC®) Article 680 Swimming Pools, Fountains, and Similar Installations, a specific area of focus is ground-fault circuit interrupter (GFCI) protection. Per 680.5, GFCIs are allowed to be self-contained units, circuit breakers, receptacles, or other listed types. This is important to keep in mind when inspecting and testing GFCIs because, depending on the type, they can be located around the vicinity of the pool, near pool equipment, or within electrical panels. GFCIs should be tested at a minimum based on the manufacturer's instructions but certainly tested for functionality when a swimming pool is opened for the season and periodically during the duration in which it is being utilized. Ensuring that GFCIs are working properly is critical for ensuring safety from electrical shocks near swimming pools.
Lighting is another area that should be carefully considered at the time of inspection. Underwater light fixtures should be inspected to ensure that electrical components are in proper working order and cords are not frayed. Seals should be intact where required, pliable, and not be brittle or broken. When swimming pools are winterized, water levels are often lowered, and the wet niche lights are then removed and stored on the pool deck. Right when a pool is being opened for the season is an ideal time to have wet niche lights inspected, as it provides full access to inspection before they are installed back into the water. Careful considerations should also be paid to lights surrounding a pool. Decorative string lights are becoming more and more common in backyards, often installed as do-it-yourself projects. It is important to keep in mind that any newly installed string lighting installed near pools, as well as near hot tubs, must maintain the proper NEC required clearances of 5 feet horizontally from inside walls of the pool and 12 feet vertically above the maximum water level.
Electrically powered pool equipment should be another area of focus. Excessive wear on equipment is common. For example, equipment such as circulation pumps and heaters are engaged heavily in the day-to-day operation of a swimming pool. They can see much wear due to their excessive use alone, without considering the corrosive environment in which they are typically installed, causing additional wear. Equipment should be inspected for proper and functional disconnecting means, which should be clearly labeled should it need to be turned off quickly. Proper GFCI protection should be in place and be functional. Cords should not be frayed, and cord plugs should be in good condition with all blades present, with special attention paid to the grounding blade.
Grounding and bonding are critical components to maintaining safety around swimming pools. Within 680.6, it lists many pieces of equipment and components that must be grounded and bonded in accordance with Article 250, Grounding and Bonding. These requirements are intended to provide a path for ground-fault current. Aside from the bonding requirements of Article 250, swimming pools also require equipotential bonding, which is different in function than the bonding required in Article 250. The sole function of equipotential bonding is to eliminate the voltage gradient in the pool area, helping to reduce potential shock hazards created from stray currents in the ground or metallic components of the pool.
Regardless of the differences in the type of bonding being done for swimming pools, a common method that they both use is to create the connection through terminations of wiring. Some terminations become inaccessible after the concrete is poured, but many of the terminations, and even some of the wiring, may remain exposed. With swimming pools, that exposure is likely to occur where the terminations are subject to the weather, a corrosive environment, or both. Functionality can become compromised when those terminations become corroded enough to start impacting conductivity or connection. It is important that these terminations are included in the inspection process to ensure they are in good condition and also that any nearby exposed related wiring has not been damaged or severed in any way.
Diving headfirst into inspections is an essential way to ensure swimming pools are safer when it becomes necessary to find a cool place to beat the heat. Pool electrical inspections are deemed so important that during the 2020 NEC cycle, CMP-17 added new section 680.4 titled, Inspections After Installation, which states, "The authority having jurisdiction shall be permitted to require periodic inspection and testing." While not specifically mandated, this section provides the authority having jurisdiction (AHJ) the necessary NEC text to support an ongoing follow-up compliance program if they choose to provide that service. While opinions may differ on the feasibility of requiring and implementing regular residential swimming pool inspections, it is hard to argue against the need to do so. Corrosion, wear, and weather can devastate the functionality and safety of swimming pools over time. Regularly inspecting the necessary electrical components will help ensure that swimming pools remain fun places to cool off and make memories that don't involve preventable tragedies around safety.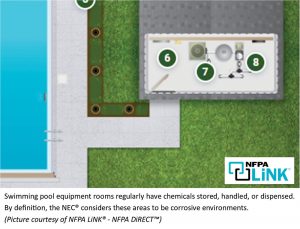 For more information on swimming pool electrical safety, please visit the NFPA® Swimming Pools, Hot Tubs, and Spas page.
Important Notice: Any opinion expressed in this column is the personal opinion of the author and does not necessarily represent the official position of NFPA or its Technical Committees. In addition, this piece is neither intended, nor should it be relied upon, to provide professional consultation or services.