For many of us, a cup of coffee, a couch, and a TV remote are the perfect ingredients for a Saturday morning "recipe" spent watching a home improvement show. And chances are, the episode we're watching focuses on creating an open concept floor plan that makes the kitchen the central focal point of a home. If your kitchen is anything like ours, you'll agree it's become more of a gathering place for family than our own living room. While it may be hard to equate actual statistics to time spent in a kitchen, there is little doubt that more and more hours are being spent here. Air fryers, blenders, and Instant Pots are just a few commonly used kitchen appliances that depend on the functionality and safety of the electrical system. In today's society, however, we are doing more in the kitchen than just cooking. Kitchens are now used for remote work, homework, entertaining, and many other things that put additional demands on the electrical system. But somewhere between the productivity and chaos that often envelops a kitchen lies an injury just waiting to happen.
Therefore, just as we would never cut an onion while wearing a blindfold, we must keep our eyes wide open to potential electrical dangers in the kitchen.
In the nearly 125 years of its existence, the National Electrical Code® (NEC®) has worked to help safeguard both people and property from hazards arising due to the use of electricity.  Every three years, the NEC is revised based on input that is often derived from knowledge, experience, and technology advancements that can help improve upon safety.
A great example of the NEC making a change that had a significant impact on safety is when ground-fault circuit-interrupter (GFCI) receptacle requirements were first introduced in 1973, which were then required for outdoor receptacles. Since that time, when it comes to GFCIs, other key areas of the home and other locations and requirements have also been included like bathrooms (1975), garages (1978), and kitchens (1987) to help improve safety.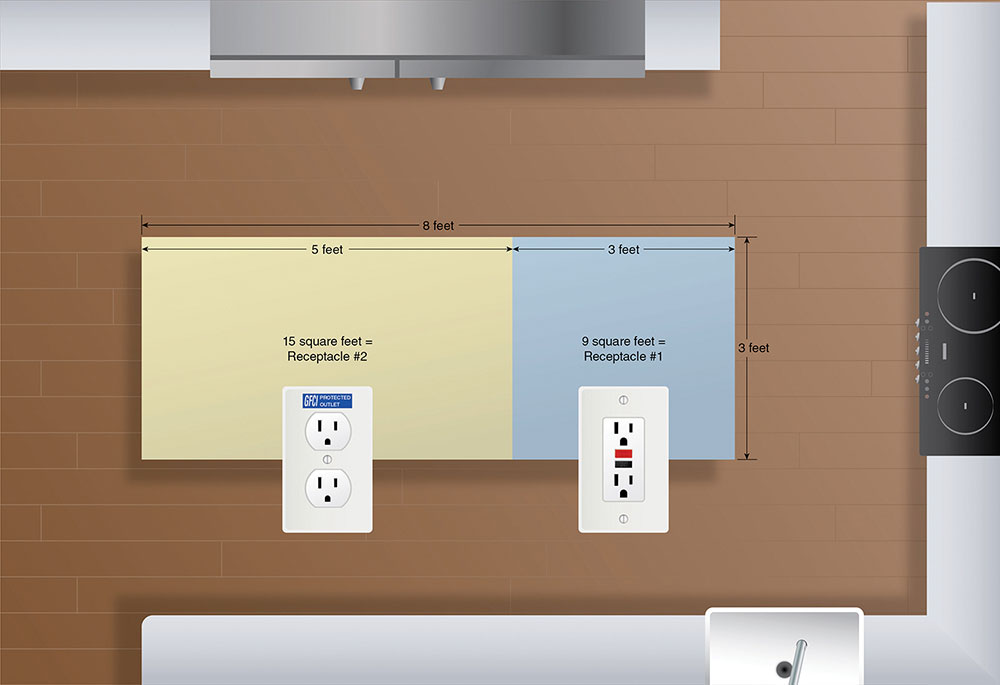 Why the continuous evaluation and improvement of safety? The ever-changing world makes safety a continuous adventure, not a destination. When it comes to safety, we cannot rest on our laurels of what we have done; we must constantly evaluate and improve to help protect people and property. The 2020 NEC revision cycle has done just that when it comes to residential kitchen safety.
As mentioned, GFCI protection has been a key part of the NEC helping to ensure safety that has been improved upon over several NEC cycles dating back to the 1970s. The latest revision was no exception to advances in GFCI protection, as well as other receptacle needs:
NEC Section 210.8(A) has been expanded in the 2020 edition to not only include 125-volt receptacles but to now include receptacles up to 250-volt. That means that receptacles that operate at 250-volt, such as those for an electric range would now need GFCI protection but only if it is installed within six feet of the edge of the sink. Kitchen design and layout, specifically appliance placement as related to sink locations, can certainly have an impact as to whether GFCI protection is required in these applications.
Another revision to GFCI protection in the 2020 NEC is to Section 422.5(A) dealing with appliances that require GFCI protection. This section was revised to include dishwashers. Yes, dishwashers! It's hard to believe that an appliance that works so closely with electricity and water has not required GFCI protection before, but the good news is, now it does.
Kitchen island receptacle requirements also saw a major overhaul during the 2020 NEC revision cycle. In prior versions of the NEC, Section 210.52(C)(2) required that at least one receptacle be installed within a kitchen island that had a countertop with a long dimension of 24 inches or greater and a short dimension of 12 inches or greater. Within the same section of the 2020 NEC, it has been revised to require at least one receptacle within the first nine square feet or fraction thereof, of an island countertop and an additional receptacle for every 18 square feet more or fraction thereof. An additional requirement states that at least one receptacle shall be located within two feet of the outer end of a peninsula countertop. The example picture below shows how a 9 ½ foot by 3-foot island countertop will now require three total receptacles to meet the new requirements.
This may seem like a large dimension for an island, but it is fairly common today to see an island this size, or larger, that is the main focus of the kitchen and utilized for many tasks. Having an adequate number of receptacles not only for cooking needs, but for plugging in cell phones, laptops, tablets, and other electronics, will provide more ability to power devices and appliances without the need to utilize extension cords or power splitters.
While your local municipality may not yet be using the 2020 NEC, these revisions will have an impact on the way residential kitchens are wired when it does become adopted. Understanding these changes now will help quantify the impact going forward, allow you to know what will be required, and help you plan ahead to ensure safety.
The NEC is now available in NFPA LiNK™, the association's information delivery platform with NFPA codes and standards, supplementary content, and visual aids for building, electrical, and life safety professionals and practitioners. Learn more at nfpa.org/LiNK.