Question
Why is UL introducing a new Field Evaluation Label?
Answer
The present UL Field Evaluated Product Label has been in use for more than 20 years and is being revamped in response to customer and AHJ needs for a label that can be used beyond the North American market. The label has further been improved to increase its longevity when exposed over time to sunlight or cleaning chemicals and to eliminate the need for information to be handwritten on it. The new label has been simplified to state that a product has been "Evaluated" to differentiate from products that have been Certified, Listed, Classified or Recognized. It also now references additional information including referring users to the Field Evaluation report containing information on how the evaluation was conducted, requirements applied and conditions of use.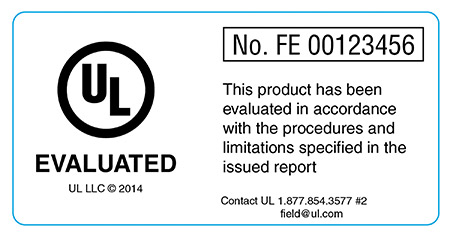 Additionally, the label incorporates newer tamperproof technology and Mylar ® coating for greater longevity, and a global e-mail address and the U.S. toll-free contact number to facilitate easier contact with UL.
This new label will go into use on June 1, 2014, so expect to see it in the near future on products that have had a UL field evaluation.
Question
Can UL Listed (Certified) dry type transformers be reversed wired? Does that affect the Listing (Certification)?
Answer
UL Certified (Listed) dry type transformers can only be reverse wired if marked for such use or the installation instructions detail the practice. Dry type power transformers are UL Certified (Listed) under the product category Power and General-Purpose Transformers, Dry Type (XQNX), located on page 567 in the 2014 UL White Book and also in UL's Online Certifications Directory at www.ul.com/database (enter XQNX at the category code search field).
The Guide Information for XQNX details the required electrical rating markings including the primary voltage and secondary voltage. When reverse-wired, a transformer may experience problems with nuisance tripping of the branch circuit protection due to inrush current. However, users can reverse wire the transformer if it is marked for reverse wiring or the installation instructions provided with the Certified (Listed) transformer indicate that it can be reverse wired per NEC 110.3(B). The Guide Information for XQNX has recently been updated to state: Where the manufacturer permits the transformer be supplied from the marked secondary and loaded from the marked primary, i.e., "reverse-fed" or "bi-directional," installation instructions shall be provided by the manufacturer detailing how this connection shall be made and specifying any concerns or precautions that should be taken by the installer. The suitability of the installation should be determined by the Authority Having Jurisdiction. The Guide Information for XQNX can be viewed on the UL's Online Certifications Directory as detailed above.
This is consistent with a new requirement in the 2014 NEC, Section 450.11(B) that states "Source Marking. A transformer shall be permitted to be supplied at the marked secondary voltage, provided that the installation is in accordance with the manufacturer's instructions."