Electric Vehicles (EVs) are expected to account for as much as 15 to 20 percent of annual vehicles sales worldwide, which means millions of vehicles that use electrons as power will be plugging into the grid. What does that mean for electrical inspectors and those who write building codes across the U.S. and around the world?
The most convenient way for owners of electric vehicles to recharge their battery will be through charging stations located at their homes and workplaces. This will require municipalities and electric power providers to work together to develop strategies that will deploy charging infrastructure in a smart, targeted manner. One electric vehicle that has gained acclaim over the past few years is the Chevrolet Volt, which will be available in all 50 U.S. states by the end of 2011.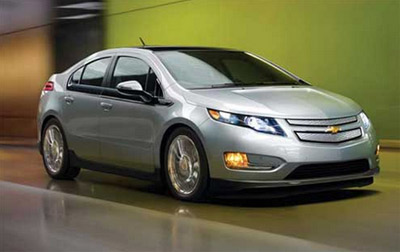 Photo 1. 2011 Chevrolet Volt electric vehicle with extended range
The Volt can use either 120V or 240V power sources to recharge its 16 kWh lithium-ion battery. Recharging the battery takes approximately 10 hours on a 120V (1.2 kW) connection and about 4 hours on a 240V (3.3 kW) connection. The Volt isn't the only plug-in vehicle on the market today; more than a dozen competitors are going to enter the market before the end of next year.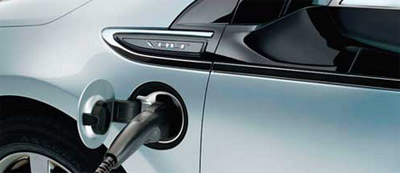 The complexities that have followed the introduction of electric vehicles in the past — multiple charge connectors, varying charge station standards — stymied the deployment of a reliable and convenient charging infrastructure. But this new wave of EVs has brought with it a new era of cooperation among vehicle manufacturers, utility companies, charge station suppliers, electrical contractors, and municipal building inspectors.
One Is the Best Number
Rapid adoption of any new technology requires foresight and planning. These two attributes can eliminate potential disruptions before they happen. In the case of electric vehicles, careful foresight and planning activities over the past four years allows this new generation of electric vehicle owners to experience the many benefits of the technology paving the way for mass appeal, which in turn multiplies the societal benefits of reduced petroleum consumption.
With this in mind, auto manufacturers joined forces with the Society of Automotive Engineers (SAE) to adopt a single standard for the design of the charge coupler (SAE J1772) that will be used by all plug-in electric vehicles. The coupler features a two-pin power connector design (ac Line 1 and 2), a ground and two key safety features — a proximity detector and control pilot — in total, a five-pin coupler.
The proximity detector prevents the vehicle from moving while it is plugged in, while the control pilot provides vital information to the vehicle's on-board charging system such as current rate; it also initiates the flow of power once the vehicle's computer system confirms all safety protocols have been met. The coupler design has been thoroughly tested to meet 10,000 cycles of operation and can withstand exposure to dust, salt and water — the handle can even withstand being driven over with no damage. This new standard will be used in plug-in electric vehicles sold in the U.S. and Canada.
More than Just a Plug
Adoption of a single charge coupler standard is only the beginning of what needs to be done to make adoption of plug-in vehicles convenient for the average consumer. That's why auto manufacturers, including General Motors (GM), have been working alongside groups like the National Fire Protection Association's (NFPA)National Electrical Code (NEC), ISO (International Organization of Standardization), IBEW (International Brotherhood of Electrical Workers), IEC (International Electrotechnical Commission), UL (Underwriters Laboratories) and others to adopt common standards for home and workplace charging station installation. Since the introduction of the Chevrolet Volt concept in 2007, GM engineers and researchers have partnered with hundreds of utilities and industry groups to adopt common standards and practices that will make charging station installation as simple and convenient as adding a new outlet for any new appliance.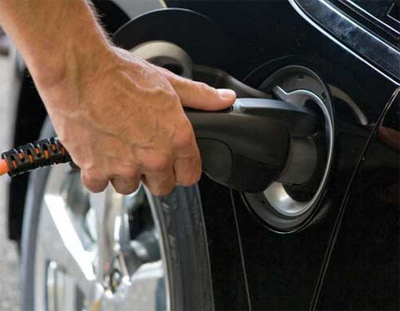 Photo 3. The coupler design has been thoroughly tested to meet 10,000 cycles of operation and can withstand exposure to dust, salt and water — the handle can even withstand being driven over with no damage. This new standard will be used in plug-in electric vehicles sold in the U.S. and Canada.
Among some of the key standards developed with industry groups are:
NEC Article 625 – Electric Vehicle Charging System
SAE J1772 – EV & Hybrid Electric Vehicle Conductive Charge Coupler
UL 1998 – Software in Programmable Components
UL 2231 – Personnel Protection Systems for Electric Vehicle (EV) Supply Circuits
UL 2251 – Plugs, Receptacles and Couplers for Electric Vehicles
UL 2594 – Electric Vehicle Supply Equipment
The fact that these standards are in place at the beginning of the dawn of the plug-in vehicle age will assure that the entire electric power standards community will not impede the adoption of plug-in electric vehicles.
Cooperation Breeds Success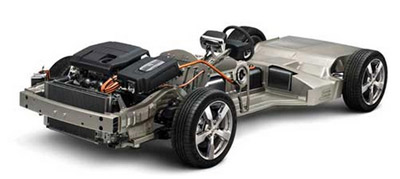 Since the Volt is not dependent on extensive electric charging infrastructure — the car can travel more than 370 miles on a fully charged battery and full tank of fuel — GM's goal was to have cities, utilities and other stakeholders maximize their infrastructure investment by focusing deployment in: 1) residential, 2) workplace, and 3) highly visible public locations. To provide plug-in vehicle owners with the most benefit, it only makes the most sense for infrastructure to be deployed where vehicles are parked for extended periods—homes, workplaces, airports, theaters, large retail stores, schools, libraries and other destinations where vehicles are parked for hours at a time.
Home Sweet Home
The single most important location for a reliable charging infrastructure is the one close to the customer's home. Special attention needs to be given to assure that consumers have a satisfying experience charging their electric vehicles at 120V or getting their homes equipped to accept 240V charging. Chevrolet has partnered with several hardware suppliers, including Lear, Coulomb Technologies, ECOtality, SPX and General Electric (GE) to offer charge station solutions that are both easy for electrical contractors to install and for customers to use. Since the Chevrolet Volt can be charged using either a 120V or 240V power source, GM engineers developed a basic 120V portable charge cord that comes standard with each Volt and charges the vehicle in about 10 hours. For a faster charge, customers can purchase a recommended 240V charge station that takes only 4 hours to charge the Volt. Some customers may also be eligible to receive a free 240V charge station as a result of special programs and incentives that are available in select markets.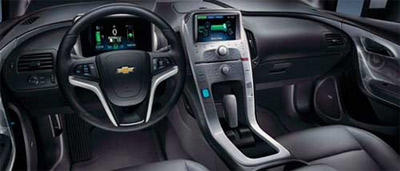 To assure that customers would experience a turn-key solution when installing 240V charging systems for their Volts, Chevrolet partnered with SPX, which has been providing service solutions to the automotive industry for over 100 years (including diagnostic equipment, software and service tools for the burgeoning EV industry for more than a decade). SPX works with customers to assure that their household electrical systems can support EV charging in a safe and consistent manner. Once the customer places their Volt order, they are encouraged to contact SPX to evaluate their charging options. SPX professionals offer a one-stop shopping experience for customers – providing online pre-installation home surveys; facilitating the purchase of 240V charging equipment; scheduling certified and licensed local electrical contractors to complete on-site home assessments, quotations, necessary electrical work and to obtain local permits. SPX also manages the entire landscape of special home charging incentive programs that are available to some consumers in select geographical markets – whether these are federal, state, local or other utility home charging incentive programs. SPX works with its certified contractors to assure all recommended 240V charge stations are installed according to manufacturer installation instructions, as well as, local and national electrical code guidelines. All required electrical inspections and post-installation service and support are handled through SPX as well.
Ongoing Outreach
Ongoing outreach is needed to support understanding and adoption of electric vehicles. The Electric Drive Transportation Association (EDTA) is dedicated to advancing electric drive as a foundation for sustainable transportation. It serves as the unified voice and the primary source of information and education related to electric drive. EDTA's membership includes major vehicle manufacturers, utilities, battery, charging and component suppliers, trade associations, universities and research institutions, government agencies, non-profit organizations, fleet-users, retail outlets and consumers. EDTA sponsors the National Plug-in Vehicle Initiative (NPVI), created to address market and institutional barriers to widespread adoption of plug-in electric vehicles. In 2010, the NPVI launched GoElectricDrive.com, an information hub for plug-in electric vehicles.1
GM and other automakers are working with EDTA, the NPVI and other plug-in readiness initiatives to support ongoing outreach and education. In addition, GM has partnered with the NFPA (National Fire Protection Association) to develop and deliver first responder safety training for electric vehicles —many of these training materials are now available online at www.evsafetytraining.org.