If you're an electrician, there's a good chance you're thinking about starting your own business.
We get it. You've finished your apprenticeship, gained lots of experience, and now you're ready to jump into the world of entrepreneurship. As a business owner, you'll gain flexibility, freedom, and reliable income.
But starting a business can be challenging. If you're a first-time business owner, you'll need to put in a lot of hard work, effort, and dedicate yourself to your business. You'll also need to embrace change, be quick on your feet, and commit to continuous learning.
That's why we've put together a comprehensive guide to help you understand how you can get started. We'll go through all the basics when it comes to your legal requirements, streamlining your business, finding and specializing in a niche, and more.
Let's get started!
Where Can You Get Help?
When you're first starting your business, you can find extra support from local and national associations.
Associations and unions are great organizations that can help you further your training qualifications and connect you with other service professionals in your area.
As a small business owner, you can also join these business-related associations like:
For the full list of small business associations, have a look here
We also recommend you invest in developing soft skills. Soft skills are attributes that help you communicate with others effectively. They are characteristics like your attitude, work ethic, and positivity. Soft skills will help you improve customer retention. They'll also boost first impressions (which are of critical importance when starting a business).
Electrical Business Start-Up Costs
To start your electrical business, you'll need to factor in a few investments.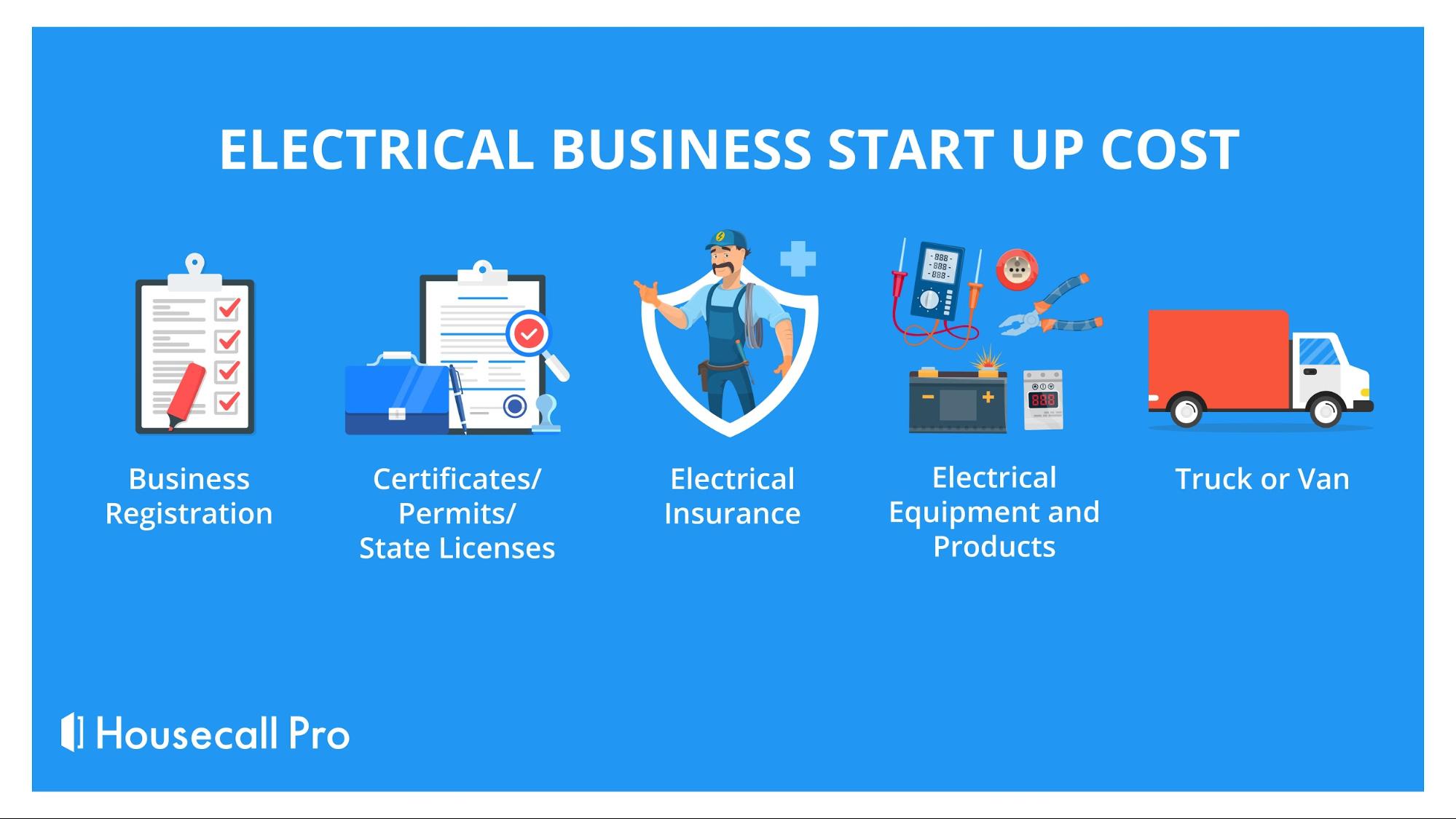 You'll need to first invest in:
Registering your business
Certificates/Permits/State Licenses
Electrical Insurance
Electrical Equipment and Products
A Truck or Van
We'll go into further detail regarding these start-up investments below.
Electrical Business Profit Margins 
As a small business owner, you're responsible for the financials of your company. Below, we've introduced a few key financial terms that are essential to running a business.
Overhead Costs
These are ongoing business expenses not related to labor or raw materials. Examples include rent, insurance, and utilities. These expenses remain the same every month regardless of the sales you make. They're also known as fixed or indirect costs.
Calculating Overhead Costs:
Add all the ongoing indirect business expenses that keep your business running. Don't include direct expenses like wages and raw materials as they belong to the Cost of Goods (COGS) category. You want to cover all your fixed costs.
Once you know what your overheads are, you can begin to chart out your break-even point.
Break-Even Point Analysis
The Break-Even Point is a time in your business when your sales are covering all expenses. Break-Even is a significant milestone, as it's the point when the business begins turning a profit.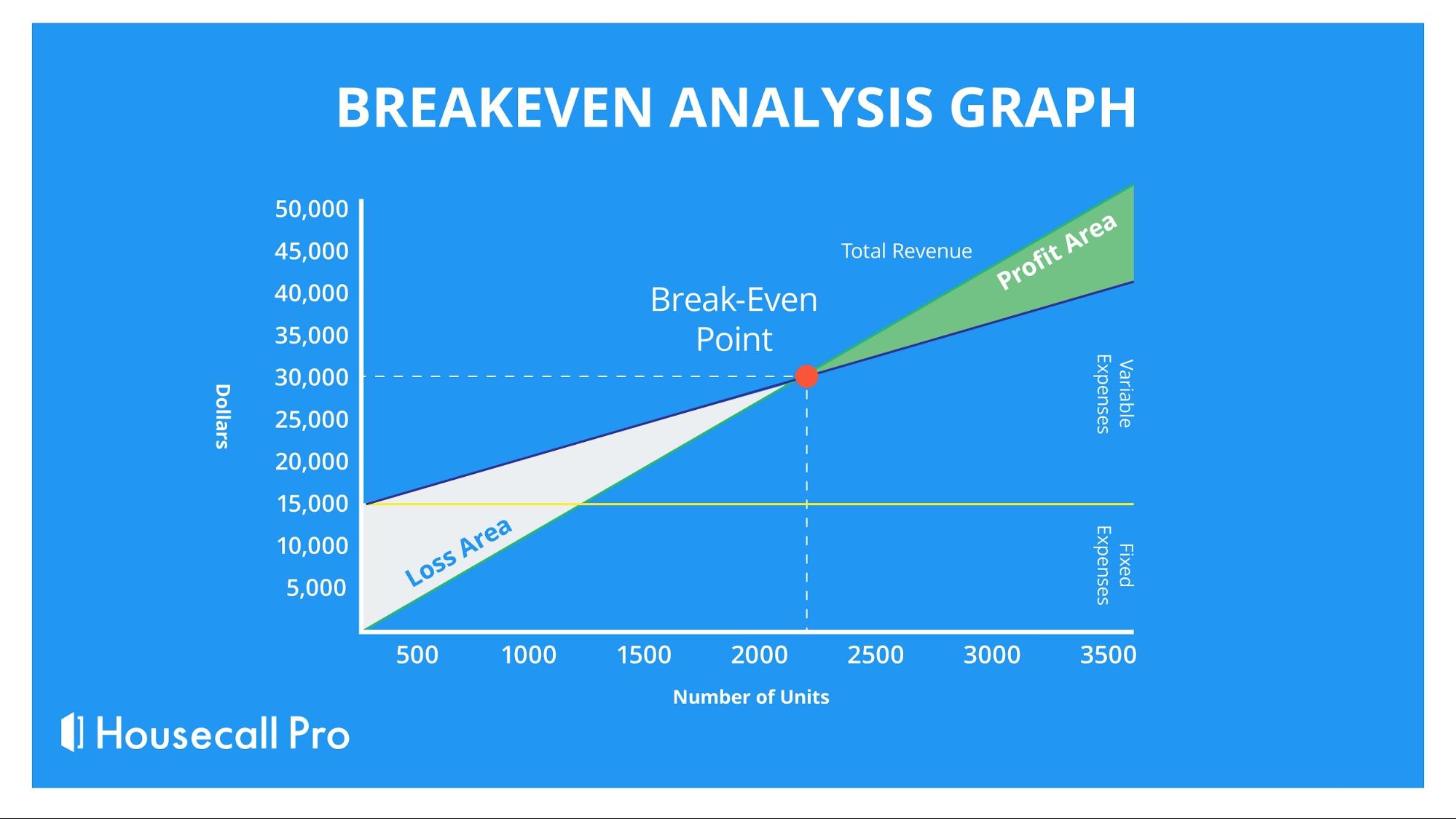 Calculating Your Break-Even Point:
There are four steps:
Total your fixed costs
Track the price of your services and products
Identify variable costs
Input the numbers into your Break-Even Point Formula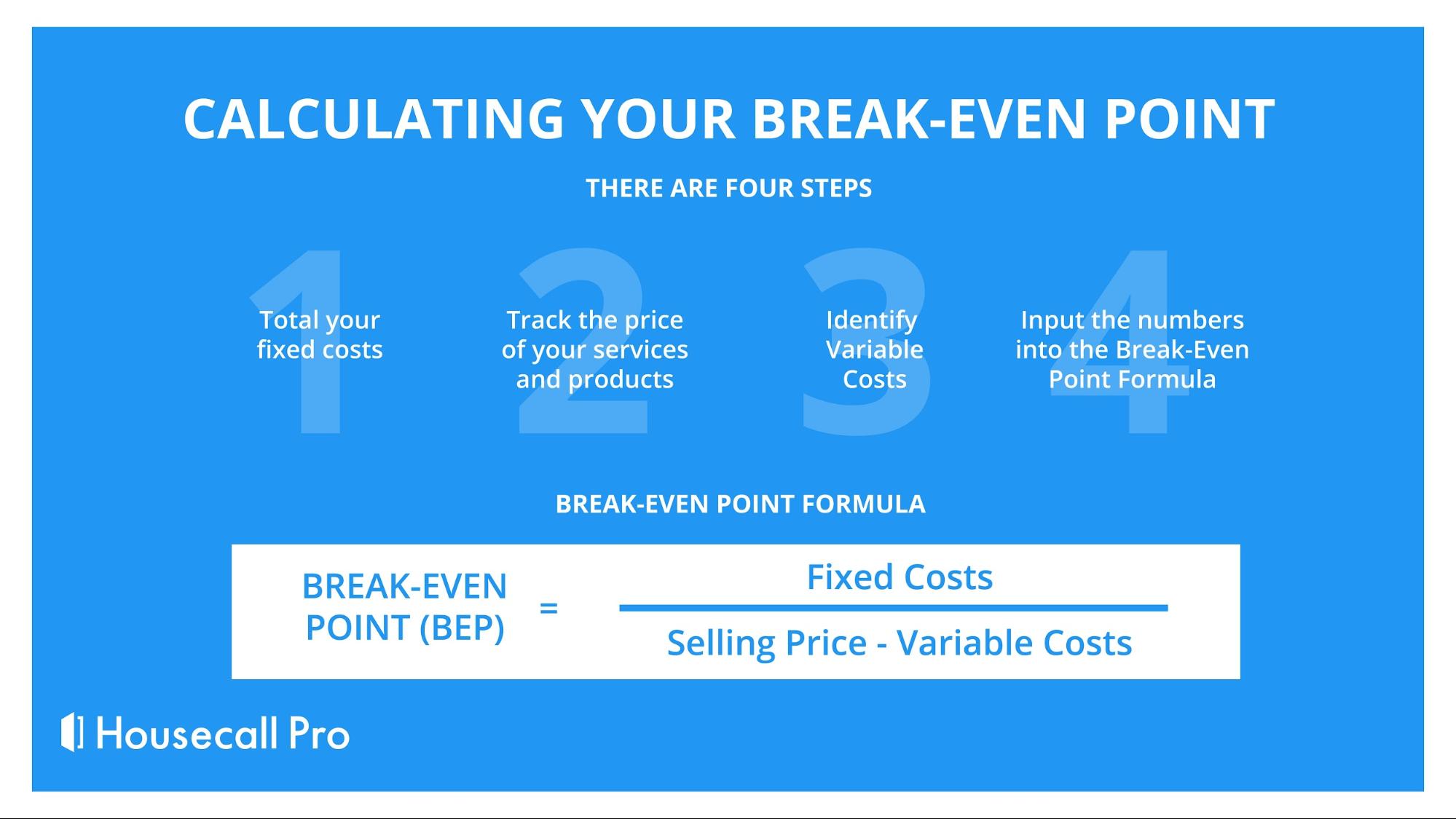 If you have multiple services, you'll need to make sure the selling price and variable costs match up. For example, if your annual sales break down to 40% for replacing light fixtures (average value – $100 per service) and 60% for new lighting installation throughout the home (average value – $1000 per service), you'll need to find out the weighted selling price.
Let's go through an example together: Say your fixed costs are $100,000 per year. To find out the weighted selling price, you can multiply the sales price of each service and their contribution to overall sales.
Weighted Selling Price:
= (Cost and percentage of replacing a light fixture) + (Cost and percentage of new lighting installation throughout the home)
= ($100 x 40%) + ($1000 x 60%)
= $40 + $600
= $640
Therefore, your overall weighted selling price is $640.
In this example, we've kept things simple by only calculating direct labor for our variable costs. You should also consider the costs of electrical parts, fuel, and other variables.
Variable Costs for each service:
You'll need to calculate the variable costs (costs that change depending on the number of clients you have) using a similar formula. If a contractor's hourly rate costs $30 per hour, and the time it takes to replace a light fixture (on average) takes 2 hours, while the time it takes to install new lighting throughout a home takes (on average) 10 hours, your variable costs are:
= (Price per hour x hours of service x weighted percentage) + (Price per hour x hours of service x weighted percentage).
= ($30 x 2 x 40%) + ($30 x 10 x 60%)
= $24 + $180
= $204
Therefore, your overall weighted variable costs are $204.
Break-Even Point Calculation:
= Fixed costs/ (Weighted Selling Price – Weighted Variables Cost)
= $100,000/ ($640 – $204) = 229.3 Electrical Services
Services Breakdown
= 229.3 x 40% (Replacing a light fixture) = 91.72
= 229.3 x 60% (New lighting installation throughout the home) = 137.58
Therefore, you need to sell 91.72 light fixture replacements and 137.58 new lighting installation services to break-even.
Once you've calculated your break-even point, you can outline how long it will take to reach this goal. For example, if it'll take you 15 months to sell all these electrical services, you can make your Break-Even Point a goal in your second year of business.
For more examples, click here.
Numbers to Start Tracking 
Here are a few numbers you should also look out for:
Average Transaction Value (ATV) or Average Order Value (AOV): The average dollar amount that a consumer spends for your services for every transaction or order. It's not easy to attract customers. So increasing your ATV/AOV will give you a higher return on your investment when it comes to marketing and sales.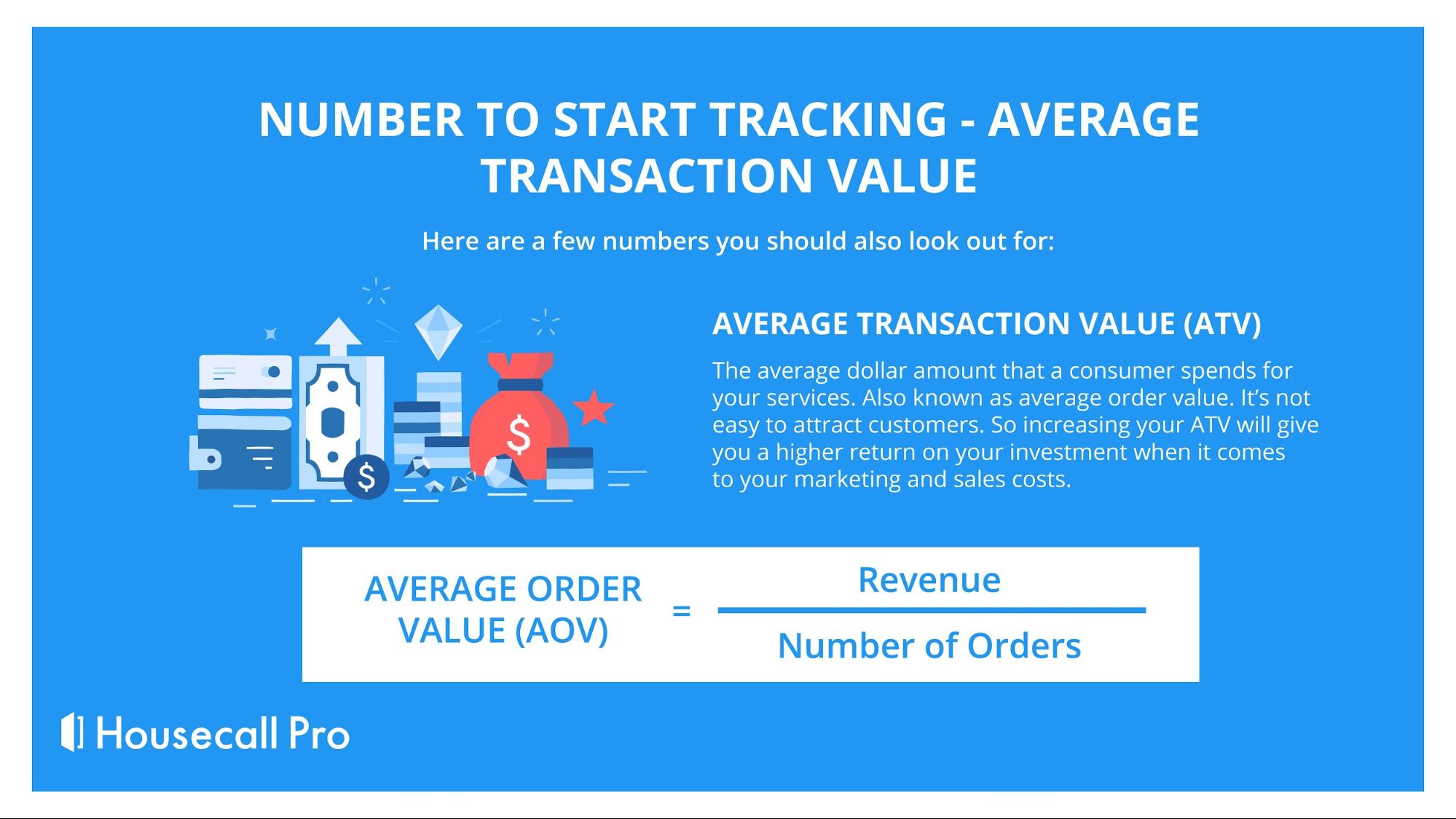 Average Revenue Per Client (ARPC): The average dollar amount you can expect to generate from an individual customer. Unlike transaction value, it's not per job. If you can increase how much a client spends on every transaction, and how many occasions they come back to you, then the average revenue per client will be high, which are signs of a thriving business.
Pro Tip: Talk to Your Local Government
There are many ways you can leverage assistance from external organizations and the government:
Grants: There are thousands of grants available online. If you head to Grants.gov, you can filter the funding type, eligibility, and category to see if there are some grants available for your new electrical business right now.
Tax Deductions: There are many tax benefits and deductions you can write-off for your business. These include salaries and wages, utilities, internet fees, rent, office supplies, legal fees, travel, etc. For more information, check out this list.
Free Coaching: Many websites can help you find a small business mentor for free. If you need some assistance and business advice, then check out Micro Mentor. There's also Micro Mentor from partner organizations like SCORE mentor and small business development centers.
The Legal Stuff: Electrical Business Requirements
To start your electrical business, you need to take into account these legal matters.
Incorporating: There are many different business structures. If you want further information and how you can register, click here.
Electrical Business Insurance: When it comes to electrical services, there are many risks to consider. These include property damage, workplace injuries, and accidents. Insurance can protect your business when things go wrong.
Business Checking Account: While sole traders can trade under their personal account, we recommend all businesses separate their bank accounts to avoid any confusion.
Terms of Service: It's the set of guidelines users must follow if they accept your services. They act as a legally binding contract between you and your clients. If you don't know where to start, you can have a look at free or low-cost electrical business templates available online.
Electrical Business Licenses: Electrical companies need to gain licenses before they can provide any services. There are differing local and federal regulations, so you should check with your state and national board. Most cities and counties also require businesses to gain a permit before they can start any electrical installations, replacements, repairs, or alterations.
Electrical Business Franchise Opportunities
It can be hard starting a business on your own.
That's why if you want to run an electrical business with additional support, you can consider opening a franchise. With a franchise, you're starting with an established brand and business model. Franchisees also receive training, marketing material, a national support network, and discounts on equipment.
But before you jump in, you need to consider both the advantages and disadvantages of being a franchisee.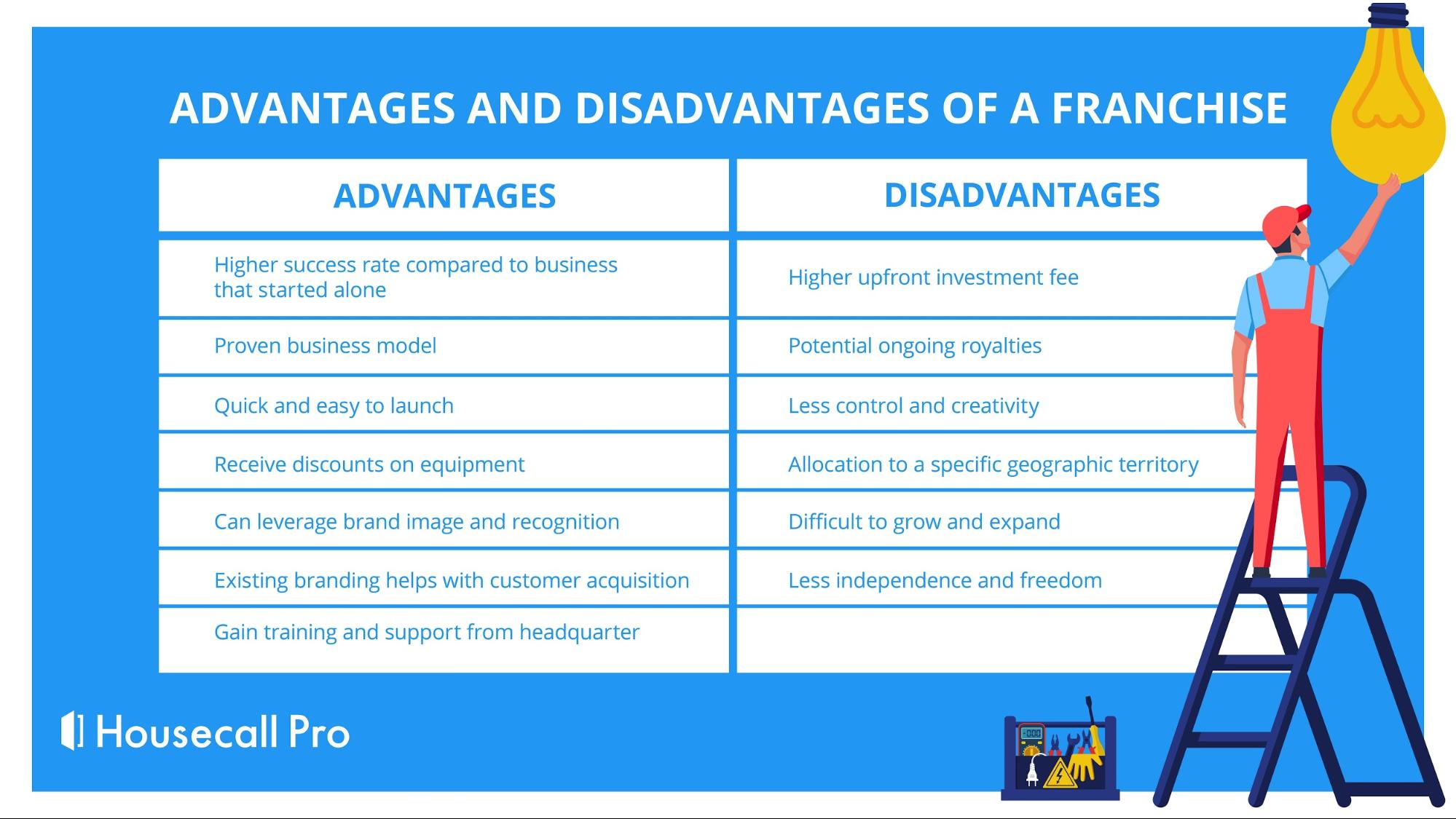 If you're considering going down the franchise route, make sure you assess the different franchises available. Talk to existing and previous franchisees to understand what it's like to be a franchisee yourself.
The Technical Stuff: Electrical Business Scheduling, Invoicing, Payment & Quickbooks
As a business owner, you're responsible for everything in your business; from organizing your books, arranging appointments, and sending invoices. There's also a lot of administrative work that needs maintaining as well.
To help you out, we'll give you an overview of all the technical aspects you need to take into account when running a business.
These include:
Scheduling Appointments: You'll need to keep track of your new business' leads, prospects, customers, and appointments. There's a lot to schedule, so scroll down below to see what the professionals recommend.
Setting up an Email List: To continue the relationship after a service, we recommend you use follow-up marketing tools via email and postcard marketing (You'll need to build up an email list for this). You can simplify and automate these tasks with Housecall Pro's Automated Marketing feature.
Payment Methods (Credit Card Processor): While you can accept payments in cash, it's best, you also offer credit card payments.
Accounting (Quickbooks online): Make sure you keep track of your revenue and expenses. You'll also need to prep your books so you can be ready when tax time hits. Here are five useful accounting tips for small businesses.
If you want to understand how these different tools and responsibilities align, then look below. We've included a visual to help you know what happens before, during, and after a client booking, and how you can streamline these business activities with online tools.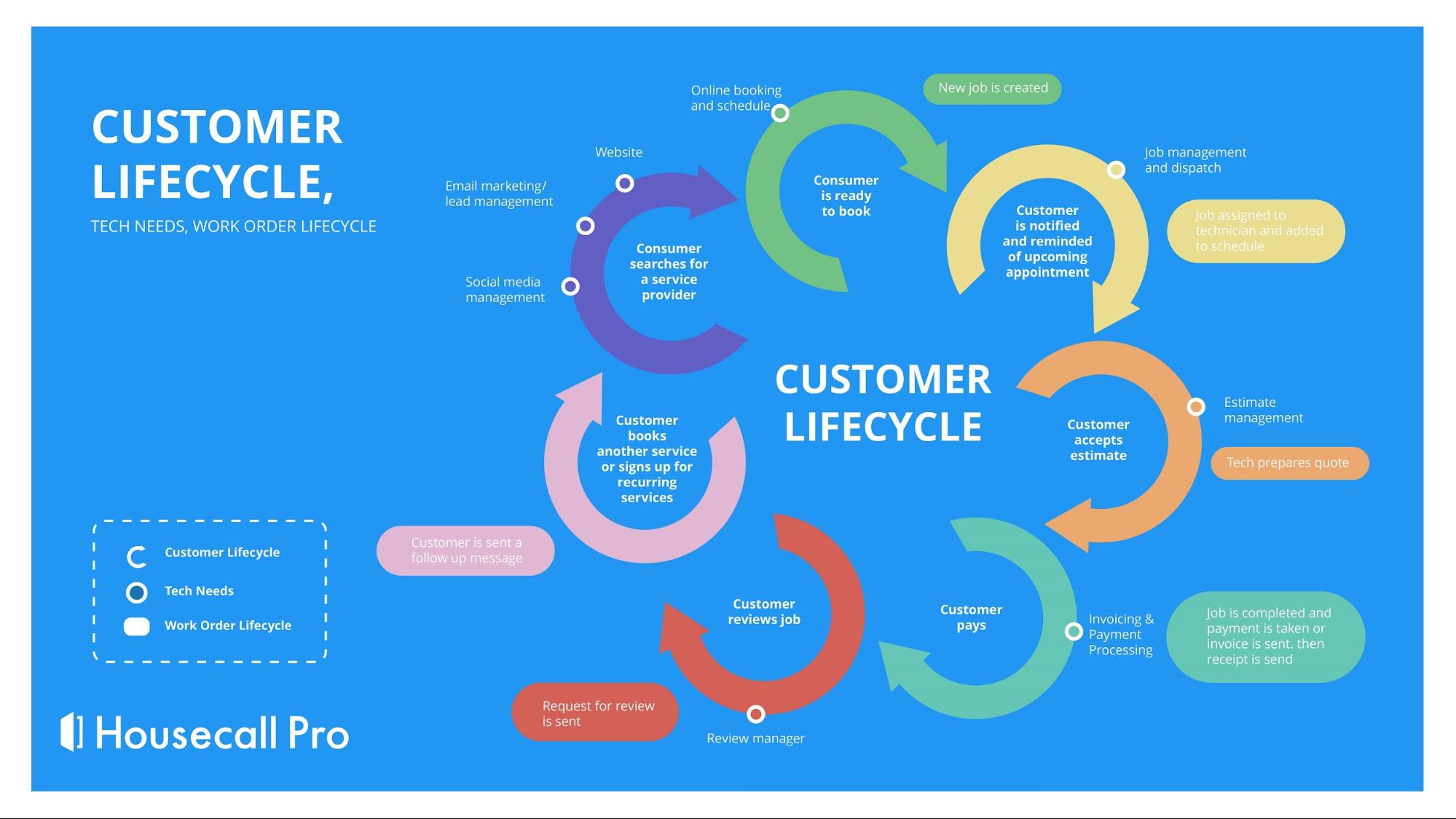 Streamline Your Business As Much As Possible
When you're a one-person team, it's easy to be on top of all your tasks.
However, if you're keen to grow your electrical business you'll need to make sure you have systems and procedures ready for that growth. The smallest inefficiencies can quickly snowball into significant problems.  That's why we recommend businesses begin streamlining their systems from the very start. 
Create standard operating procedures for routine tasks like (hiring, training, electrical work, etc.) If you need assistance, look to programs like  Housecall Pro. Its online software can help you automate a lot of your everyday tasks like scheduling online bookings, sending invoices, and email marketing activities.
This way, you can work on your business, instead of always working in it!
The Supplies
While electrical supplies and equipment vary according to your specialization, there are quite a few tools to consider. From side cutters to screwdrivers, hacksaws to pliers, we recommend you buy toolsets, which often cover a lot of the basics. You may need to purchase a few extra tools down the track, but purchasing a toolset can be significantly cheaper and faster than buying tools individually. You can also explore wholesale or used models.
Wholesale or Used Models: If you're on a budget, but you need a variety of tools, you can consider purchasing them at wholesale prices. You can also find used models online, which can go at significantly cheaper rates.
On top of the equipment, there are also uniforms. Being lax with your uniform is not a good idea when you're working with energized conductors or circuits. You run the risk of severe and even fatal injuries if you're not careful. Make sure you wear personal protective equipment like electrical overalls, fire retardant clothing, electrical safety gloves, and safety boots.
Having a uniform for your business can also make you appear more professional and trustworthy. If you're a one-person shop, you can even order one with your logo. It'snot too expensive and can add a lot of value to your brand!
You will also need a service truck or van to carry your equipment.
Positioning Yourself in the Market 
You don't want to start by selling generalized electrical services. It's too broad, and you could be stretching yourself thin by offering too many services to different people. That's why you should consider specializing in a specific segment within the electrical industry.
Choosing Your Market
Here are a few common markets you can explore:
Residential Electrical Services: Here, you will work with homes and deal predominantly with homeowners. Since homes do not draw too much power, they only use single-phase power.
Commercial Electrical Services: Here, you will work with buildings, offices, shopping centers, and even schools. Services vary significantly. Commercial Buildings draw a lot more power than residential homes. You'll need to use three-phase power. The wires are also contained in tube-like conduits.
Differentiating Yourself & Crafting Your Message
When it comes to standing out, price, customer service, and quality are no longer the best ways to differentiate.
Price: If you provide a cheap option, you risk compromising on quality, professionalism, and customer care. If you're not careful, you might also be losing money.
Customer Service: Every business claims to care about their customers. Excellent customer service is no longer a unique value but an expectation from every client.
Quality: If you're paying for any job, you'll expect a quality result.
So how do you differentiate?
Specialization
Customers prefer to go to a specialist than a generalist. To start, pick a specialty within the electrical industry. Specialization can also help you earn more (as you're seen as an expert in your field) and help you target the right people.
Setting Your Rates
It can be difficult knowing how much to charge your clients for a specific job. That's why we've listed two primary ways that experienced electricians charge their clients. We've also collected national averages, so you have a clear benchmark to compare your hourly-rates.
Setting Rates for Service Calls 
Many professional electricians will charge an:
Initial Diagnostic Fee: A diagnostic fee, also known as the service call fee, is the break-even cost of coming out to diagnose the problem for your clients. They charge a fee because it takes time to drive to the home or office. It costs employee salaries, gas, insurance, and time to diagnose the problem.
Should you charge a diagnostic fee?
Some companies will waive the fee, while others won't. It's your decision whether you want to add the diagnostic fee. Just keep in mind that you want to charge at a point where you will remain profitable after deducting your fixed and variable expenses.
Hourly Rate and Expenses: Most electricians charge by the hour. They'll base the costs around their experience level and will also add any additional expenses incurred on the job.
Experiences range from:
Apprentice: Usually still in school and just beginning their career
Journeyman: Completed first phase of education and can work independently
Master: Completed all stages of education and has several years of experience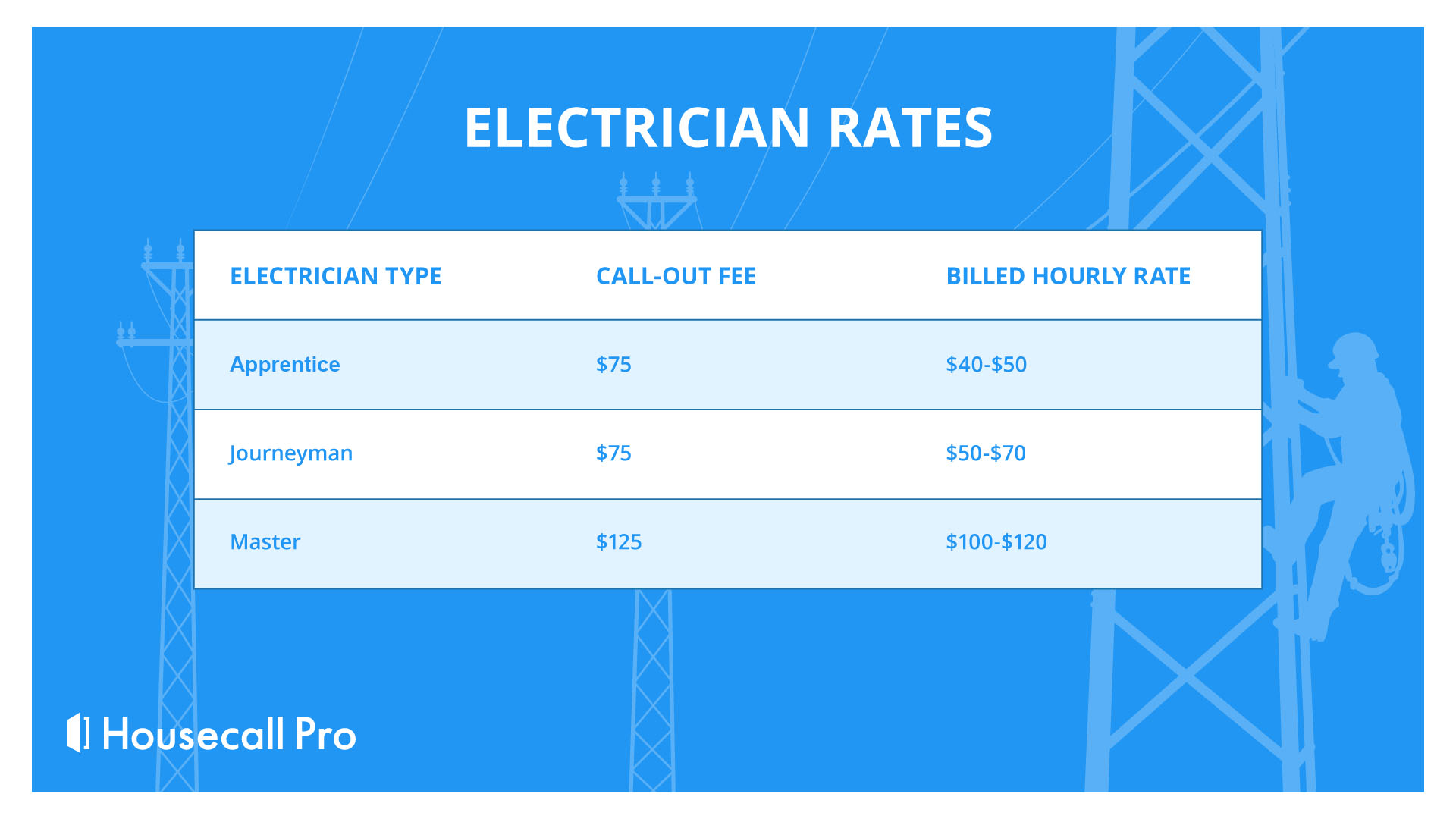 Flat Rate Per task: Once the electrician has diagnosed the problem, they can also charge you a flat rate instead of an hourly rate. The rate will depend on the difficulty and length of the task, as well as their experience.
According to Home Guide, it costs on average $141 to $419 for small jobs and $2,000 to $6,000 for larger jobs.
Averages can be challenging to determine when it comes to electrical work because prices depend on a variety of factors like labor and material costs. While it's challenging to nail down costs, we've collected a list of price ranges for standard electrical services.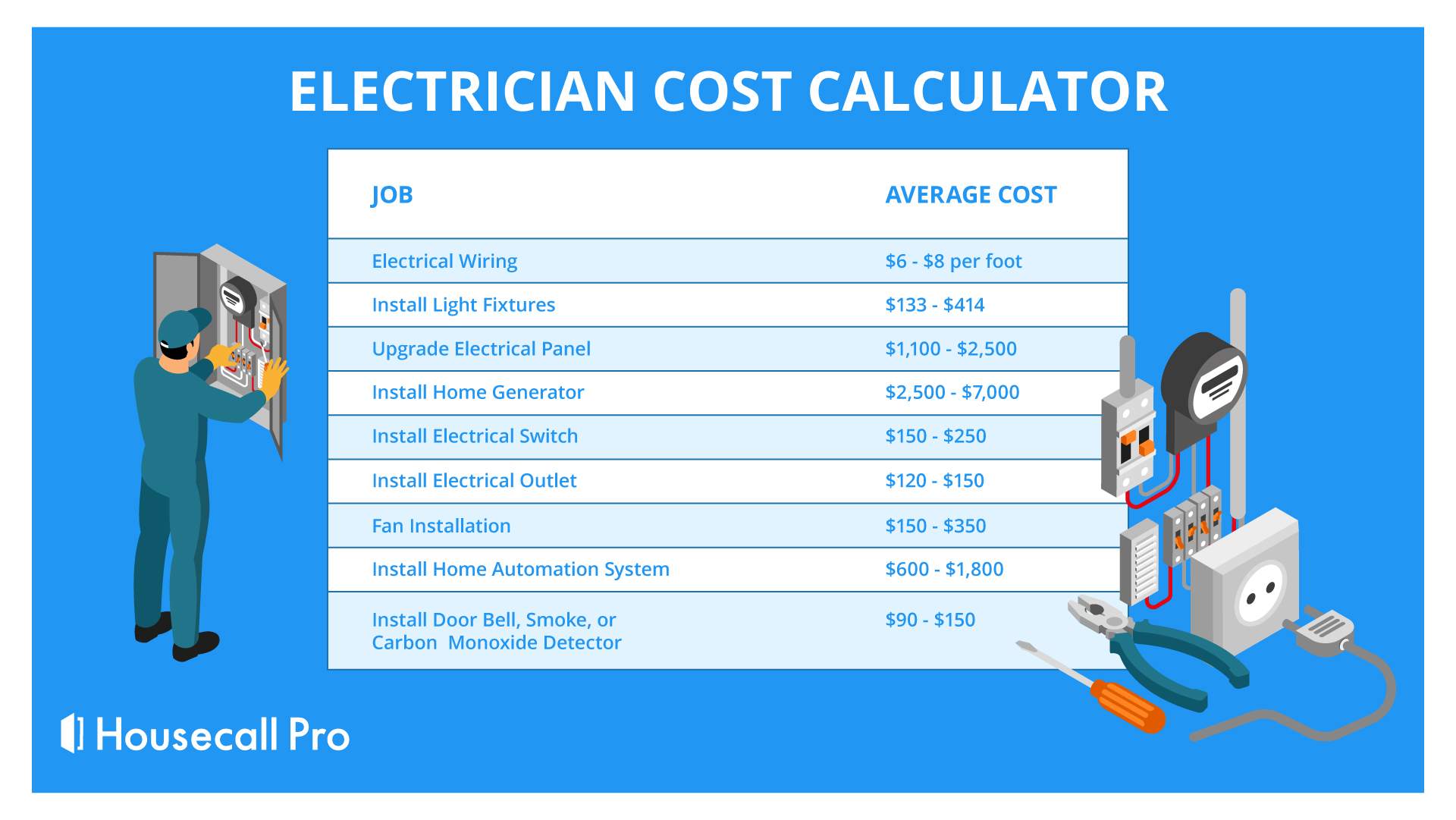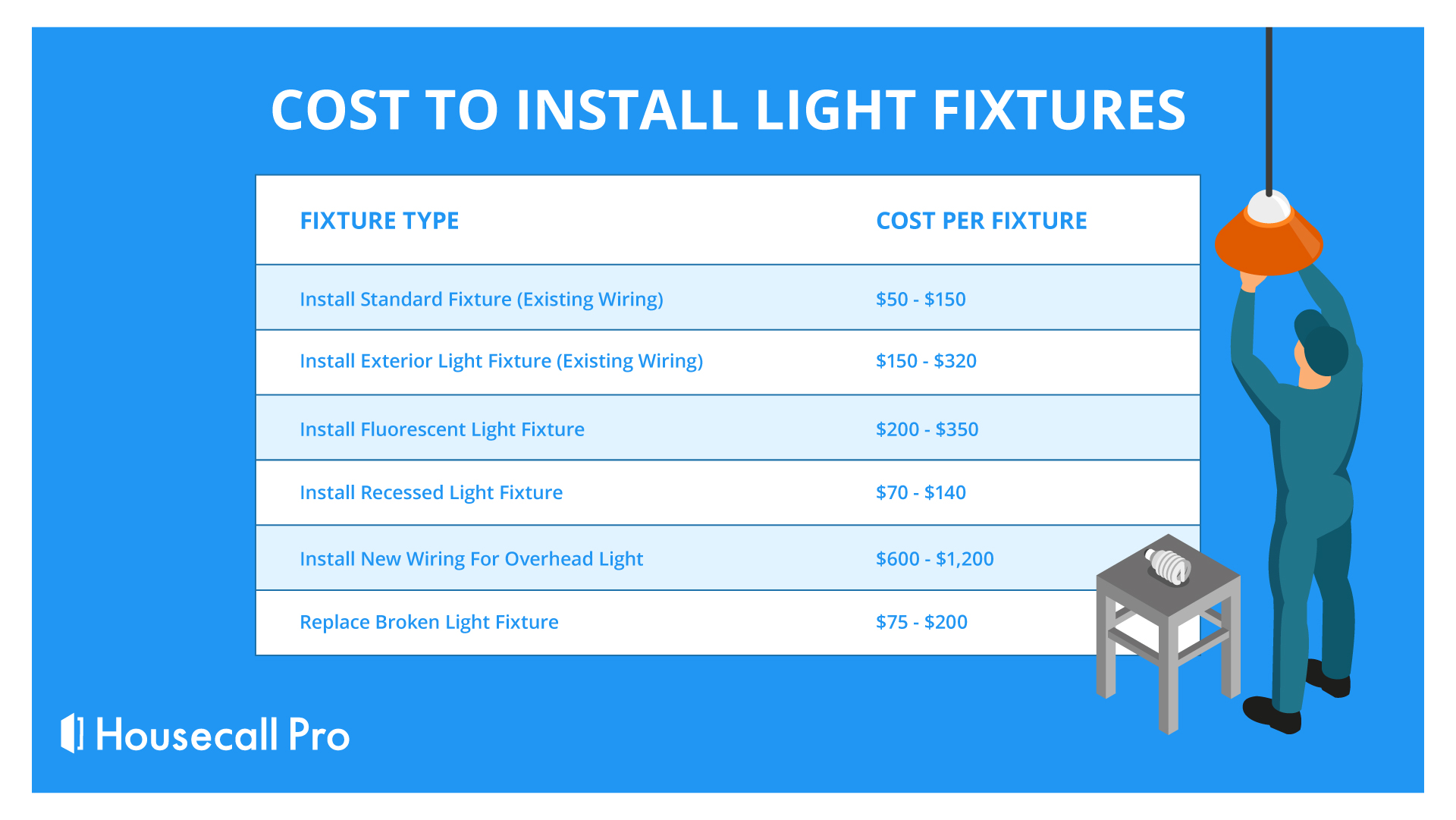 If you want to know more averages, click here. 
When calculating prices, make sure your total price will not only cover your expenses but also give you a profit.
Here's an example of a simple accounting method you can use to calculate your earnings.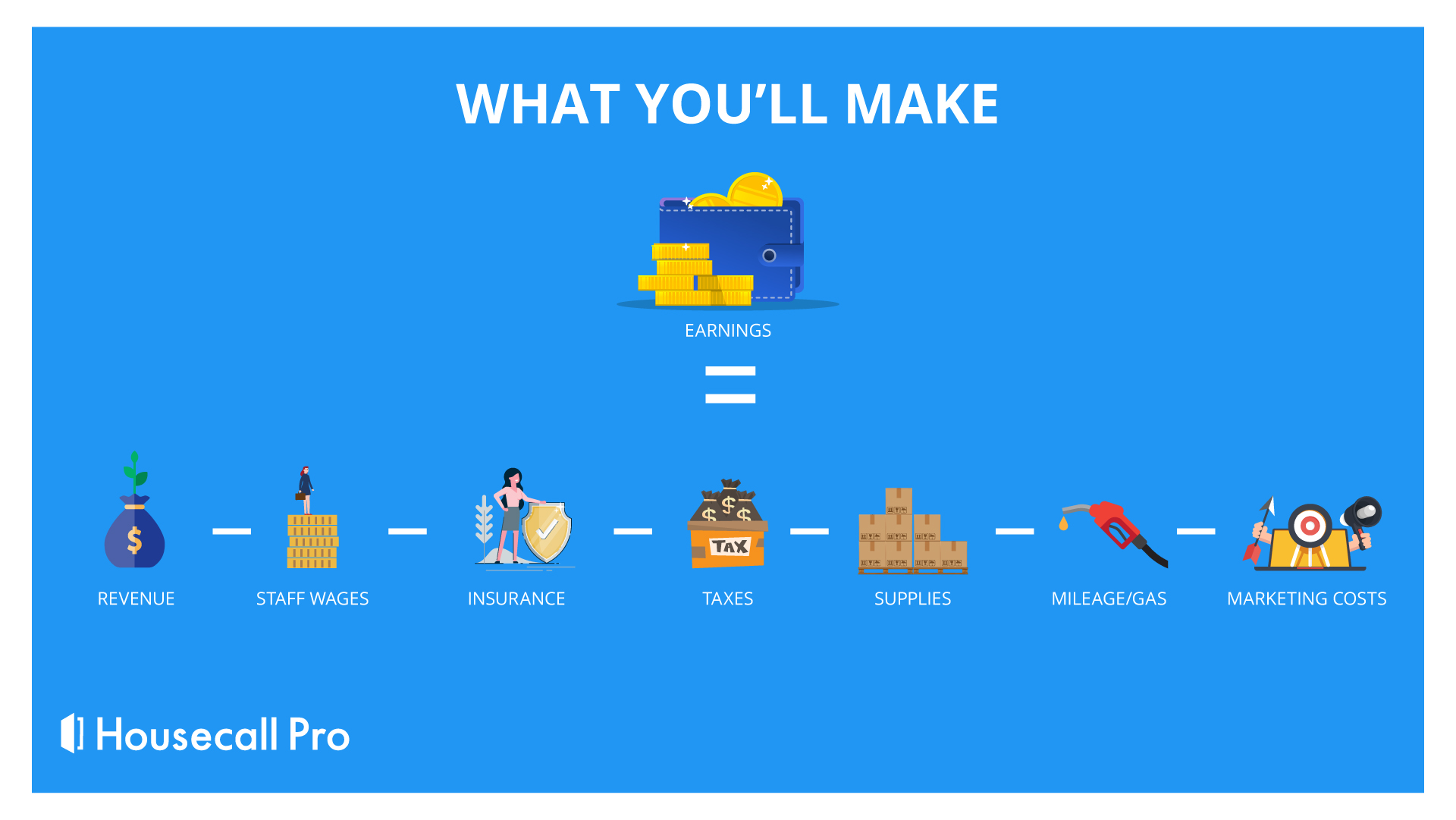 How to Win Electrical Contracts
If you want to win electrical contracts, you need to know how bidding works.
To give you a quick overview, electricians can bid (provide a price estimate) for completing particular jobs. The key to successful bidding is to become an expert at estimates. If you're bidding too high, you could lose the job to another electrician. If you bid too low, you can sell yourself short.
To be a successful bidder, you need to choose jobs that match your niche, skill level, resources, and availability. There is also a significant difference when it comes to bidding residential and commercial projects.
In residential jobs, the homeowner is most likely the decision-maker
In commercial jobs, there's usually a team of people involved in the decision-making process.
For larger organizations, you may need to complete a tender to advance in the next stage of the selection process.
So how do you become an expert at estimates?
You need to examine:
The type of work you'll do
The size of the home or building
How complex the project is
What materials you may need
How long the job will take
Electrical Services List: Your Offerings
As with any business, you must be aware of what your service offerings are. If you don't clarify this early on, you could be attracting the wrong type of customers.
You can start by putting together a list of services you can carry out. Here's an example of a residential services list.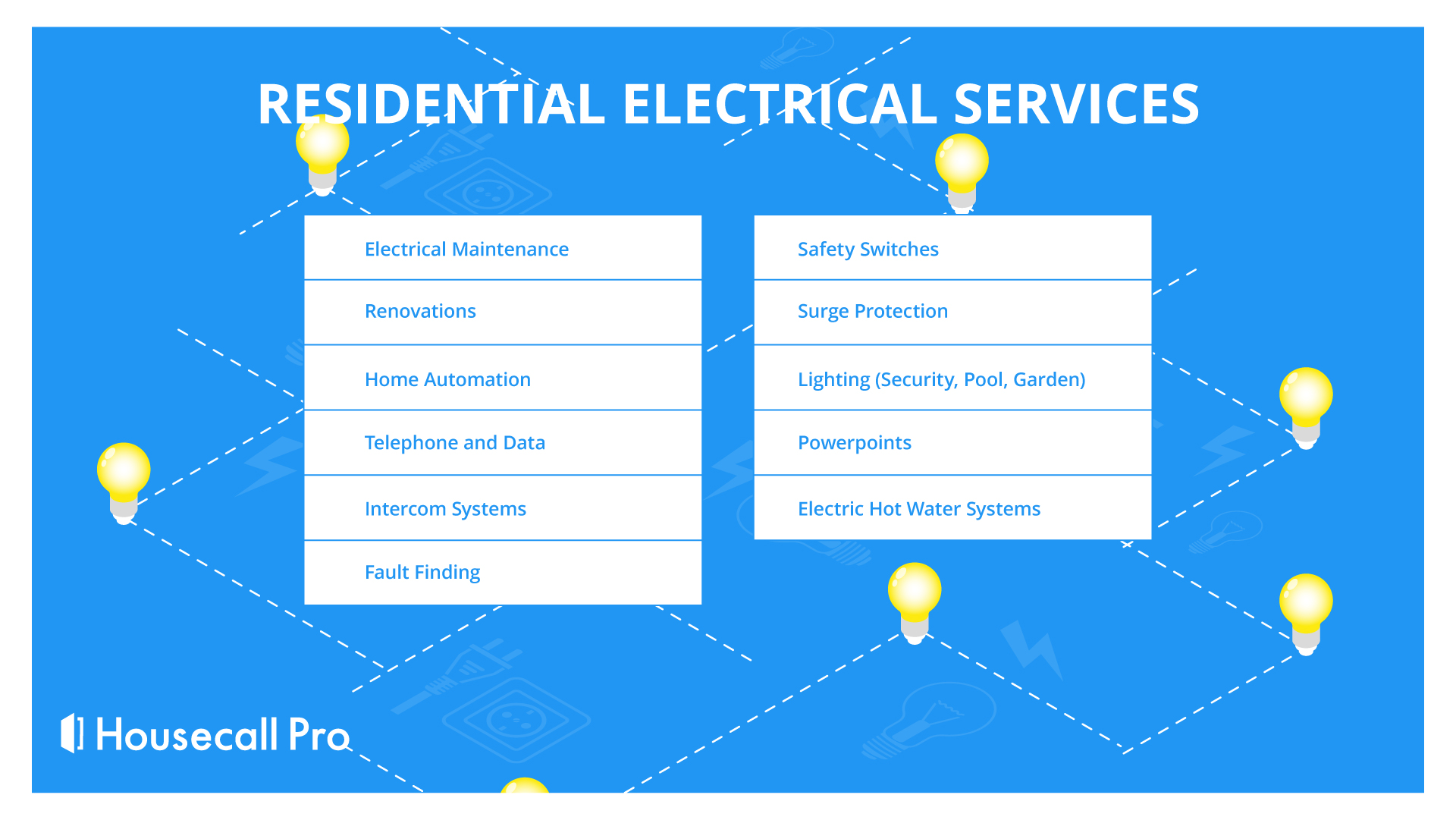 Specializations
Have you considered specializing or niching down even further?
While you may be a residential or commercial electrician, you could choose a specific segment within the industry and be the leader in that particular type of service. For example, while there are many residential electricians, you can specialize in installing and repairing outdoor lighting or even installing smart solutions for the home.
Electrical Business Marketing
Do You Need To Pay for Advertising? 
When it comes to getting leads, while you can pay for ads, here are a few free approaches that can help you get started.
Prioritize Reviews and Referrals
Online reviews are essential for every business. Did you know that 91% of people regularly read online reviews? But that's not all. 68% form an opinion after reading only one to six reviews. Reviews represent social proof, and if you're not prioritizing your reviews, then a bad review can quickly hurt your reputation. Make sure you follow up with reviews and enquire further if the customer isn't completely happy with the experience.
When it comes to service recommendations, nothing beats a referral from a trusted friend or family member. That's why you should also prioritize referrals. Referrals are one of the best free ways to market your business. If you're not sure where to start, you can begin by providing every customer with a fantastic and memorable experience.
"What works for me here in Orange County is not going to work the same in a rural community in Pennsylvania, but I think all-in-all one of our best [solutions] is Yelp […[ Yelp is great because of the review platform. But word-of-mouth has been growing, and I've noticed we're starting to see the third-hand friend-of-a-friend referrals." 
– Mike Park, Electric Medics.
Other Electrical Promotional Ideas 
When it comes to marketing and self-promotion, you can explore:
The Chamber of Commerce: It's a business network like a local organization of businesses. We highly encourage you to network with other small business owners. Many electricians received work by engaging with other service professionals in their area.
Facebook Groups: You can network and join Facebook Groups, engage and add value to the groups, and offer promotional discounts for group members.
How to Retain Customers
To retain customers, we recommend you provide:
Helpful Reminders: You can offer customers fridge magnets with useful information like emergency phone numbers, or a yearly calendar, with your business name and logo. You can also send them helpful follow-up material via emails. That way, if they need an electrician, they'll know who to call.
Incentives for service agreements: You can provide discounts, additional perks, and guarantees, to convince your existing clients to enter a recurring service agreement.
Clear service list offerings for potential partners: You can target real estate agents, property managers, or builders with a specific service list. If they like your service, there's a good chance they'll be back for more.
Hiring: Your Path to Growth
Do You Need to Hire?
You'll most likely start as a one-person electrical business. Many electrical businesses stay as a one or two-person team. But if you're keen to grow your business, you'll need to hire in a few extra pairs of hands.
Are You Ready?
How do you know if you're financially capable?
Here's a general rule of thumb.
You should only begin to hire an employee if:
They make money for your business
They save money for your business
If you're at the early stages, you need to assess whether the employee will make money for your business.
Questions you can ask include:
Do I have overflowing work that I can't handle myself?
Am I working too much in the business, that I have no time to work on the business?
If you answered yes to any of these questions, then you may need to consider hiring.
When it comes to financial capability, we recommend having extra cash flow. You will not be able to make a profit from the first employee right away, as they need time to learn how your business' systems and procedures.
If you're still undecided, you can hire a contractor instead. While you're paying more per hour, you're not locked into paying a salary. If your business grows and the contractor does well, you can transition the contract into a full-time hire.
Have Your Processes in Place
Before you bring someone on board, make sure you have the right systems and procedures. The last thing you should do is pay someone to sit and wait, while you find tasks to assign them.
How do you get processes in order?
Standardize the work: Make sure you're efficient at what you do so you can teach someone else how to deliver that service in the same way.
Document all procedures: Get all repeatable and routine processes out of your head and onto an online document.
List out key tasks before hiring anyone: You want to ensure that you have a decent workload for your employee. You can keep track of their tasks and organize them according to daily, weekly, monthly, and urgent tasks. We recommend using a Trello board to stay organized.
How to Hire, Train and Manage people
When to hire: Only hire if it's a must! Hiring can be an expensive process. If you're looking to fill an administrative role, there may be a CRM technology that can help. If it's an accounting problem, then can you use a payment and invoicing app instead to streamline existing procedures.
Training Employees
According to Colby Hunter of Hunter Electric, one of the problems of training electricians is the lack of focus on soft skills, which often isn't touched on at all in trade schools or apprenticeships.
"Growing a business in the residential sector, the most important thing isn't how much you know as an electrician, it is 100% your customer service skills. It's about being able to deliver a positive experience to your customers. And that positive experience has a lot of components and the smallest of which is actually be able to fix their electrical problem."
If you're finding soft skills an issue with your new contractors or employees, you should consider holding a soft skills training session every week. That's what Colby Hunter does. He uses a mix of training professionals and online resources on a mix of customer service and sales topics.
"I'll have my techs present if they have like a big win or something like that. It's almost like a testimony. They'll get up there and testify, so to speak, on what it was that made the difference to their customers and where they got the big win."
The Result: Higher Rates and Better Employee Retention
Over the past two years, Colby raised his rates over 50% because his customers loved his techs and trusted his services.
"So you hire good people that you can trust, and you can raise your prices and increase your profit margin, and you can afford to pay those good people more money to stick around. And even though you're paying those guys more than market rate, it doesn't matter because they're making you way more than that."
Conclusion
Starting an electrical business is a major decision in every electrician's life.
You went from being an apprentice to journeyman, to the master of your trade, and now opening your own business. It's the next step that can enable greater flexibility, creative freedom, life fulfillment, independence, and wealth.
However, to start and run a business successfully, you need to have grit in the game. You're going to have to work long hours. It'll probably take you three to four years to establish your company, build a reputation, and gain a customer base.
It's not uncommon to lose money in your first year once you factor in capital costs.
This is okay.
Breaking-Even tends to happen in the third or fourth year, for many businesses.
So if you're willing to stay in the game, you can create a business that may even see six or seven figures every year.