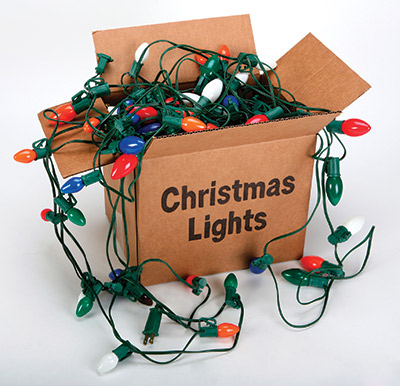 The fifteen days from December 22 through January 5 are the most dangerous of the year in terms of home Christmas tree structure fires, according to NFPA. Defective holiday lights and line voltage cause approximately 160 home structure fires; Christmas trees account for an additional 230 fires each year. Together, fires beginning with holiday lighting or Christmas trees result in an average of 13 civilian deaths, 34 civilian injuries, and $26.3 million in direct property damage per year.
Electrical Safety Foundation International (ESFI) has prepared a toolkit of holiday safety tips to help counteract these statistics in local communities. A summary of these tips follow.
Pre-Holiday Tips
Test all smoke alarms. Replace the batteries or smoke alarm if the alarm is not working properly.
Inspect all electrical decorations and replace any strands that have broken lights, frayed wires, or insulation breaks.
Do not connect more than three strands of holiday lights, unless you are using LEDs.
Outdoor lights and decorations should be plugged into ground-fault circuit interrupters (GFCIs). If the circuits are not protected by GFCIs, purchase a portable outdoor GFCI where electrical supplies are sold. No specific knowledge or equipment are required to operate a portable GFCI.
Check product labels or packaging to determine whether a product is intended for indoor or outdoor use.
Do not overload circuits. Do not place cords under furniture or rugs.
Give a three-foot buffer from any decorations and an open flame (candles, fireplace, etc.).
Purchasing Tips
General
Check the labels of electrical equipment! Buy equipment only if the label indicated is has undergone independent testing by a nationally recognized testing laboratory, such as Underwriters Laboratories (UL), Intertek (ETL), or Canadian Standards Association (CSA).
Buy from trusted retailers to avoid the risk of purchasing counterfeit products.

Buy decorations according to their intended use:

indoors

or

outdoors

.

Send warranty and product registrations forms to manufacturers in order to receive any product recalls promptly.
Natural and Artificial Trees
In natural trees look for the following:
1) well-hydrated with vibrant green needles;

2) needles hard to pluck and don't break easily from the branches;

3) trunk sticky with sap. Place in a tree stand with plenty of water to keep the tree hydrated and to reduce the risk of fire.
In artificial trees, choose one that is tested and labeled as fire-resistant.
Lights: LEDs vs. Incandescent
Incandescent lights burn more brightly than LEDs.
LEDs last up to 20 times longer than incandescent lights.

LEDs generate less heat, which translates to greater energy-efficiency.

LEDs are made of epoxy lenses, not glass, and are much more durable.

LEDs are initially more expensive, but recover cost through energy savings.
Lighting Safety Tips
When planning and implementing the lighting design, follow these safety tips to reduce the risk of property damage, injury or death.
When hanging lights outdoors, you should use a wooden or fiberglass ladder to avoid residual shock.

Turn off all indoor and outdoor holiday lighting before leaving the house or going to bed.

Never drape anything over a light bulb or lampshade.

Avoid using candles when possible. Consider using battery-operated candles instead.

If you must use candles, place them three feet away from combustible material and in areas where they will not be overturned.

Never leave an open flame unattended; extinguish it before you leave the room.
Cord Safety Tips
When using an extension cord, select a cord that is long enough to meet your needs. Never attempt to extend the length of a cord by connecting it to another cord.
Check that all electrical items, including extension cords, are certified by a nationally recognized independent testing lab, such as Underwriters Laboratories (UL), Intertek (ETL), or Canadian Standards Association (CSA).

Extension cords are for temporary use only.

Extension cord placement: 1) not in high traffic areas or under carpets, rugs, or furniture; 2) not at sharp angles or in pinched positions; 3) never stapled to wall or baseboard; 4) never run through walls or ceilings.

Extension cords usage: 1) never remove the third prong to make a three-prong plug fit a two-prong outlet. 2) Insert plugs fully so that no part of the prongs is exposed when the extension cord is in use. 3) Make sure cords are rated properly for their intended use: indoor or outdoor. 4) Make sure cords meet or exceed the power needs of the item being energized.
Space Heater Safety Tips
Space heaters are one of the leading causes of home fire deaths, responsible for an estimated 412 in 2010, according to a report by NFPA. In addition, it is estimated that heating equipment was involved in 57,100 reported U.S. home structure fires resulting in 1.062 civilian injuries and over $477.7 million in direct property damage.
The leading factors contributing to ignition in home heating equipment fires were failure to clean the device, the heat source being too close to combustibles, and mechanical failure or malfunction of the equipment. Proper installation, use, and maintenance will reduce the risk of property loss, injury, or death resulting from the use of heating equipment.
Gas-fueled heating devices pose additional danger, as they are the primary heating source responsible for non-fire carbon monoxide poisonings. Carbon monoxide is odorless, invisible, and potentially deadly. Test carbon monoxide and smoke alarms each month to keep the family safe and before using additional heating equipment.
All heaters need space. Keep things that can burn at least three feet away from heating equipment.
Plug portable space heaters directly into an outlet; do not use an extension cord.
Vent all fuel-burning equipment to the outside to avoid carbon monoxide poisoning. Also, remove snow or fallen leaves from around the outlet to the outside to ensure proper venting of the exhaust.
Childproofing Tips
Holiday celebrations also present additional safety hazards for children. If you have not already done so, install tamper-resistant receptacles (TRRs) or use safety covers on all unused electrical outlets, including those on extension cords. TRRs include a built-in shutter system that prevents foreign objects from being inserted. When equal pressure is applied simultaneously to both sides, the receptacle cover plates open, allowing a standard plug to make contact with the receptacle contact points. Without this synchronized pressure, the cover plates remain closed, preventing the insertion of foreign objects.
Avoid putting Christmas tree lights, ornaments, metal hooks, and other small, "mouth-sized" decorations near the floor or on lower limbs of the tree where young children may reach them. Avoid using sharp or breakable decorations within reach of children. Never allow children to play with lights, electrical decorations, or cords.
Avoid toys with small, detachable pieces that can present choking hazards. Avoid also gifts that require small button batteries; these pose choking risk if children are able to open the battery covers.
Watch children closely in the kitchen. They must be supervised at all times when an electric or gas stove is within reach. Actually, keep them at least three feet away from all cooking and heating equipment. Never hold a child while cooking or removing hot food from the microwave, oven or stove.
Wrapping Up the Season
Holiday decorations are for temporary use. Leaving electrical decorations up for extended periods leaves wires unnecessarily exposed to the elements, which can decrease the product's shelf life and increase the risk of electrical hazards.
Always unplug decorations by using the gripping area. Pulling on the cord could damage the wire and present a shock or fire hazard. Inspect the wiring and discard any cracked, frayed, or that appear to have damaged wire insulation. Label, box, and store indoor decorations separate from outdoor decorations. Remember to store all electrical decorations in a dry area that is not accessible to children or pets.
Natural Christmas trees continue to dry out, making them increasingly flammable. Check with your local community to find a recycling program through which to dispose of your tree early in the New Year.
For more information on how to wrap up the holidays safely and on other electrical safety resources for use throughout the year, visit www.esfi.org or contact them at info@esfi.org or (703) 841-3229.
References
Electrical Safety Foundation International (EFSI), Make Safety a Tradition community outreach kit. Available from www.holidaysafety.org.
---
CEO David Clements represents IAEI on the ESFi board of directors.