A crew of Ulster BOCES students from the Saugerties Central School District in New York State is "paying it forward" by helping to build a home for a family of five through Habitat for Humanity (Ulster Habitat), a nonprofit organization that recruits volunteers to build affordable homes for those in need.
Most of the students are enrolled in the two-year Ulster BOCES Electrical Construction & Maintenance Program. These students are using the skills they have learned in class to help build a home on Donna's Way in Glasco, New York. BOCES, or Boards of Cooperative Educational Services, were created in 1948 by the New York State legislature and operate as extensions of local school districts by offering shared educational programs and services.
Students participating in the project include seniors Kaitlyn Lennon, Dylan Senor, Jonathan Toth, juniors Dale Wolgamuth, Ian Foster, and Ben Rappoport.
"I'm proud to be working on a project like this," said electrical student Kaitlyn Lennon, one of four girls in the program. "How cool is it that I get to help make a family's dream of homeownership come true?"
"I'm so impressed with all of the student volunteers," said Ulster Habitat Project Manager Peter Tirc. "They are always ready and willing to jump in and help out; they always come to work with smiles on their faces."
The Saugerties students received special permission from Ulster BOCES Electrical Construction & Maintenance Instructor Robert Jones to travel to the worksite on asynchronous learning school days to hone their electrical skills. This opportunity also gives students the chance to shadow other trade professionals, including carpenters, painters, and masons, at the worksite.
Saugerties Guidance Counselor and lead project advisor Michael Catalano, who holds a Master Electrician license, said he is "proud to watch these kids in action." Through Catalano's guidance, the students installed a new 200-amp electric service, which includes installing a secondary underground residential distribution (URD) cable to a pad mount transformer, which is placed on the ground (green enclosure). The purpose of the transformer used is to take primary high voltage electricity and transform it to a lower voltage for residential home usage. Then the students installed an electric meter socket, electrical power distribution panel, installed grounding and bonding, mounted switch and receptacle (outlet) nail up boxes, and recessed lighting, installed circuit wiring to all areas of the home and equipment. Everything was done according to the National Electrical Code (NEC), which is a regionally adoptable standard for the safe installation of electrical wiring and equipment in the United States. Also, the students installed cable TV and telephone to all bedrooms and the living room. Students will do the finish wiring in the spring, which includes installing switches and receptacles, cover plates, lighting fixtures, and so forth. "These students are using the electrical theory and knowledge of the NEC that they have learned in class and are putting it into real practice," he explained.
Despite the lack of internship opportunities due to COVID-19, Ulster Habitat and the Saugerties Central School District wanted to help secure this particular internship. They worked hard to consider all safety precautions. Each student is required to follow Occupational Safety and Health Administration standards, not only for workplace safety but also for COVID-19 safety. Ulster Habitat and the school limited the number of students working on the site to fewer than 10 people at a time, and students were also required to wear face masks, hard hats, eye protection, and more.
Even though the students are working inside an enclosed structure, there is no heat so that it can get pretty cold, said Catalano. Working in low temperatures not only requires proper clothes but also calls for a good mindset.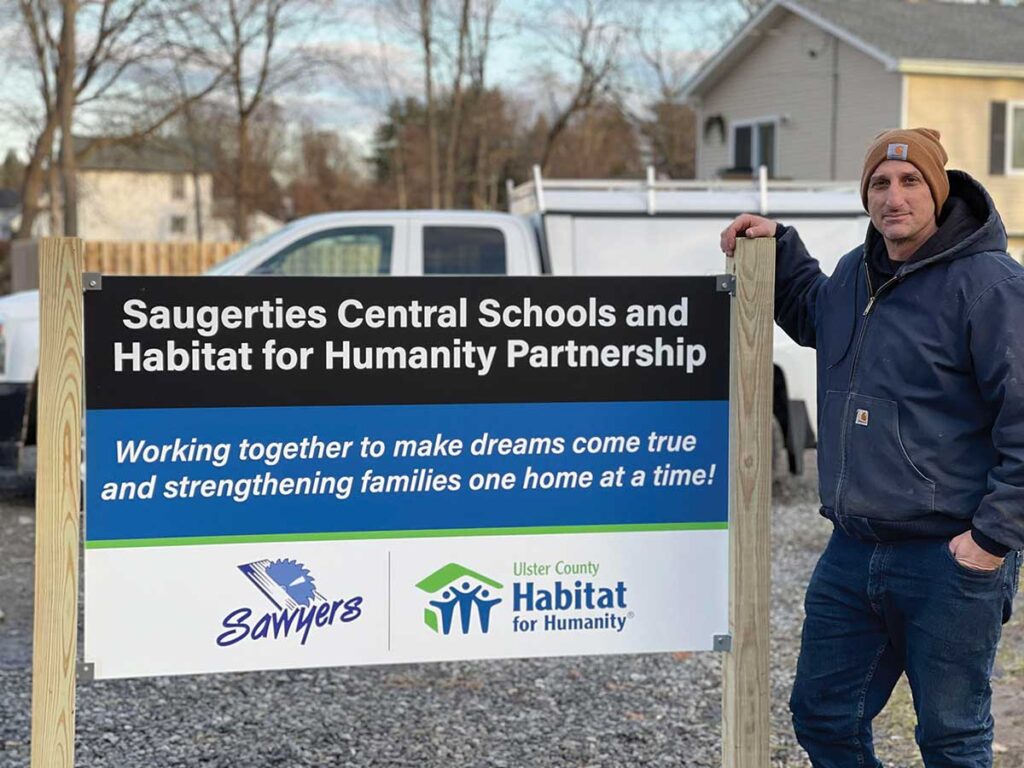 Catalano recalled one cold afternoon when Saugerties senior Jonathan Toth was the only student who came to the job site to help work on the electrical panel. Catalano said he pushed Toth hard that day and talked about the importance of exhibiting good workmanship. Later, the construction manager took notice of Toth's clean work and complimented him on it, and Jonathan seemed to beam with pride after that.
"It feels really good to have a skill that can help others," remarked Toth.
Catalano said that this Habitat for Humanity experience has been great because student volunteers are seeing that it's more than just wiring a house, but it's giving back to something bigger than them. They are learning that giving is better than receiving. It's neighbors helping neighbors. This is a life lesson that will aid them in becoming successful. It also doesn't hurt that they are getting real hands-on experience in the electrical trade. Students having access to these opportunities bring out the best in them, and it is very much needed.
Throughout the build, the future homeowners (drawn from the local community) invest their own "sweat equity" before they are allowed to take ownership. "Every Ulster Habitat family must meet three criteria: a need for housing, the ability to pay an affordable mortgage, and a willingness to invest between 200-400 hours of 'sweat equity,'" Tirc said.
Since 2019, a total of 23 students enrolled in the Electrical Construction & Maintenance Program have applied their in-class lessons to the construction of three Ulster Habitat homes on Donna's Way.
The last house is expected to be completed sometime in the spring.