Classified government emails, breaking news broadcasts and 9-1-1 emergency phone calls—erased, unwatchable and unanswered. Crises are never expected, but they are preventable. Without proper electrical grounding and bonding systems in place for data, broadcast and public service communication centers, emergency situations can turn into catastrophic events.
Up to 80 percent of power quality problems relate to inadequate wiring or grounding, according to the Electrical Power Research Institute. As the memory bank for commercial, industrial and government facilities; the primary news sources for many Americans; and the first response contact for emergency phone calls, these centers must be prepared.
Installing a grounding and bonding system can reduce the risk of sensitive or communication system outages. While systems that comply with present codes are safe, sensitive locations must exceed those minimum requirements to help assure reliability.
Copper and its alloys are the most common wiring or grounding material used for reducing power quality problems. Unlike other materials, copper avoids oxidation complications, provides superior reliability and it is corrosion resistant at connections. The installations described below, explain how copper improved coverage and protection at data, broadcast communication and public service centers.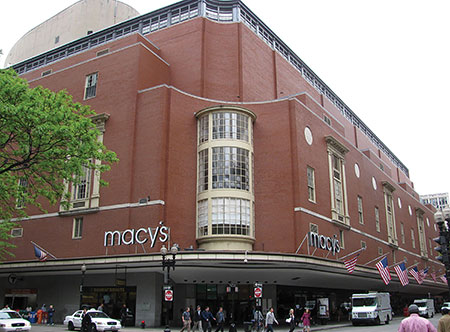 Data Center
Markley Group, a leading global data center developer, installed a robust copper-base system to protect itself from data loss at its 800,000-square-foot data center located inside the 70-year-old Macy's building at One Summer Street in Boston's "Downtown Crossing." The massive center occupies most of the city-block-size building. It is the largest and possibly the most significant data center facility in the entire New England region.
The infrastructure is housed in the basement levels and multiple roof areas, supplying high-quality electric power to customers 24 hours a day, seven days a week, all of whom depend on the electrical infrastructure being stable, maintaining the correct voltage and staying online without interruption. The center delivers power to an extensive customer base.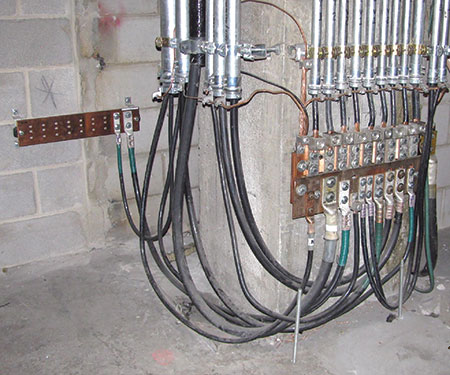 The reliability of the data center depends on the copper inside, which exceeds The National Fire Protection Association's (NFPA) National Electrical Code ® (NFPA 70: NEC) requirements. To quote Don Essen, Markley's facility engineer, "Code-mandated wire sizes and voltage drop limits involve safety issues (overheating) but can also affect reliability and power quality. The NEC is a minimum standard and we supersede it every day in every project we work on. Working strictly to Code practice, we would be running AWG #12 wire for a 20-A branch circuit. Our standard is to run #10 instead. It can handle 1.5 times the ampacity; it's more robust and therefore more reliable. Also, with #10, the customer has the built-in flexibility to upsize to 30-A receptacles in the future if he wishes. There's very little increase in materials and labor costs, but reliability improves and you usually don't have to upsize the conduit when upsizing copper, as you would with aluminum."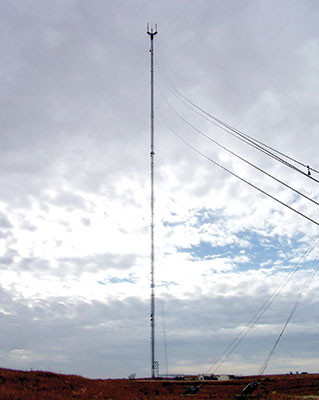 Broadcast Communication Center
After two lightning strikes hit the 2,000 ft. tall KPTH-KMEG tower, located on the flat lands of the Iowa prairie, station management examined their elaborate grounding system and found that the two strikes were stronger than usual, and packed enough energy to damage two of the massive, reinforced concrete anchors that secured the guy cables. Despite compliance with electrical codes, the culprit was an inadequate grounding system that couldn't adequately protect the facility.
Among the retrofits to fix the problem, a 250-kcmil tinned-copper ring ground was installed and three 250-kcmil radials were run from the ring to the tower base. Tinned-copper was chosen here for its good corrosion resistance and for its ability to resist dissimilar-metal (galvanic) corrosion. At each of the three outermost anchors, new deep electrodes (up to 75-ft.) were bonded to the guys, three additional 50-foot long AWG #2 bare copper leads were run radially to existing electrodes. The new electrodes provided a low-resistance path for the lightning energy.
The new grounding system at KPTH-KMEG tower has effectively eliminated lightning damage, both to the tower and to ground-based equipment—including the cable anchors. Although there have been numerous strikes over the years since the system was upgraded, none of them has caused so much as the transmitter to trip.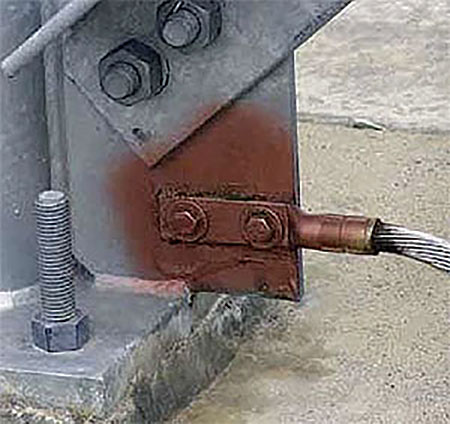 Public Service Center
Cunningham Fire Protection District's Fire Station No. 1 in Denver, Colorado, installed a copper grounding and bonding system to stop lightning strikes from damaging its station's radio and communication system, resulting in a possibly fatal outcome.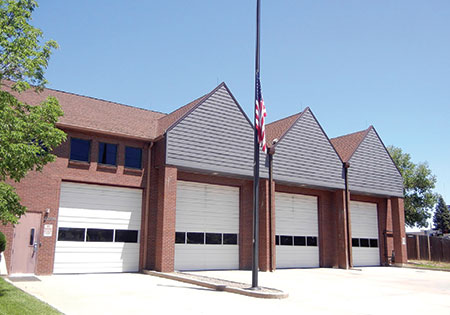 On average, Denver experiences 50 large thunderstorms per year. The antenna towers and other building extensions at the fire station created the perfect breeding environment for powerful lightning strikes that often left the station with damaged communication systems.
After approximately 14 years of spending between $8,000 and $10,000 each year in costly lightning-caused repairs, and dealing with potentially fatal outages to the station's radio and communication system, the station discovered a solution—a copper-based lightning protection system.
The system consisted of both aboveground and belowground components. Above ground, a new copper-based halo ground interconnects the new air terminals, utilizing 32-strand, 17-gage AWG braided copper lightning cable. From the roof, four braided copper down-conductors were run along the exterior walls of the building; terminating in 10-ft driven copper grounding electrodes; establishing the four points of grounding (earthing) required by NFPA specifications.
A new 200-ft triangular grounding array was created out of copper cable and installed to connect the neighboring TV transmission tower to the fire station's grounding and lightning protection system. The copper cable and electrode installation allowed for the absorption and diversion of high voltage strikes from the tower into the earth, rather than the fire station's electrical systems.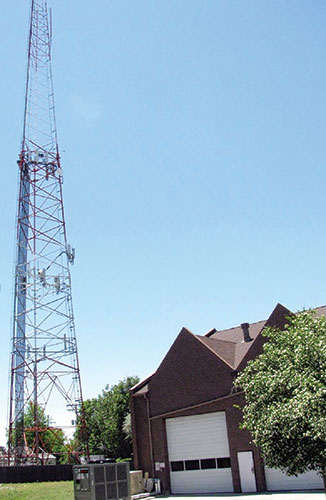 The 100-percent copper, lightning protection system designed and installed at Fire Station No. 1 provided the durability and reliability needed, and has worked flawlessly for more than a decade, with just over one year payback time.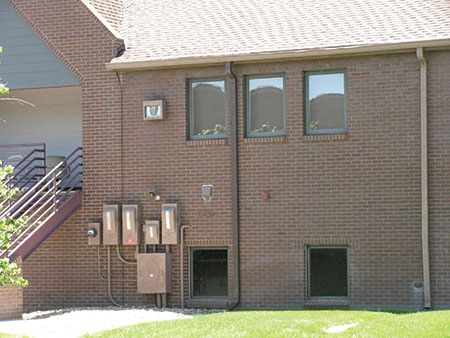 Preventing System Failures
Time has proven that a switch to a properly installed electrical grounding and bonding system can protect organizations from property damage and even loss of life. The best time to install a copper grounding and bonding system is before emergencies occur, as the Markley Group did with its large data center; but even retrofits to older facilities can be very cost-effective in reducing or eliminating damage and down time. The average additional cost to install an enhanced electrical distribution system—designed to the currently recommended practice versus a "standard" system—has been estimated at 1 to 2 percent of the cost of construction.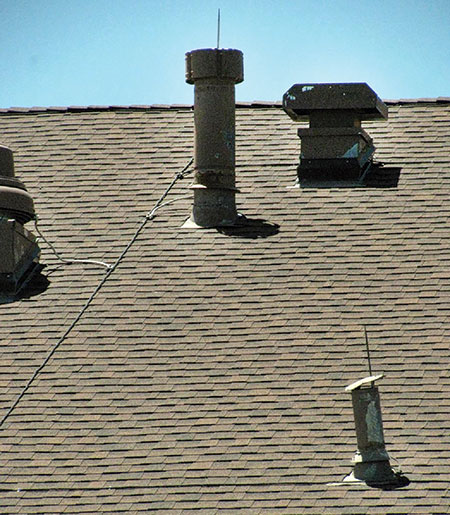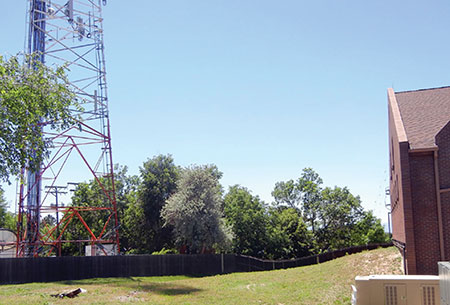 Once a system is installed, it is important to perform regular maintenance and checks, which service managers at KPTH-KMEG did not do. It has been said you don't get what you expect, you only get what you inspect. We recommend that building and facility managers take the necessary steps to protect their property from power quality problems by going beyond code expectations and by installing copper when possible.
You can help prevent many power quality problems from occurring by including the following in your wiring, grounding and bonding systems:
Double-size neutral conductors or separate neutrals for each phase
A separate, insulated full-size grounding conductor rather than relying on the conduit alone
An isolated grounding conductor for sensitive equipment
Segregated sensitive loads on separate branch circuits, fed from a separate panelboard, fed from separate feeders (and even separate transformers if possible)
A separate branch circuit for every 4 to 6 duplex outlets
An outside copper ground ring and multiple ground rods as part of the grounding electrode to achieve lowest practical resistance to ground. Less than 5 Ohms is recommended by IEEE for sensitive equipment. Measure ground resistance at least annually.
Harmonic-rated panelboards and transformers
Surge and lightning protection
Oversize phase conductors to minimize voltage drop. (This will save energy too, and may even pay for itself through lower I2R losses.)
Materials based on superior connectability
---
To learn more about grounding and bonding, as well as other electrical issues, sign up for one of CDA's free continuing education electrical seminars. CDA is now registered with RCEP as a provider of seminars that may lead to Professional Development Hour's for renewal of Professional Engineer licenses in most states.
David Brender is the National Program Manager for the Copper Development Association.
The Copper Development Association is the information, education, market and technical development arm of the copper, brass and bronze industries in the USA. Learn more at www.copper.org or through our blog thinkcopper.org.
Follow us on Twitter @ThinkCopper and @CopperEnergy.