WHAT DO YOU CALL AN ELECTRICAL AHJ?
Job titles for those who perform electrical inspectors are as varied as the codes adopted by their jurisdiction. From a wiring inspector in Massachusetts, to an electrical inspector in Kansas, to a building inspector in California, all of these job titles have one thing in common. They perform electrical inspections and focus on keeping their jurisdiction safe. The most common names for those who performed electrical inspections were electrical inspectors (25.4%), building inspectors (23.7%), building official (13.3%), and  just a plain old title of inspectors (10.9%). Other titles (such as combination inspectors) rounded out the total at 26.8%.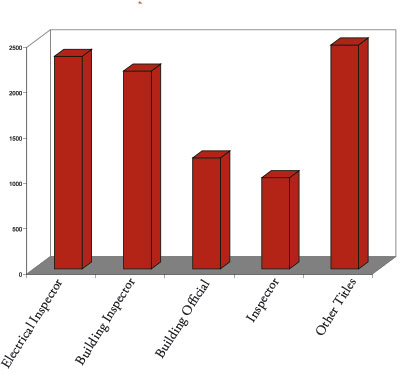 Other common titles for those who do electrical inspections:
Assessor/Inspector
Code Enforcement Officer
Code Compliance Officer
Combination Inspector
Construction Code Inspector
Electrical Safety Inspector
Electrical Subcode Official
Electrician
Field Inspector
Fire Marshal
Fire Prevention Inspector
Housing Inspector
HVAC Inspector
Plans Examiner
Plans & Specification Inspector
Residential Inspector
Sign Inspector
Structural Inspector
Wiring Inspector
Zoning Enforcement Officer
Hey…you?
Different jurisdictions and states call AHJs who perform electrical inspectors by different names. Here are a few of the different titles from coast to coast. The most common, however, is the trusty old electrical inspector. Titles also titles vary from local jurisdiction to local jurisdiction. A wiring inspector in one jurisdiction may do the same exact job as an electrical inspector or combination inspector in another.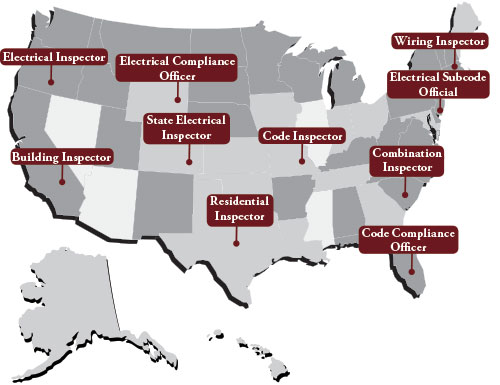 WE'VE GOT A NAME, NOW WHICH DEPARTMENT?
If there is a little synchronism in what we call individuals who perform electrical inspectors, there is a lot less when it comes to what department those individuals will work for in their local jurisdictions. A lot of the departments do have the word building in them, but they can also run the gamut from assessing department to zoning/area planning department.

Other common titles for departments that perform electrical inspections:
Assessing/Code Enforcement Office
Codes Enforcement
Community Development
Construction Industries/Construction Office
Development Services
Electrical Department/Services
Engineering
Fire and Rescue
Housing and Building
Neighborhood and Environmental Programs (DNEP)
Permit and Development Office
Planning and Zoning
Public Works