You can trace the history of solar power all the way back to 19th century France, but serious investment and active deployments started during the energy crisis of the 1970s. The world — and certainly the U.S. — struggled then with fossil fuel availability due to instability of oil-producing countries in the Middle East. The U.S. government created incentive programs to encourage solar installations, but the relative inefficiency of early solar technologies limited widespread adoption. In fact, it took 40 years for the U.S. to record its 1 millionth solar installation, a milestone it reached in 20161.
That can best be described as incremental growth. You might also call it ancient history.
In the last three years alone, the U.S. has doubled its total solar installations, recording its 2 millionths such deployment in May of this year2. That represents the culmination of a decade-long increase in solar activity during which the industry experienced an average annual growth rate of 50 percent3. In 2018 alone, the U.S. added 10.6 gigawatts (GW) of solar capacity, and the country now has 69.1 GW of total installed solar capacity4 – enough to power more than 13 million homes. That total is expected to double over the next five years5. Currently, solar represents 1.6 percent of the total U.S. energy generation.
There are myriad reasons for the recent spike in solar activity. Solar technologies are improving and becoming more efficient, closing the cost gap with fossil fuels. The government is investing in and encouraging private investment in solar and continuing to incentivize solar installations. Concerns about the impact of fossil fuels and climate change are driving alternative energy innovation and adoption. And in large parts of the U.S. – certainly much of the western U.S. and especially the West Coast – concerns about grid reliability are fueling investment in alternative and supplemental energy sources.
Businesses and other groups in these regions increasingly are adding solar power – or other alternative sources, such as fuel cells, hydroelectric, or wind – as insurance against utility power failure. It's smart and can add real value to a facility, but it's also a significant project with the potential for significant disruption if not handled properly. There are many types of users for supplementary electrical power production from solar photovoltaic panels or fuel cells. These include retail stores, fulfillment warehouses, schools, police stations, city halls, etc.
Getting Started
The ubiquitous availability of electricity has come to define modern industrial life, and interruptions in that availability can be crippling. With that in mind, facilities looking to augment utility power with solar can realize exceptional value. Doing so requires considerable planning, however.
When initiating a switchgear bus tap, this requires modification to your existing equipment and systems. However, any field modification made to listed equipment, including a switchgear bus tap interconnection, as covered in NFPA-70 article 230.82, which means the modification to the switchgear requires approval by the local utility company or by the authority having jurisdiction (AHJ). In most cases, the utility company or the AHJ may require the installer obtain field evaluation and labeling by an accredited Field Evaluation Body (FEB) prior to approval to ensure the requirements of the relevant electrical standards and applicable installation codes after the interconnection have been met.
Generally, evaluation of the switchgear bus tap interconnections occurs during a utility shutdown of electrical power to the facility, and the evaluation must be completed before power is restored to the switchgear. This stresses the need for clear communication of the requirements for the installation both prior to and during the shutdown as the installation is being made.
The evaluation process for a switchgear bus tap typically involves a review of electrical drawings, site inspection, and field testing, paying particular attention to the following:
Review of equipment electrical drawings
Suitability and compliance of the installation
Visual inspection of components
Wiring methods and ratings
Bus tap hardware ratings
Proper hardware connection torque values
Electrical clearances
Proper grounding
Guarding of live parts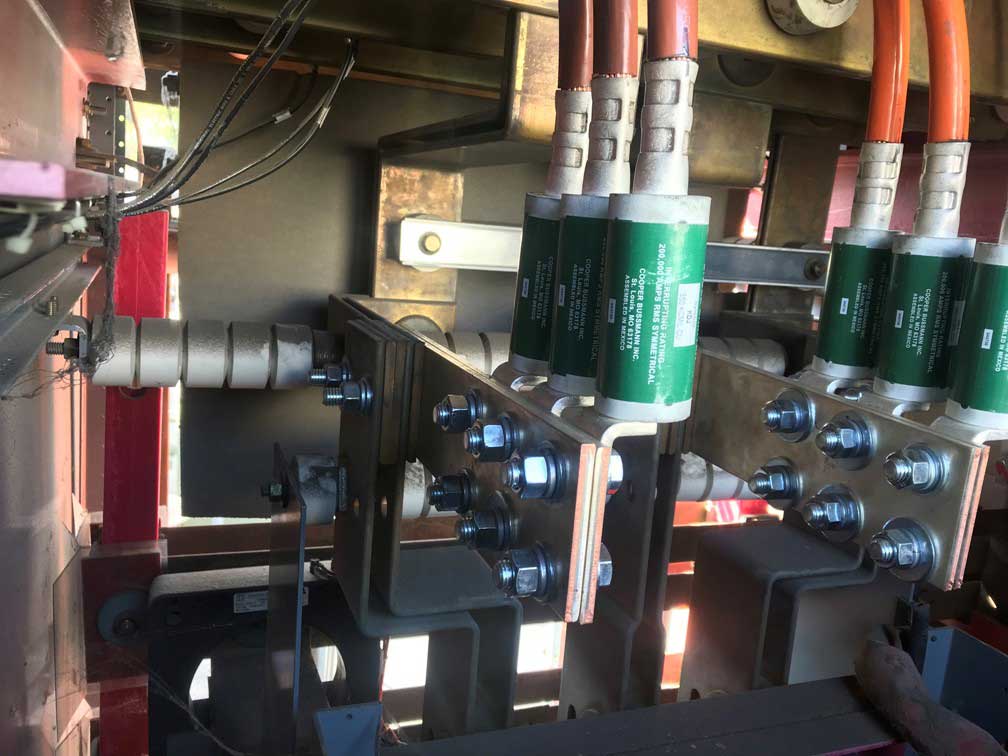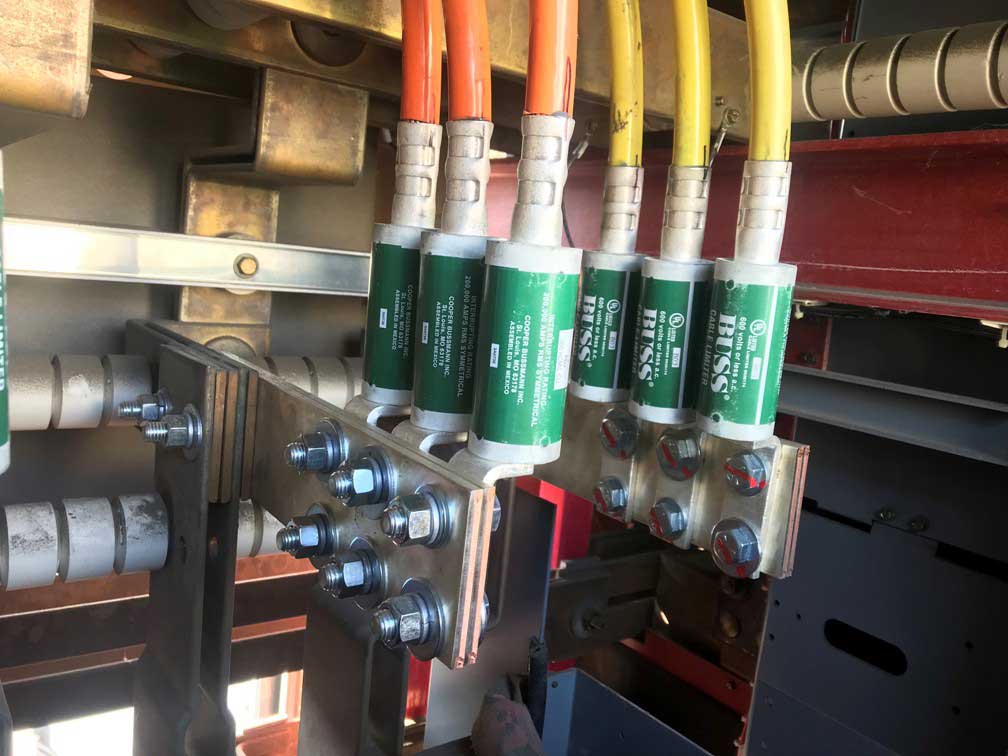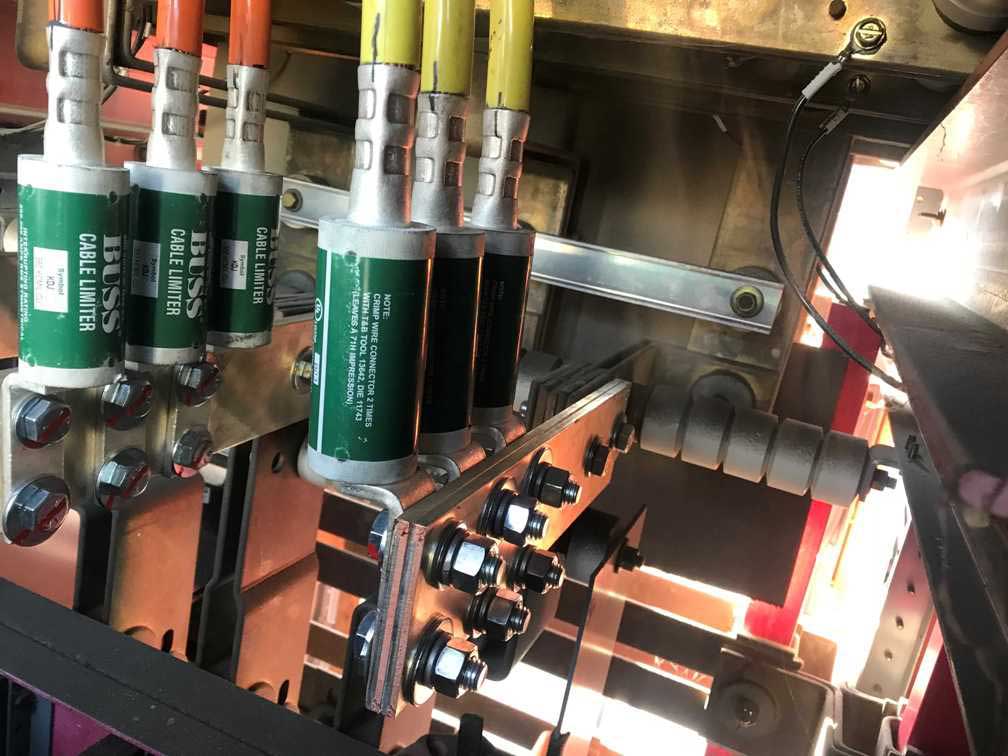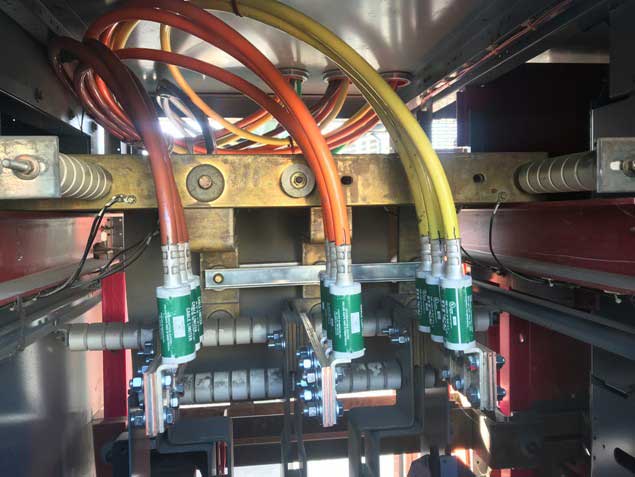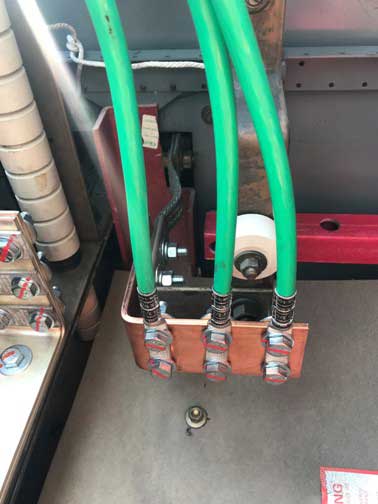 The field evaluation for switchgear bus taps (from a solar photovoltaic panel or a fuel cell energy source) is generally completed in one site visit during the utility shutdown when the bus tap connections are installed. The typical steps taken during an evaluation include:
Drawings review: Electrical drawings are reviewed prior to shutdown to understand the scope of the project and provide an initial review of the planned approach to tap the bus structure.
AHJ and/or utility company notification: Where required, a notification letter may be drafted and sent to the relevant AHJ and/or utility company informing them that a qualified FEB has been retained to perform the switchgear bus tap field evaluation.
Installation plan review: On-site, during shutdown, prior to any switchgear modification, the overall installation plan is reviewed with the installer to evaluate compliance to the standards and assure no changes will be made to the switchgear that would not comply.
During this review, any additional requirements pertaining to the installation that cannot be verified directly by drawings are reviewed with the installers to ensure the installation will comply with all electrical standard requirements.
Typical requirements discussed usually include phase-to-phase and phase-to-ground creepage distances and proper spacings, bus ampacity, bus material type, electrical insulation, components and hardware ratings, wire insulation type and wire sizing, overcurrent protection, hardware torque values, and wire routing and bracing requirements.
Installation evaluation: As the installer proceeds to make the tap connections, the FEB will witness the proper torqueing of bolted connections to the bus structure and complete their evaluation of the installation.
Electrical testing: Once the bus tap installation is complete, electrical testing will begin. This will generally include insulation resistance measurements of the bus tap interconnect. Additional tests could apply in unique situations.
FEB Label application: Following the completion of the evaluation and confirmation that the switchgear bus tap modifications comply with the applicable electrical standards and installation codes, the accredited FEB's label will be applied to the compliant equipment before the switchgear is re-energized.
Final documentation: A final evaluation report is issued to the end-user and the local AHJ and/or utility company for their review and approval.
Need some help in troubleshooting your installation? Below is a list of common discrepancies noted during typical field inspections:
Improper routing of bus tap cables
Improper securing of bus tap cables
Bus tap cables overcurrent protection oversized
Incorrect bus tap cables phasing/routing in conduits
Cable sizes and quantity exceeding conduit fill allowable percentages
Bus extensions/flags materials non-compatible with existing bus material (i.e., Copper vs. Aluminum)
Under-rated ampacity of bus extension/flags
Inadequate spacing/creepage distances violation between phases, and between phases and ground
Improper hardware selection (bolt grade rating and length, washer type and quantity and cable lug rating)
Absence of cable limiters where required based on the location of the tap conductor's overcurrent protective device
Once the installation is approved, the rewards and benefits can quickly be realized through cost savings on the monthly utility electrical bill, the ability to take advantage of city, state, and/or federal incentives and the meeting of environmental considerations or social issues.
Conclusion
The U.S. solar market is accelerating because of a growing understanding that (1) renewable energy projects are sound investments, and (2) uninterrupted power is critical to business success where utility power can fluctuate. Augmenting existing energy sources in your facility can be a wise investment, but the disruption associated with such a project can be costly if not properly managed. Making sure to use accredited FEBs and partners that can support projects before and after installation increases electrical reliability and minimizes the overall financial risk of the project.
References
1 "United States Surpasses 2 Million Solar Installations," Solar Energy Industries Association, May 09, 2019. Accessed online at https://www.seia.org/news/united-states-surpasses-2-million-solar-installations
2 ibid
3 "Solar Industry Research Data," Solar Energy Industries Association. Accessed online at https://www.seia.org/solar-industry-research-data
4 "U.S. Solar Market Insight," Solar Energy Industries Association, September 17, 2019. Accessed online at https://www.seia.org/us-solar-market-insight
5 ibid