There is an increased fire hazard when recessed lighting fixtures having external temperatures in excess of 90ºC are installed in contact with thermal insulation or combustible materials. Lighting fixtures may overheat when blanketed with thermal insulation unless they have been tested, approved and marked for such use. Fire may result when there is contact with combustible materials. Fixtures used in this way may have thermal protective devices to prevent overheating or be designed in a way so as to prevent dangerous external temperatures. For the same reasons, fixtures are also usually marked for use with maximum wattage lamps.
The 2002 Canadian Electrical Code contains some important changes for installing recessed lighting fixtures. Rule 30-308 Recessed Luminaires in the 1998 code is deleted and replaced by new Rules 30-900 to 30-908. This article discusses the new rules.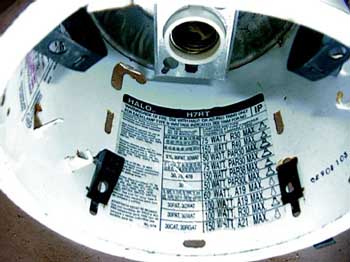 Photo 1. Typical recessed luminarie (fixture) with IC and non-IC marking.
The new requirements bring the code up to date with manufacturing changes, linking recessed lighting installation requirements more precisely with the fixture identification markings. The new rules cover a range of products tested, approved and marked for installation under various conditions. Rule 30-002 Special Terminology explains the new terms used in Rules 30-902 to 30-908.
IC means insulation contact is permitted, and Non-IC means no contact with thermal insulation is permitted. Rules 30-902 and 30-904 provide requirements for Non-IC type recessed lighting fixtures. They come in two types with distinctive markings that determine how they are to be installed (see photo 1).
To prevent overheating and fire hazards, type Non-IC lighting fixtures are to be installed with the specified minimum clearances from thermal insulation and combustible materials. Rule 30-902 Recessed Luminaires specifies that these fixtures must be spaced at least 13 mm apart from any combustible materials and 76 mm from thermal insulation, except at their points of support.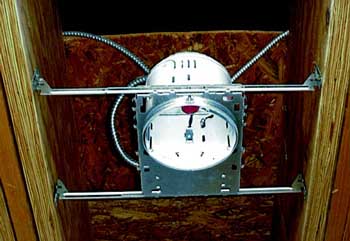 Photo 2. Typical recessed luminaire (fixture) with thermal protection showing clearances and branch-circuit wiring
Type Non-IC lighting fixtures are also approved to be installed with minimum clearances, as specified by the manufacturer, to thermal insulation or combustible building members. Rule 30-904 permits these types of fixtures to be installed with minimum clearances as specified by the fixture manufacturers. Only fixtures that carry markings by the manufacturer may be so installed. If unmarked, the requirements of Rule 30-902 would apply.
Rule 10-906 provides installation requirements for lighting fixtures in contact with thermal insulation. Here methods different from those used for Non-IC type fixtures are used to ensure a safe installation. Fixtures that are to be used in contact with thermal insulation or combustible materials require extensive testing to ensure that their external temperatures do not exceed safe limits.
Type IC recessed lighting fixtures that are designed for operation in contact with thermal insulation and combustible materials have thermal protective devices that open the circuit to limit their external temperatures to safe levels.
Type IC inherently protected is another type of recessed lighting fixture, also designed for use in contact with thermal insulation and combustible materials. Although these fixtures have no thermal protection, their methods of design ensure that external temperatures can never exceed allowable limits. This feature is identified by marking.
Rule 30-906 permits both types to be used under the above conditions, including blanketing with thermal insulation.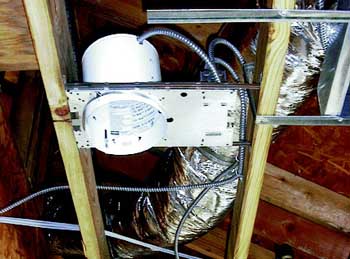 Photo 3. Typical recessed luminaire (fixture) roughed-in at pre-drywall.
Rule 30-908 provides installation requirements for recessed lighting fixtures designed for contact only with non-combustible construction materials. Obviously, these fixtures must be mounted on noncombustible construction materials and kept away from other types of construction.
In general, vapour barriers and cellulose fibre insulation must be suitable for temperatures of at least 90ºC when installed in contact with type IC recessed lighting fixtures. Some electrical inspection authorities may permit fixtures to be blanketed in fibreglass insulation to avoid contact with materials having lower temperature ratings.
Rule 30-910 Wiring of Recessed Luminaires replaces Rule 30-408 in the 1998 code, which is deleted. Some highlights of this rule:
The temperature rating for wiring directly into a recessed lighting fixture must comply with the fixture's maximum temperature rating.
High temperature leads directly into a recessed lighting fixture must be run in a raceway, to an outlet box and within a range of 450 mm to 2 m in length.
The outlet box must be accessible, located at least 30 cm from the fixture and within 35 cm from an access opening of at least 180 square cm.
A connection box mounted on a recessed lighting fixture must be accessible, as well as the fixture's components and connections.
If branch circuit wiring passes through a fixture-mounted connection box, the wiring must have a temperature rating suitable for the purpose.
As with past articles, you should always consult an electrical inspector in each province or territory as applicable, for a precise interpretation of any of the above.