Where are we now? This is a question that industries, especially emerging industries, should be required to ask themselves often. Being forward-looking has its advantages, but unless an industry knows where it stands, it will be unable to see very far into its future.
In what will become an annual tracking of the fuel cell industry in the United States, PriceWaterhouseCoopers surveyed member companies of the US Fuel Cell Council on U.S. fuel cell related sales and research and development (R&D) expenditures from 2001–2002. The survey confirmed what many analysts have been forecasting—positive growth in the fuel cell industry.
Between 2001 and 2002, reported fuel cell related sales in the U.S. increased 11 percent, from $151 million to $167 million. Reported fuel cell related R&D expenditures in the U.S. increased by 16 percent, from $248 million to $288 million, during those same years. But the highest percentage increase was in the reported number of fuel cell jobs in the U.S. In 2001, 2,745 people were employed in fuel cell related work; that number increased by 19 percent to 3,273 in 2002.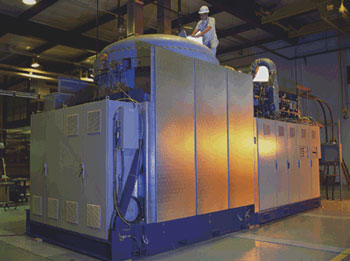 Photo 1. Siemans Westing-house FC Gas Turbine Hybrid Power Plant
State of the Technology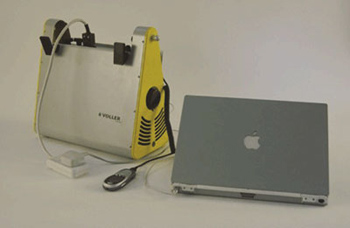 Photo 2. Voller VE100 Charging Mobile Phone and Laptop
Fuel cells are really a family of technologies. There are five primary types of fuel cells—alkaline, phosphoric acid, proton exchange membrane, molten carbonate, and solid oxide. Different fuel cell types are suited to different applications. For instance, solid oxide and molten carbonate fuel cells operate at higher temperatures than the other types, making them much more attractive for stationary applications where co-generation is possible.
Since each application is at a different point on the commercialization timeline, it's important to look at each application separately to discuss the status of development.
Stationary/Distributed Power Applications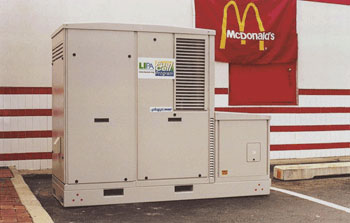 Photo 3. Plug Power Fuel Cell at McDonalds
The big energy story of 2003 was the August blackouts suffered by most of the northeastern United States and much of southern Canada. Newspapers reported that fuel cells kept the lights on for offices, households and the Central Park Police Precinct during the blackouts, which occurred exactly one month following the announcement of the availability of IEEE 1547, the Standard for Interconnecting Distributed Resources with Electric Power Systems.
Distributed generation technologies—including fuel cells, renewables, microturbines and other ancillary services—can be located closer to where the power is needed, reducing traffic on the already ""grid-locked"" superhighways of the electrical distribution system. Distributed generation technologies can help states begin to address the challenge of satisfying electrical demand for such critical loads by providing flexibility in siting these technologies where they do not require additional high voltage transmission lines.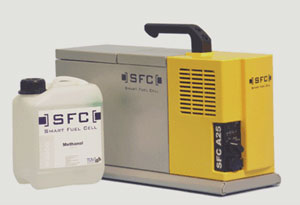 Photo 4. Smart Fuel Cell GmbH A25 with Tank
Status of Development
Fuel cell power plants, built by UTC Fuel Cells, are currently available in a modular 200-kW size that is "stackable" depending on load, and can run on natural gas or waste methane gas, such as from landfills. UTC Fuel Cells has delivered more than 250 fuel cell power plants around the world, including the fuel cell that kept the lights on at the Central Park Police Precinct during the August blackout.
FuelCell Energy installed a DFC300A fuel cell power plant that is providing power to the Los Angeles Department of Water and Power. Based on annual usage, the 250-kW power plant should displace about 1.2 million pounds of carbon dioxide and 25,000 pounds of sulfur dioxide. FuelCell Energy also offers 1.5-MW and 3-MW sized fuel cells for use in stationary applications, utilizing natural gas or waste methane gas as fuels. FuelCell Energy recently dedicated a Direct FuelCell® power plant at the AEP Ohio Coal LLC Rose Valley Site, in Ohio, where it will operate on coalmine methane gas.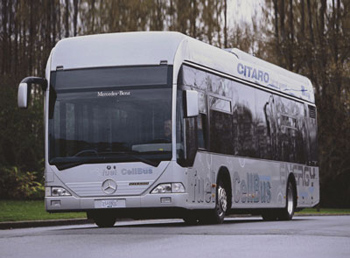 Photo 5. Daimler Chrysler's Citaro Fuel Cell Bus
Siemens Westinghouse delivered the first hybrid fuel cell/gas turbine power plant to Southern California Edison in May 2000. The power plant is being tested at the National Fuel Cell Research Center in Irvine, California. Siemens Westinghouse is in the process of building a fuel cell manufacturing facility near Pittsburgh, Pennsylvania, with a 250-kW solid oxide fuel cell (SOFC) power plant expected to be its first commercial product.
Fuel cell units for homes and small commercial applications are in the initial stages of commercialization in the United States. IdaTech has introduced two products, the FPM 20 fuel processor and the FCS 1200 fuel cell system, for commercial and defense markets. IdaTech's system can utilize both natural gas and propane as fuel, as well as liquid hydrocarbons such as methanol.
Long Island Power Authority is demonstrating 5-kW fuel cell systems built by Plug Power, and recently announced it will purchase an additional 45 systems for installation across Long Island;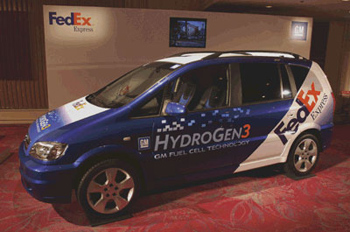 Photo 6. GM FedEx Van
20 of the systems will generate on-site heat and power for single or multi-family residential sites. Plug Power's GenSys™5C fuel cell system features standby capability for critical loads.
Avista Labs is marketing three Independence™ fuel cell systems with capacities of 100–5000 watts. The company received CSA International certification for both its 500-watt and its 1-kW systems, meaning that they comply with applicable standards for safety and performance. Avista also recently received approval from CE for its 1-kW system, indicating that it has met all applicable performance and safety requirements for the European Union.
Proton Energy Systems recently announced successful testing of fuel cell prototypes in the 1 to 5-kW range that can generate their own hydrogen and provide electricity for 12–24 hours or longer.
Canadian developer Hydrogenics has standardized the commercial design of its 10-kW HyPM fuel cell power module, which will drive pilot production of the company's product line. The unit can be used for back-up, auxiliary or standby power, or for propulsion for light mobility electric vehicles.
Transportation Applications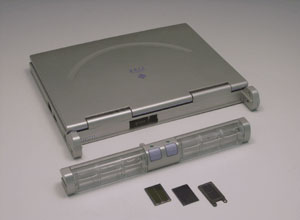 Photo 7. Casio Fiva
All major automakers are working on fuel cell and/or hydrogen vehicle programs. Current fuel cell demo vehicles are running on hydrogen, methanol, gasoline, and even sodium borohydride. But transportation covers more than just cars. Fuel cells are being demonstrated for a wide variety of mobility applications.
Status of Development
Every auto manufacturer is exploring fuel cells for use in passenger vehicles. In 2002 and 2003, Honda and Toyota leased fuel cell vehicles in California and Japan. Nissan expects to lease a fuel cell vehicle in spring 2004. Through the California Fuel Cell Partnership, 24 fuel cell vehicles are being demonstrated, a number that's expected to triple by 2004. The partnership also anticipates placing six to seven fuel cell buses at various transit agencies beginning in 2004. The installation of hydrogen fueling stations throughout California is another major task of the partnership, as well as a goal of California's new governor, Arnold Schwarzenegger.
Fuel cell transit bus demonstrations are ongoing in the United States, Canada, Europe, Japan, China and Australia. More than 65 buses have been built and demonstrated to date, according to a November 2003 survey by Fuel Cell Today.
In the area of heavy-duty vehicle applications, fuel cells are being examined as auxiliary power units (APUs) that could provide power to on-board electronics, or "hotel loads," while a truck's diesel engine is shut off, without draining a battery. Freightliner is demonstrating a Class 8 truck with a fuel cell auxiliary power unit. A three-year project to develop fuel cell APUs for diesel trucks was approved by South Coast Air Quality Management District in 2002.
Nuvera Fuel Cells, AeroVironment, BNSF Railway Company and others are partnered on a five-year project to replace a diesel locomotive engine with a 1-MW fuel cell. The project will receive funding from the U.S. Army's Tank-automotive and Armaments Command (TACOM). Fuel cells are also powering boom lifts, forklifts, golf carts and utility vehicles in the United States.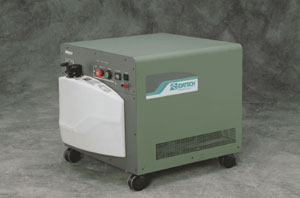 Photo 8. IDA Tech FCS1200
Marine transportation is another attractive application for fuel cells. The U.S. Department of Transportation (DOT) recently awarded nearly $2.5 million in funding to the San Francisco Bay Area Water Transit Authority for construction of a fuel cell-powered ferry that would carry passengers from Treasure Island to Oakland and downtown San Francisco. In larger marine applications, Germany's Navy boasts the U31, a 212A-class submarine that features a fuel cell power plant. The U31 is undergoing testing and is scheduled for commissioning in March 2004.
Portable Power Applications
Fuel cells are also receiving a lot of attention as potential battery replacements for portable electronic devices. According to the US Fuel Cell Council's 2003 report Fuel Cells for Portable Power: Markets, Manufacture and Cost, even a conservative forecast calls for fuel cell penetration of 6 percent into the worldwide premium battery market by 2007. Recharging fuel cell-powered electronic devices could be as simple as inserting a small cartridge of methanol (like a new ink cartridge in a pen), instead of waiting several hours for a battery to recharge or carrying replacement batteries.
The U.S. Army is very interested in fuel cells to replace batteries for powering field equipment. According to the September 2003 issue of National Defense Magazine, "Inadequate inventories of military batteries almost led U.S. forces to cease operations or alter tactics during Operation Iraqi Freedom."
Status of Development
Manufacturers including Sony, Motorola, Panasonic, Casio, Manhattan Scientifics and NEC are developing fuel cells for devices including cellular telephones and handheld computers. Ballard Power Systems is selling the AirGen™ 1-kW portable fuel cell power generator, which runs on hydrogen stored in three canisters that can be replaced while the system is running.
Smart Fuel Cells will begin offering for sale in 2004 a fuel cell ""docking station"" for powering notebooks and other portable electronic devices. The docking station would provide a notebook with electricity about three times longer than a conventional battery. Smart Fuel Cells also plans to market in 2004 the ""Marathon Suitcase by CONSEL,"" which is a mobile office case with an integrated fuel cell system.
MTI Micro Fuel Cells is partnered with Harris Corporation to develop fuel cells for handheld military radios and are demonstrating a prototype that features an energy content of 50 watt-hours.
PolyFuel has received an exemption from the U.S. Department of Transportation for transporting methanol for fuel cells—up to 24 percent methanol in water solution—on airplanes. The US Fuel Cell Council is working with DOT and the United Nations to develop model regulations that would allow direct-methanol fuel cells aboard passenger aircraft and rail.
Conclusion
While hurdles such as hydrogen infrastructure and fuel cell life span still remain to be addressed, these issues are making progress. The federal government and states are putting money not only into research and development, but also into demonstration projects that will ultimately prove the market-readiness of the technology. Today, there are markets where consumers are willing to pay a premium for high-quality, reliable, and highly efficient energy production technologies. These are the markets that are adopting fuel cells today, and will enable economies of scale in manufacturing for future fuel cell products.