For over a century, Underwriters Laboratories Inc. (UL) has been developing safety standards. UL recognized early that while testing and certification services are important, it is equally important to devote resources to developing sound technical requirements to be used as a basis for product certification.
Due to its century of involvement in standards development and conformity assessment, UL is recognized for its unrivaled technical expertise. UL's safety standards are used throughout the world to evaluate and certify products and systems for use in the United States market. UL's standards are increasingly used as a basis for harmonization with international standards. This article provides information on the international standards harmonization process, the purpose of national differences identified for the United States, the impact of global harmonization on U.S. regulators, and a brief description of the role of regulators in standardization.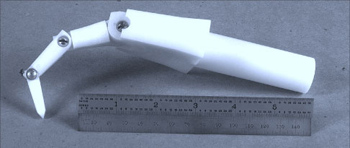 Photo 1. UL articluated probe
International Harmonization Process
With terms such as globalization and world market at the forefront of manufacturers' minds, many U.S.-based manufacturers distribute products in Europe, Asia and other international locations. Similarly, products manufactured in other countries are distributed in the United States. Therefore, these global products must comply with the requirements of multiple countries, and, specifically, multiple safety standards. The promulgation of multiple standards has resulted in redundant testing, and, in some cases, the need to manufacture different product models due to conflicting or mutually exclusive safety requirements.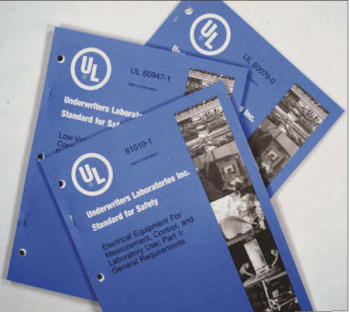 Photo 2. IEC-based UL Standards
As a result, many industries seek standards harmonization. UL supports standards harmonization to minimize redundant or conflicting standards where support for such harmonization exists. From a standards harmonization perspective, UL's primary focus involves international harmonization vs. regional harmonization (i.e., co-publication involving UL and one or more North American standards development organizations). Typically, international harmonization implies the adoption of an International Electrotechnical Commission (IEC) or International Organization for Standardization (ISO) standard. When support for harmonization of a standard is achieved, then an IEC-based UL standard would be developed.
The process for developing and publishing an IEC-based UL Standard consists of the following basic steps:
Identifying the IEC Standard.
Determining UL Standards Technical Panel (STP) and constituency (subscribers to the UL standard) support for the harmonization initiative.
Securing the publication rights to the IEC Standard in the United States.
Forming a U.S. harmonization committee to lead the harmonization effort.
Identifying the national differences that must be retained for the United States such as those required to address applicable U.S. code requirements.
Using UL's standards development process to propose the IEC-based Standard and the national differences as a UL Standard.
Securing the support of the UL STP and publishing the IEC-based UL standard.
Perhaps the most difficult step in this international standards harmonization process is the identification of appropriate U.S. national differences.
Purpose of National Differences in the United States
International standards harmonization involves the difficult task of addressing differences between the standards being harmonized. Differences in national codes, laws, and practices may result in certain national differences from the IEC standard. UL emphasizes keeping the national differences incorporated in an IEC-based UL Standard to a minimum, while addressing the specific needs of the U.S. industry, consumers and regulators.
There are five types of national differences, based on the following considerations:
U.S. National Electrical Code (NEC) and other U.S.code requirements
Basic safety principles and requirements
Safety practices
Component requirements
Editorial comments
When UL publishes an IEC-based UL Standard, each national difference contained in the standard is classified according to one of the above types, to help readers understand the purpose of the national difference. The first three types of national differences are especially critical to maintaining the appropriate requirements in the United States. Examples of these specific types include:
National Difference Due to NEC or other U.S. Code Requirement:
1. UL 60947-1, Standard for Safety of Low-Voltage Switchgear and Controlgear – Part 1: General Rules, includes a national difference to require compliance with the grounding requirements of the NEC. The following text is excerpted from that standard:
Enclosed equipment shall meet the grounding requirements in Part VI and VII, Article 250 and Part XII, Article 430 in the NEC. Equipment provided with a transformer where the secondary voltage is available at field wiring terminals shall comply with the grounding requirements in Parts II and III, Article 250 of the NEC.
National Difference Due to Basic Safety Principle:
2. UL 60335-1, Standard for Safety of Household and Similar Electrical Appliances, Part 1: General Rules, includes a basic safety principle to address accessibility of live parts. This UL standard relies on the proven UL articulated probe to limit accessibility of live parts. The following text is drawn from UL 60335-1:
The articulated probe of figure 12DV shall replace test probe B of IEC 61032 when the product is:
a) A hand-held product,

b) A hand-held part of a product,

c) Used by children,

d) Accessible to children while the product is operating, or

e) One that has special concerns for the accessibility of live parts or mechanical hazards.
National Difference Due to U.S. Safety Practice:
3. UL 61010-1, Standard for Safety of Electrical Equipment for Measurement, Control, and Laboratory Use, Part 1: General Rules, includes a national difference to reflect the safety practices of the U.S. The following is an excerpt from that standard:
Multifunction meters and similar equipment shall be tested by changing the function/range selector to all possible settings while connected to the maximum rated source.
NOTE If test probes are provided with the equipment being tested then they shall be used for the test.
Compliance is checked by testing to verify no hazard occurs when switching selector settings.
In addition to attempting to minimize national differences while publishing a new IEC-based UL Standard, UL also emphasizes the need to reduce national differences in existing IEC-based UL Standards. This reduction can be accomplished by either identifying and removing those national differences that are not critical to the U.S. standards system, or by proposing revisions to the IEC Standard to incorporate the U.S. national difference, thereby eliminating the need for the national differences in the U.S. version.
A primary goal of standards harmonization is to minimize national differences to the greatest extent possible without compromising safety in the United States. When both of these conditions are met during the course of harmonization, the harmonized standard allows for U.S. participation in the international conformity assessment system (the CB Scheme). Additionally, harmonization has a positive impact on manufacturers by reducing redundant and conflicting test and construction requirements among countries, and by allowing manufacturers to build a single model for distribution to multiple markets.
Impact of Harmonized Standards on the Electrical Inspector
International standards harmonization impacts not only manufacturers, but also regulatory authorities and other users of the standard.
Regulators need to be especially aware that products (including their corresponding marking and instructions) complying with an IEC-based standard may appear different from products complying with the traditional UL Standard.
The intent of harmonization is to establish a baseline set of requirements, applicable in as many countries as possible, allowing manufacturers to develop a product that can be certified through one set of requirements and accepted in multiple markets. Getting to that point requires coordination on the part of the U.S. harmonization committee. Oftentimes, it is necessary for a manufacturer to modify existing products in order to comply with an IEC-based UL Standard.
UL manages this transition by temporarily establishing multiple categories for the same product. As a product is evaluated to the new requirements, it is moved from the previous category into the category created for an IEC-based UL Standard. For a specified period of time formally established and announced by UL, authorities having jurisdiction (AHJs) may see two types of constructions in the field.
Although competing products may have been evaluated to two different standards (one the basic UL Standard and one an IEC-based UL Standard), and though the philosophy behind the two standards may be different, the overall goal of both standards is to establish safety requirements that consider foreseeable hazards for a particular product. When adopting an international standard, UL does not compromise the level of safety prescribed by the electrical installation requirements of the NEC, nor the basic safety principles and safety practices of the United States.
Examples of IEC-based UL Standards include:
UL 60079 series, covering Electrical Apparatus for Explosive Gas Atmospheres
UL 60947 series, covering Low Voltage Switchgear and Controlgear
UL 61010-1, covering Electrical Equipment for Measurement, Control and Laboratory Use,
UL 60950, covering Information Technology Equipment, and
UL 60745 series, covering Portable Electric Tools
When an AHJ has a question regarding a particular product's certification, or a question with respect to code compliance, the AHJ can access UL's Online Certification Directory atwww.ul.com/databaseor the Regulators page on UL.com atwww.ul.com/regulatorsoffers direct contact to a UL Regulatory Services representative.
Role of Regulators in Standardization
Regulators play an important function in the UL Standards development process. For most UL Standards, UL has established a specific Standards Technical Panel (STP), which is a group of individuals representing balanced interests and is responsible for overseeing the technical content of the standard and for balloting the UL Standard. Regulators and code authorities participate in these STPs as important users of the standard. STP members are often invited to participate on working groups, to attend STP meetings, and to comment on preliminary proposals before they are issued to UL's standards subscribers and to the general public. Additional information regarding UL STPs as well as a listing of STPs seeking new members is located athttp://ulstandardsinfonet.ul.com/stp/.
When harmonizing a UL Standard with an international standard, it is especially important that the code community be adequately represented. As noted previously, one goal of a harmonization activity is that the code and safety issues unique to the United States be adequately addressed in the IEC-based UL Standard via a national difference. In addition to participating on the UL STPs, representatives from the U.S. code community are invited to participate on harmonization committees involved in international harmonization. Participation by regulators and AHJs at the technical level help verify that the appropriate code issues are addressed in the resulting draft harmonized standard. AHJs interested in participating in an ongoing harmonization effort are invited to submit a request to UL at Sonya.M.Bird@us.ul.com.
Summary
UL will continue to participate in international standards harmonization when there is a demonstrated need for the STP to consider standards harmonization. The harmonization will take place under the leadership of a technical harmonization committee. Code authorities are invited to participate in these harmonization committees, to assist the committees in identifying the relevant code issues that need to be addressed with a national difference. Code authorities are additionally needed on several UL STPs, which are involved in balloting the draft harmonized document. Harmonization will continue to be an important initiative, consisting of accepting international requirements, identifying those key U.S. code and safety requirements that must be maintained via a national difference, and influencing the international standard by proposing the adoption of U.S. national differences. AHJs can rest assured that if the UL mark for the U.S. appears on the product, the product was listed to be installed in accordance with the applicable U.S. model code. For electrical products, that is NFPA 70, the National Electrical Code (NEC).