In the beginning Samuel Morse, in 1844, started the digital data communications industry with a 37-mile stretch of wire sending what became known as Morse code from Washington, D.C. to Baltimore. Remember the day?
In early copies of theNational Electrical Code, Chapter 8 was entitled "Communications and Control Systems." Included in this chapter were signal and control systems and radio equipment. Article 800, Signal and Control Systems, scope included electric circuits for transmitting intelligence including telephone, telegraph, district messenger, call bell, and went on to include low-voltage circuits such as temperature control. Article 810, Radio Equipment, scope included radio receiving equipment and amateur radio transmitting equipment.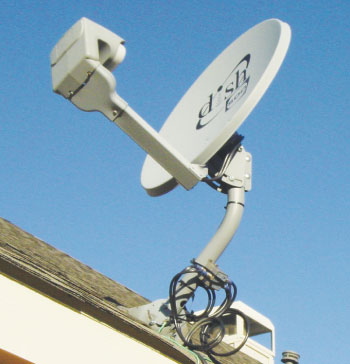 Photo 1. Satellite TV and Broadband Antenna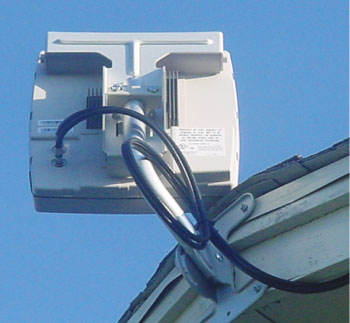 In NEC-1971, Chapter 8 evolved to include Articles 800, Communications Circuits; 810, Radio and Television Equipment; and 820, Community Antenna Television and Radio Distribution Systems. Also in this code, grounding and protection were the safety concerns of the industry.
NEC-1984 was the edition in which Article 770, Fiber Optical Fiber Cables, was introduced. This must have been a very interesting code panel as they were working with a system that did not conduct electricity. This is the first time hybrid cables and raceways that would mix electrically conductive and light conductive systems together came forth. Concern over the spread of fire and smoke took precedence over grounding and protection as the materials used would not have any means or purpose of grounding.
NEC-1996 introduced "neat and workmanlike manner" and referenced the Commercial Building Telecommunications Wiring Standards. Also, new to the NEC and to Panel 16 was the Cable Substitution Hierarchy Table.
NEC-1999 came in a new book format, and Panel 16 was given a new article—830, Network Powered Broadband Communications. This would include voice, audio, data, and interactive services. Again the scope of the communications industry had developed and the Code expanded to include the technology that had developed.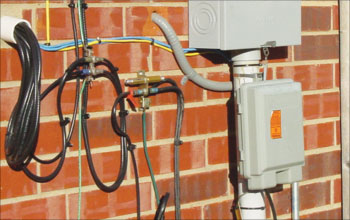 Photo 3. CATV and phone
As the years progressed, standards were introduced. Today many standards exist not only for product construction but also for testing and installation. Current projects require technical expertise to correctly install communications systems that demand a lot more of the electrical contractor than ever before. Most electrical contractors today have specialty divisions within their operation that employ specialty designers and installers in their data or communications divisions. Many of the larger commercial jobs will seek separate bids for communications systems. In many cases, the communications wiring bids are coming in higher than the general wiring bids.
This presents special problems for the Code enforcement community. Because of the limited power of typical communications systems, a lot of jurisdictional areas do not require the standard licensing credentials. This is slowly changing around the country as states are recognizing the specialty systems today and demanding certified installers to complete the project.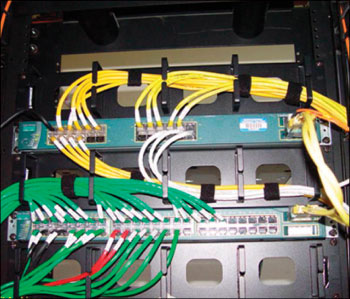 Photo 4. Network powered broadband terminations
The communications industry is changing so fast it is difficult for theNECto keep pace. The three-year cycle of theNECis a challenge to keep pace with technology. Code-making panel (CMP) 16 has the responsibility for Chapter 8 wiring systems along with Article 770, Optical Fiber Cables and Raceways. Typically, Chapter 8 is independent of the first seven chapters of the Code. Chapter 8 articles deal with some specialty problems not found in the other chapters of the Code. A major concern over the years was the toxic fumes produced by the cable jackets, and the constant upgrading of cabling within buildings generating an abundance of abandoned cables. This added fuel for fires above suspended ceilings, and had to be dealt with. Chapter 8 independence may be in jeopardy in future editions of theCodeas technology demands. Although the limited power nature of communications wiring generally allows for wiring without conduit and boxes, some of the same issues as found in other chapters of the Code exist. Besides dealing with the removal of abandoned cables where accessible, we have cable supports, separation to Class 1 circuits, fire stopping and cable terminations to deal with.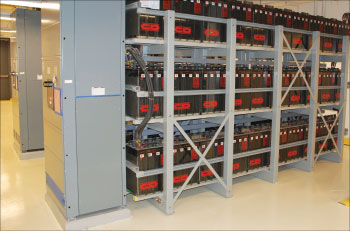 Photo 5. Battery backup system for telecommunications center
Optical fiber cables and raceways are currently not part ofNECChapter 8. Those rules are covered in Article 770. Chapter 8 consists of only four articles:
800, Communications Circuits
810, Radio and Television Equipment
820, Community Antenna Television and Radio Distribution Systems
830, Network-Powered Broadband Communications Systems
One new article is proposed for the 2011 code cycle: 840, Premise-Powered Broadband Communications Systems. Installation rules can be found within each article. Code Panel 16 started to reorganize the limited energy articles in a parallel numbering format in NEC-2005. That has expanded with the 2008 and, currently, in the 2011 editions. Code Panel 16 has taken another step for usability with the addition of application tables for the various cable type applications. As a result of Task Group work with Panel 5 members, the phrase grounding conductor was replaced with grounding electrode conductor throughout Chapter 8 during the 2011 Code cycle hearings. This action along with other coordinated proposals was a broad effort to improve consistency in the use of defined terms related to grounding and bonding throughout the Code.
Those who developed and published the NEC had safety in mind and developed code that would protect people and the systems from fire and harmful contact. Grounding and bonding in Chapter 8 is as important as in the rest of the National Electrical Code when it comes to preventing fire and harm caused by overvoltage caused by lightning or contact to line voltages with the use of protectors connected to a grounding electrode system.
As in the past Chapter 8 is going to continue to evolve and change as the technology changes. As service providers introduce new technologies, the installations will need to evolve also. It is not just an inconvenience to lose service on communications installations any more, life safety information, including fire and burglar alarms, are now run on the communications backbone along with video information that is vital to public safety. To lose any of the capabilities of a cable will hinder the ability to communicate the information to those who can correctly respond to the emergency. Worldwide commerce and the worldwide financial infrastructures are dependent on communications systems. I expect a large impact in the area of wireless communications systems to evolve and impact NEC-2014, along with future communications systems as technology dictates. Stay tuned.