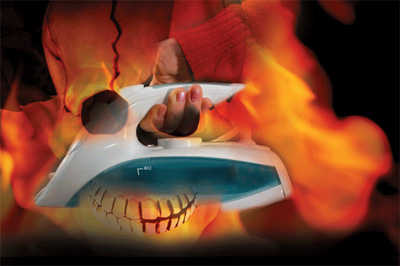 Caveat emptor: buyer beware! That designer watch or handbag might not hurt you but buy that discounted holiday light string or off-brand electrical equipment and you may live to regret it. Or worse yet, you may not.
Forget the notion of counterfeit products being cheaply-made versions of designer bags, watches and sunglasses. Today's counterfeiters know that the real money is in infiltrating the global supply chain with component products integral to manufacturers and end users, products most people wouldn't even consider to be attractive to counterfeiters.
From electrical power bars to holiday lights, circuit breakers to light bulbs, if it can be purchased legally at the manufacturers suggested retail price, it can be counterfeited and sold to unsuspecting consumers at a fraction of the cost. Not surprisingly, that reduced price can come at the expense of important safety components.
Compounding the problem, counterfeiters even copy the proprietary certification marks of testing and certification organizations like CSA Group to give their products a greater appearance of legitimacy. Fooled consumers believe they are buying legitimate products with authentic certification marks, leading them to believe the items have been tested to the requirements of applicable safety standards.
To help combat this, CSA Group works with international peer organizations, law firms, manufacturers, governments and law enforcement around the globe to combat product counterfeiting and intellectual property crimes. CSA Group is a founding member of the Canadian Anti-Counterfeiting Network (CACN) and a member of a number of like-minded organizations.
Dangerous and Deadly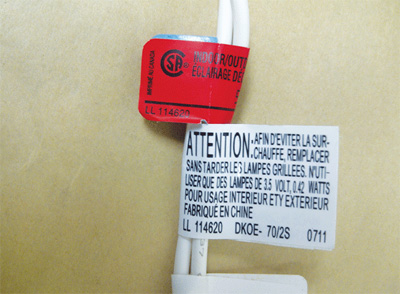 Photo 1. Counterfeit CSA product label
The consequences of product counterfeiting can be both dangerous and deadly. Counterfeit circuit breakers were found in use in the industrial electrical panel at one hospital. The circuit breakers were completely incapable of handling the required load.
CSA Group is currently investigating suspicious aftermarket electrical components that were recently found at a national hardware retailer in Canada, and recently worked with the Royal Canadian Mounted Police (RCMP) investigating the seizure of counterfeit prescription pill bottles.
In the fall of 2011, CSA Group was anonymously notified that electric seasonal holiday decorations destined for a major retail chain in Ontario, Canada, were missing proper certifications marks and were potentially counterfeit. CSA worked with law enforcement officials and the importer to have the container quarantined until the items could be inspected. Subsequent investigations proved the suspicions to be correct: the products bore counterfeit CSA registered trademarks, cautionary labeling and packaging. In the end, the products did not reach the consumer and were the subject of a CSA Safety Alert – atwww.csagroup.org/product_recalls/
CSA also took an active lead in a Quebec investigation that resulted in the deliberate destruction of a large number of counterfeit electrical and conduit boxes bearing the CSA certification mark.
Protecting the Supply Chain
Many North American manufacturers have exported the production and assembly of their products to different parts of the world to maximize profits. Consequently, they grapple with long, complex supply chains which can often be difficult to audit. The products themselves are also becoming more complicated as manufacturers combine components and services from multiple suppliers and multiple jurisdictions. As a result, products as a whole and their individual components are at risk of having counterfeiters breach the integrity of the supply chain.
Protecting supply chain integrity is of the utmost importance for manufacturers whose reputations are at stake. To effectively safeguard against counterfeiting, there are several steps that manufacturers can take at each point in their production process.
To combat the proliferation of counterfeit products, members of the supply chain must collaborate to institute a better component tracking system. A rigorous internal quality standard, based on an inspection program of all incoming parts can help to keep the supply chain clean.
It is important to document dates, lot codes, and photograph all products to maximize traceability if a product is found to be counterfeit or sub-standard. Manufacturers should also perform due diligence when working with new component suppliers.
Establishing a system of checks and balances throughout the supply chain can help manufacturers detect counterfeit components. Frequent and random testing and retesting of product samples will aid in exposing counterfeit components. In addition, internal quality assurance inspectors should be encouraged to act as whistle-blowers if they spot something suspicious.
Providing Localized Services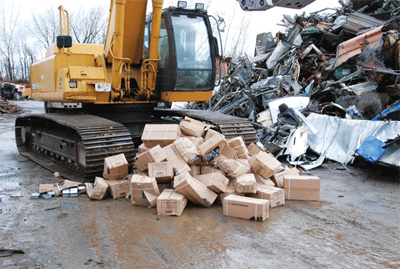 Photo 2. Destruction of counterfeit products
As manufacturing continues to grow abroad, many certification and product evaluation organizations, including CSA Group, are establishing laboratories around the world to provide localized services. This global network approach shortens testing and certification times since products don't have to be verified in North America. It also helps to identify potential problems sooner, enabling certified products to be introduced to the market in a timely manner—a crucial consideration for manufacturers trying to get ahead of the competition.
The trend towards outsourcing manufacturing by Western industries to Asia has enabled counterfeiters in those countries to quickly learn and easily copy designs and advanced production techniques. Foreign regulators and enforcement agencies have often been overwhelmed in enforcing intellectual property statutes while corruption at the law enforcement level can be a problem in various regions.
Consumers, retailers and manufacturers need to be concerned with counterfeit items that enter the market, and also be aware of the widespread use of counterfeit certification marks. Counterfeiters know that in order to pass their products off as legitimate goods a certification mark is necessary to gain market entry.
Counterfeit marks undermine the entire global system of standards, testing and certification that have been put in place to protect the interest of retailers, regulators, product manufacturers and, most importantly, consumers. They also present a real danger to the public as counterfeiters often use substandard materials or bypass safety features in order to make a profit. If left unchecked, counterfeit certification marks can enable unsafe or deficient products to gain widespread access to the North American market — a direct safety risk to consumers.
"Counterfeiters can no longer be dismissed as con artists, or isolated street peddlers trying to earn a few dollars," said RJ Falconi, executive vice president, general counsel & corporate secretary of CSA Group. "They are criminals, as surely as those who would steal your identity because they are stealing the identities and valuable brand names of responsible manufacturers, as well as the CSA certification mark.
"At CSA, we have a Zero Tolerance policy when it comes to the unauthorized use of our mark, which is ultimately our most valuable asset. If we find it on products that have not earned it, we will confiscate it and we will destroy it. It is that important to us."
Covert Security Features
Many legitimate certification marks use covert security features to help prevent unauthorized duplication. But raising awareness about the risk of counterfeit products and educating consumers about the processes needed to identify legitimate certification marks is also critical. Globally, manufacturers, retailers, law enforcement and regulators must work cooperatively to ensure messages are delivered and consumers are protected.
The underground nature of product counterfeiting means we will likely never understand the true economic impact of counterfeiting on the economy. Investigative agencies including the U.S. Department of Homeland Security, the Federal Bureau of Investigation (FBI) and international police services such as INTERPOL estimate the impact to be hundreds of billions of dollars annually. In 2011 alone, U.S. Customs seized more than $10 million worth of electrical products illegally bearing the CSA certification mark.
In addition, there are costs to the economy, including the loss of sales revenue, taxes and jobs due to declining sales of legitimate products. Counterfeit products also compromise brand integrity and consumer confidence, and increase the risk of legal action and unfavorable publicity to stakeholders.
At a 2008 summit at INTERPOL headquarters in Lyon, France, 11 of the world's leading certification peer organizations joined together to form the Certification Industry Anti-Counterfeiting Coalition. The summit served as the cornerstone to launch Operation Overshock, an ongoing global operation that is targeting products bearing counterfeit certification marks. The operation includes an integrated task force consisting of relevant international police and customs agencies in partnership with certification bodies from around the world.
Valuable Brand Assets
Proprietary, trademarked certification marks are among the most valuable brand assets of CSA Group and other testing laboratories.
Every day, buyers, contractors, distributors and others make important decisions about which products they will use. While factors such as new technology, a manufacturer's name and reputation, and technical support can play important roles in the selection process, the presence of a certification mark from a qualified laboratory can be a key prerequisite of product acceptance.
In recent years, the production of counterfeit products has been linked to organized crime and terrorist groups by INTERPOL, the U.S. Department of Homeland Security and Chamber of Commerce, the FBI, RCMP and other stakeholders around the world.
Product certification marks are the result of an independent, third-party testing and certification process. As such, they provide credible evidence that the products bearing them comply with applicable standards for safety and performance.
Certification marks, such as the CSA certification mark, the CSA Blue Star, or those from other reputable and accredited testing agencies, are found on a wide range of products, including commercial electrical and gas equipment, plumbing products, water purification units, heating and ventilating equipment and lighting products.
The marks appear on products and may be included on product packaging. The marks demonstrate that a product has undergone independent, third-party testing and certification, performed by an accredited/recognized testing and certification organization. Display of certification marks is not at the discretion of the product manufacturer. These marks may only be used on qualified products under license from the laboratory that tested the product and confirmed that it conforms to applicable national, international or other standards for safety and/or performance.
New Laws on the Books
In the fall of 2011, the Government of Canada enacted the Canada Consumer Product Safety Act of 2011 (CCPSA). The catalyst for the introduction of the CCPSA was the recognition that Canada had fallen behind peer nations in having the necessary tools to combat product counterfeiting and intellectual property crimes and that needed to be rectified.
The CCPSA adopts modern tools and techniques that strengthen protection and bring Canada's consumer product safety system into line with key trading partners globally.
The new law applies to a wide variety of consumer products including household products, sporting goods and children's toys, but excludes products like motor vehicles and their integral parts, food, drugs (including natural health products) and animals as these are regulated by other Canadian laws.
"We are delighted that this act is giving Canada some of the strongest consumer product safety legislation in the world," said Suzanne Kiraly, executive vice president, Global Business Strategy & Government Relations for CSA Group. "CSA Group has been an active partner in raising awareness of unsafe, uncertified and counterfeit products in the Canadian and global marketplace."
Both domestically and internationally, CSA Group actively attempts to stem the flow of counterfeit products. In September 2011, CSA Group investigators attended INTERPOL's International IP Crime Conference in Spain. The three-day conference brought together more than 500 IP crime law specialists, investigators and prosecutors from 52 countries representing both the public and private sectors.The event was co-hosted by INTERPOL and Europol, in partnership with Underwriters Laboratories.
Key items on the conference agenda included the nature and extent of transnational organized intellectual property crime, extending integrated enforcement strategies on a global level, enhancing public-private partnerships, as well as training and capacity building.
CSA Group employs a team of subject matter experts who are dedicated to helping to ensure only products authorized to do so bear the CSA certification mark. Terry Hunter, manager of Anti-Counterfeiting and Global IP Enforcement, and Kathy Molnar, Intellectual Property Enforcement Investigations, regularly field calls from concerned consumers, retailers, manufacturers and importers who are on the look out for suspicious products.
Not sure if a product is legitimate or not? CSA Group offers some tips to allow you to protect yourself and your family against potentially unsafe counterfeit products:
Significantly lower pricing: if it seems too good to be true, it probably is. Compare pricing of similar products, as well as warranty and certification marks.
Cheap production: check and compare the "look and feel" of goods. Fakes are often light and too flimsy.
Look for the mark: a system of standards has been put in place to test and certify products. Avoid electrical, mechanical, plumbing, gas or other standardized products if a certification mark from a recognized certification organization is missing. Take it upon yourself to ensure that you purchase a certified product, every time.
Poor spelling: look for misspellings and unclear printing on packaging, products, labels, or instructions.
Inferior packaging: packaging of counterfeit goods often has poor design or shows only partial illustrations.
Missing items: check for a discrepancy between the contents of the package and the item's description on the outside of the package, as well as for missing product information.
Know your retailer: if in doubt, buy only from reputable, well-known stores.
Give with a conscience: before wrapping a gift for your special someone, make sure it displays any applicable certification marks. Also check for hazards such as loose parts or poor construction.