Infloor wire and cable management systems provide an optimal combination of capacity, flexibility, and lifecycle cost. Selecting the proper wire and cable pathways is critical, especially in light of emerging technologies like audio/video and the trend toward open office workspaces. A variety of infloor wire and cable management systems is available to manage, organize, protect, and connect the wiring and cabling infrastructure. Many infloor systems are best suited to new construction while some products and techniques can also be applied to existing structures.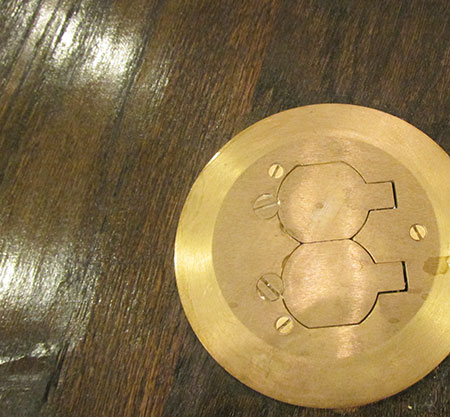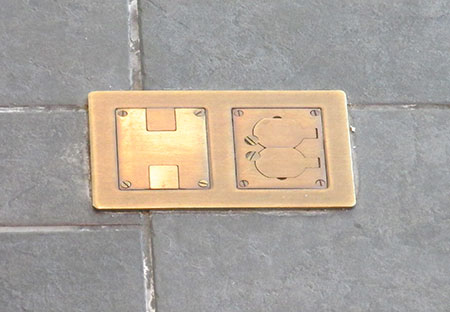 Photo 1 (round brass cover) and photo 2 (rectangular brass cover). Infloor systems are available with a variety of covers and service fittings. Round and rectangular brass covers, typically used with infloor ducts, provide access to power (round cover) or a combination of power and data/communications.
New construction
Floor boxes provide cost-effective wire and cable management in low- to moderate-density open space areas. Boxes, which are linked by conduit, are set prior to the concrete pour. Single and multiple gang boxes are available in a wide variety of configurations with rectangular or round covers.
Underfloor duct systems offer support and security for power and data/communications wiring in reinforced concrete and steel construction. Available in a variety of sizes and configurations, underfloor duct systems provide separate channels for power, data, and A/V systems. Low profile or flush service activations may be located anywhere along the duct run.
Cellular raceway combines separate wire and cable channels in a single, unified infloor raceway that is encased in the concrete pour. The system meets current and future needs with built-in flexibility. These systems feature recessed activations in a grid pattern that can be designed so that the activation will be located under a workstation. Moves, adds (additions), and changes are quick and efficient.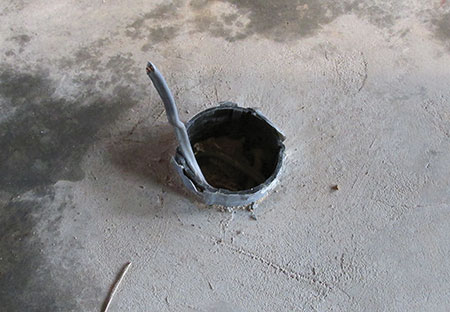 Retrofit/renovation
Poke-thru devices offer a high degree of design flexibility for open office space since their placement is not constrained by partitions or the grid pattern. These devices are installed in core-drilled holes that enable wires and cabling to penetrate from the space below through the concrete slab. In order to create greater capacity, new poke-thru devices are designed to install in core-drilled holes of 6" or 8" diameter. This high capacity creates more "real estate" for locating receptacles and data, communications, and A/V connectivity devices.
Using saw cuts to install ducts in existing floors is an attractive alternative, including in slab-on-grade construction. Trenches are cut into existing concrete and new underfloor ducts, junction boxes, activations and other components are installed. The trench is then filled with fresh concrete to complete the installation.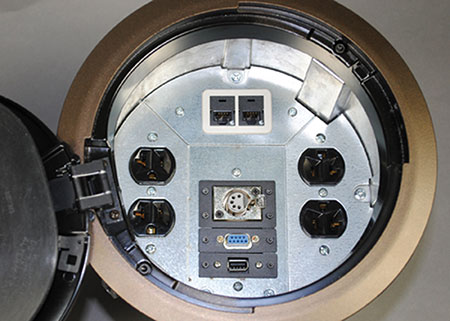 Finally, using existing ducts is an often-overlooked way to provide underfloor wire and cable management with some cost-effective modifications. Although infloor ducts are very durable, many older systems may be limited by the volume of wires and cables within them. For example, it is not unusual to find discontinued telephone wiring that was never removed when newer cabling was installed. Removing unneeded wiring by pulling it out of the duct frees up space for new cabling. If the retrofit project includes a complete electrical and data upgrade, all older wires and cables can be easily removed. A system renovation should include replacing outdated "tombstones" and "doghouses" with new flush activations.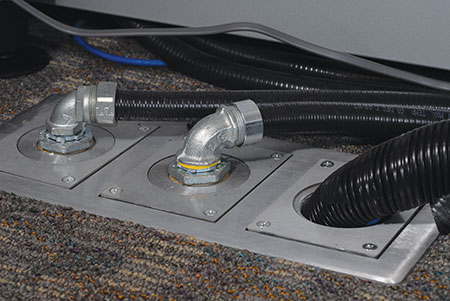 Durability, sustainability, aesthetics and cost
Infloor systems allow easy access for cabling change outs and flexibility for non-invasive and less-expensive moves, adds and changes. They are designed for long-term use, even in high-traffic applications. These systems are also designed to be aesthetically pleasing as well as functional. Flush and recessed activations are very nearly invisible. High-capacity service activations accommodate more outlets, making them less obtrusive than older, low-capacity fittings. The initial cost of an infloor wire and cable management system varies with the type of system and the size and type of building. Moves, adds, and changes also impact the lifecycle cost.