Over the years as an installer and an inspector, I have observed many issues involving the electrical industry. One of these issues is incompatible connections associated with raceways and fittings. As an electrician, you may have been instructed to make some of these connections. In many cases, when these connections have been completed, they appear to be correct and in good workmanlike condition.  But what if you have been making these connections for years only to find out that they were not being done in a Code-compliant manner? Can an old dog learn new tricks? Let's look at a few of these popular connections and learn the whys and why nots associated with their use.
Rigid Metal Conduit to Schedule 40 PVC
When you are driving down a busy street, take time to look at the underground raceway installations attached to utility poles. Typically, you will see a rigid metal conduit (Type RMC) emerge from grade and extend up the pole for a few feet. It is then transitioned to a joint of Schedule 40 rigid polyvinyl chloride conduit (Type PVC). Now, pay close attention as to how this connection was made.  Did it look like the connection shown in photo 1 and photo 2?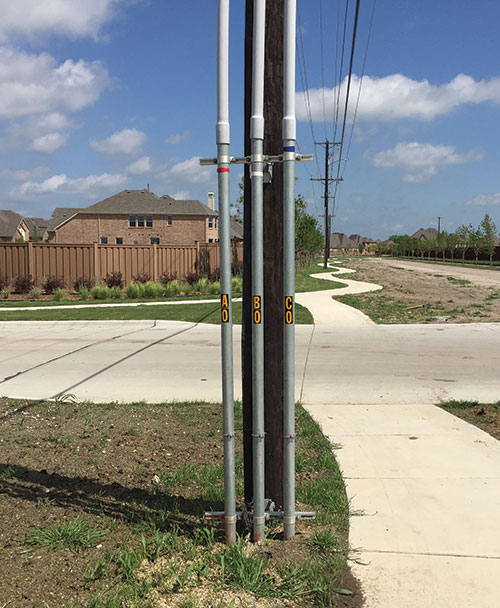 Now ask yourself, is this a Code-compliant connection between these two different raceway types?  If not, where will I find the information to make this determination?  Many will start by looking within the National Electric Code (NEC). Many references direct the installer and inspector to utilize listed materials for the electrical installation. Here are a couple that pertain to the installation we are discussing.
Rigid Metal Conduit: Type RMC
344.6 Listing Requirements. RMC, factory elbows and couplings, and associated fittings shall be listed. (2017 NEC)
Rigid Polyvinyl Chloride Conduit: Type PVC
352.6 Listing Requirements. PVC conduit, factory elbows, and associated fittings shall be listed.  (2017 NEC)
To the eye, this is an aesthetically pleasing electrical installation.  It seems to flow seamlessly from one raceway type to the other.  What could be the problem here?  The NEC instructs the installer to use items listed for use with these raceway installations.  The problem is that this connection between a Type RMC and a Type PVC raceway as shown in this article has not been investigated by UL and is not addressed in a UL standard.  Therefore, the connection is not Code-compliant.
Some of you reading this article may already be thinking about NEC 90.2(B)(5) and saying that the NEC does not apply to these installations.  This can be true of installations under the exclusive control of an electric utility, but not all installations of this type are being installed by utility companies.
Many are being installed that are under the scope of the NEC.  In either case, shouldn't the installation fall within the guidelines of the product specifications?
You might ask yourself what is accomplished by installing a raceways system in this fashion?  In many cases, this has to do with providing physical protection to the raceway and the conductors.  In the event an automobile vehicle accidentally collides with or bumps into a utility pole which happens to be supporting a vertical raceway system, the rigid metal conduit protects the conductors and helps prevent costly electrical outages and repairs.
This installation does not always happen above grade.  On a side note, I asked a senior utility supervisor engaged in laying out the underground for a subdivision why he instructed his lineman to install raceways in this fashion.  His blunt answer was that they had tried using a PVC female adapter between a rigid metal long sweep 90-degree fitting and a joint of Schedule 40 PVC.  He had also tried using a PVC male adapter screwed into a rigid metal coupling to connect a joint of PVC conduit and a long sweep metal 90-degree fitting.  He said that in most cases the crews had to dig up these locations during the wire pulling stage and repair the broken fittings.  They found that slipping the flared end of PVC over the threads of the rigid conduit held up better underground and reduced repair work.  This process was simply transitioned and used also for above-grade connections of this nature.
He also remarked that on long pulls of primary or secondary conductors, the mule tape or pull rope was under a lot of pressure from the winch or cable pulling machine.  When the tape or rope made continuous contact with the inner radius of a PVC 90-degree fitting, this resulted in the tape or rope burning into and through the PVC 90-degree fitting causing numerous delays and extra work to repair these occurrences.  As a result, many installations of this nature utilize metal rigid 90-degree fittings throughout the project.
Chase Nipples and Rigid Metal Couplings
Many installers have used chase nipples and a rigid metal coupling to join boxes or enclosures together.  It makes a very nice-looking installation and allows for conductors to be pulled easily between enclosures.  But is this connection a Code-compliant installation?  To find this answer, we need to review information found within another industry resource—the Guide Information for Electrical Equipment, commonly referred to as the UL White Book published by Underwriters Laboratory.  The last book version was published in 2014.  Now the information is available at UL Product Spec at www.ul.com/productspec or productspec.ul.com.
When we look at this document, we find a category named Conduit Fittings (DWTT).  This information covers metallic and nonmetallic conduit fittings, such as connectors, couplings, conduit bodies, short-radius conduit bodies, expansion fittings, locknuts and sealing (liquid-tight) locknuts for use in the assembly of nonmetallic and metallic wiring systems.  Further reading reveals some very interesting information.  The category further remarks that all male threaded fittings and nipples have been investigated only for use with locknuts.  Fittings with internal female threads (e.g., hubs, conduit bodies, couplings) have been investigated only for use with threaded rigid conduit.  This should alert the installer or the inspector that a connection of this sort has not been evaluated or investigated to be used in this fashion.  See photos 3, 4, and 5 and figures 3, 4, and 5 for further information regarding this type of connection.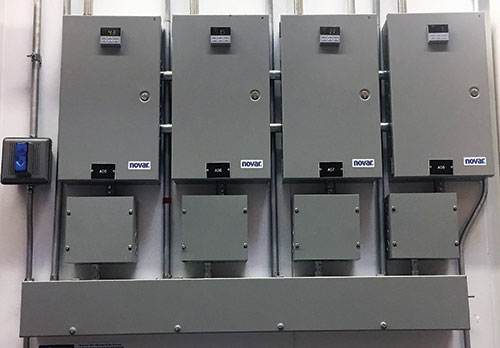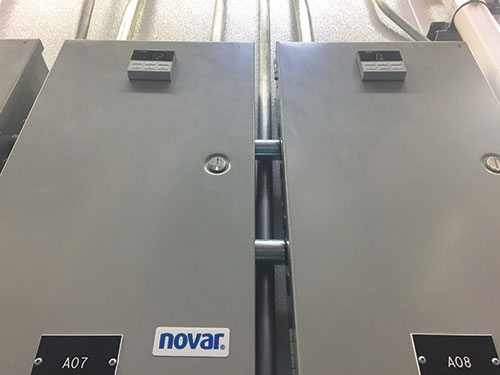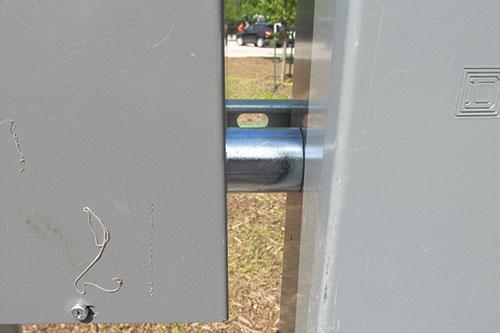 Solid Raceways to Flexible Raceways
Another common violation occurs when a solid raceway transitions to a flexible raceway, which is common at motor and transformer installations.  Many times, this is done for vibration or flexibility concerns and is usually accomplished with the use of a threaded rigid metal coupling and a flexible metal connector.  In some instances, when electrical metallic conduit (EMT) is used, this connection would involve an EMT connector, a threaded rigid metal coupling, and a flexible metal connector.  Again, this installation looks very good and professional, but is it code-compliant?  Look at this information found within figures 1 and 2.  This connection appears to be in violation of the product listing requirements found within the UL category.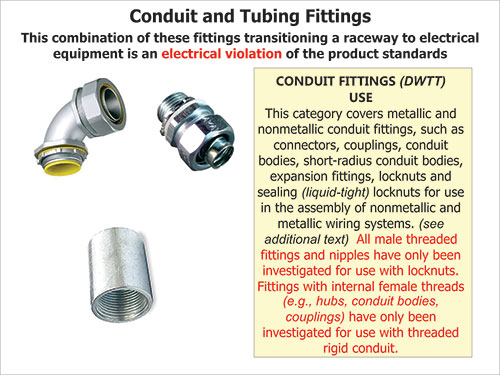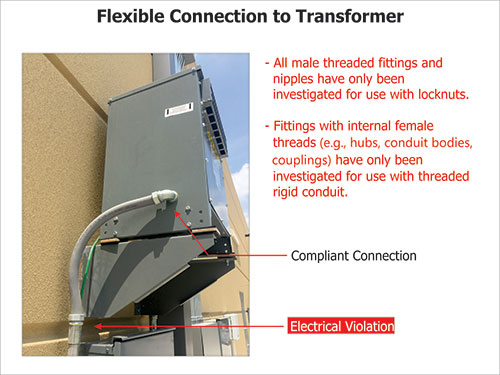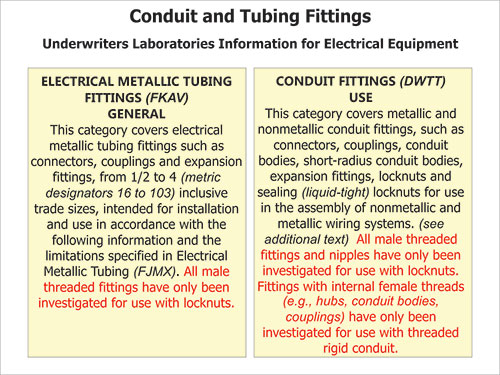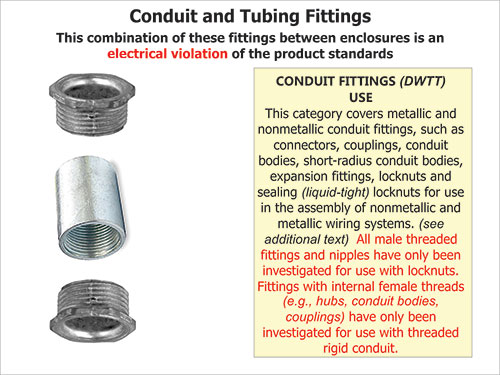 Connections to equipment utilizing Liquidtight Flexible Metal and Nonmetallic Conduit-Type LFMC and Type LFNC
Another popular connect is seen in the use of liquidtight flexible metal conduit (LFMC) and liquidtight flexible nonmetallic conduit (LFNC).  It was very common to see a connection with this material to a piece of electrical equipment utilizing a PVC male adaptor.  Who could argue as this connection appeared to be Code-compliant and, again, looked professional in a workmanship manner.  However, is this a Code-compliant installation?  We can find information in the NEC to help installers and inspectors when dealing with this type of installation.
By looking at Article 350 which covers liquidtight flexible metal conduit: Type LFMC, and at Article 356 liquidtight flexible nonmetallic conduit: Type LFNC we find the following information:
350.42 Couplings and Connectors. Only fittings listed for use with LFMC shall be used. Angle connectors shall not be concealed. Straight LFMC fittings shall be permitted for direct burial where marked. (2017 NEC)
356.42 Couplings and Connectors. Only fittings listed for use with LFNC shall be used. Angle connectors shall not be used for concealed raceway installations. Straight LFNC fittings are permitted for direct burial or encasement in concrete.
It appears to be clearly stated that the installation of Type LFMC and Type LFNC utilize a listed fitting.  This means the use of a PVC male adaptor is a violation of the requirements for installation found within these articles.  See photos 6 – 9 for more information concerning this type of installation.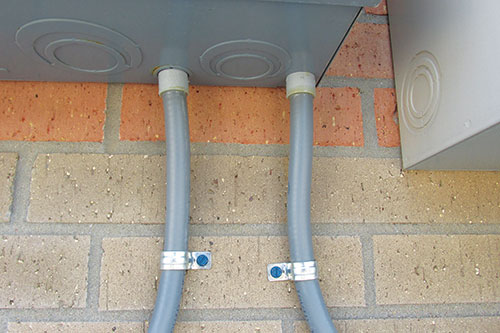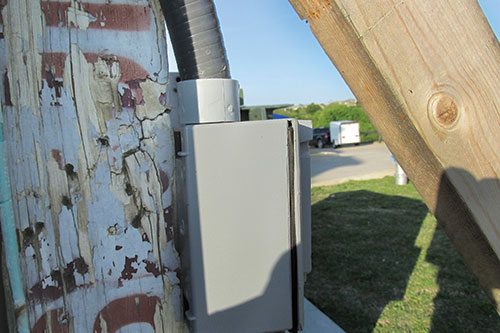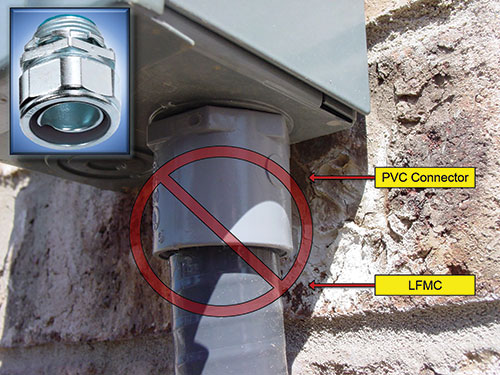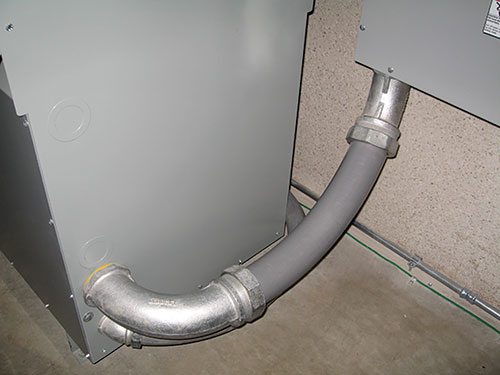 Conclusion
This article covers a few common installation practices that are not compliant with the Code and other industry installation documents.  I am sure many of you have encountered other connections that were not correct as well.  Sometimes we have been taught, or picked up, bad habits during our lifetime.  The same can be true of electricians and inspectors.  Most people within the industry have a passion for electrical safety and truly want their jobs to be Code-compliant and safe for the customer and public.
As installers and inspectors, the NEC is not the only document that we need to reference.  Documents and resources provided by groups such as Underwriters Laboratories (UL), National Equipment Manufacturers Association (NEMA), National Electrical Installations Standards (NEIS) from the National Electrical Contractors Association (NECA) and others help "fill in the gaps" as to what constitutes a safe and Code-compliant electrical installation.
I hope this article helps to shed some light on raceway connections.  There is an acceptable method to join and terminate raceway systems.  There are also ways that this should not be done.  The goal of this article is that everyone come away with knowledge they can use and share with others in the industry.  The industry depends on knowledgeable and dedicated individuals, such as yourselves, to lead us into the future. The future is yours, and your installation and inspection practices will shape it for years to come.