Where can I find the 2020 NEC code correlation database for UL Certifications (Listings) that comply with the 2020 NEC? It used to be the Installation Code Search on UL Product Spec.
A. The 2020 NEC correlation to UL product Certifications (Listings) is now available on the UL Product iQ™ database at productiq.ul.com . UL Product iQ is free to use, but registration is required. Product iQ includes the ability to search for correlations among UL Certified products to 16 North American model installation codes, including the 2020 NEC.
To access the installation code search, go to Product iQ at ProductiQ.ul.com and type "installation code" into the search field, then select the installation code search template from the drop down field. You can also select the installation code search from the Building Materials, Systems and Installation Codes iQ Plus Search Tool in the menu below the Product iQ search field.
Once on the installation code template, select the National Electrical Code (NEC) from the installation code field, "2020" in the year field, and then enter the section of interest. The search results will display the UL product categories applicable to that code section. Select a product category guide link for details on the scope of Certification (Listing), installation criteria, Certification requirements, and identification of the UL Mark for products covered by a category. For additional information, open the Related Information tab or click on the View UL Certified Products link to the source or identify code-compliant UL Certified (Listed) products for an application.
Register for Product iQ today at Productiq.ul.com . Bookmark or save Product iQ to your home screen and use this important tool to source or identify code-compliant products or to assist with your installation and inspection decisions.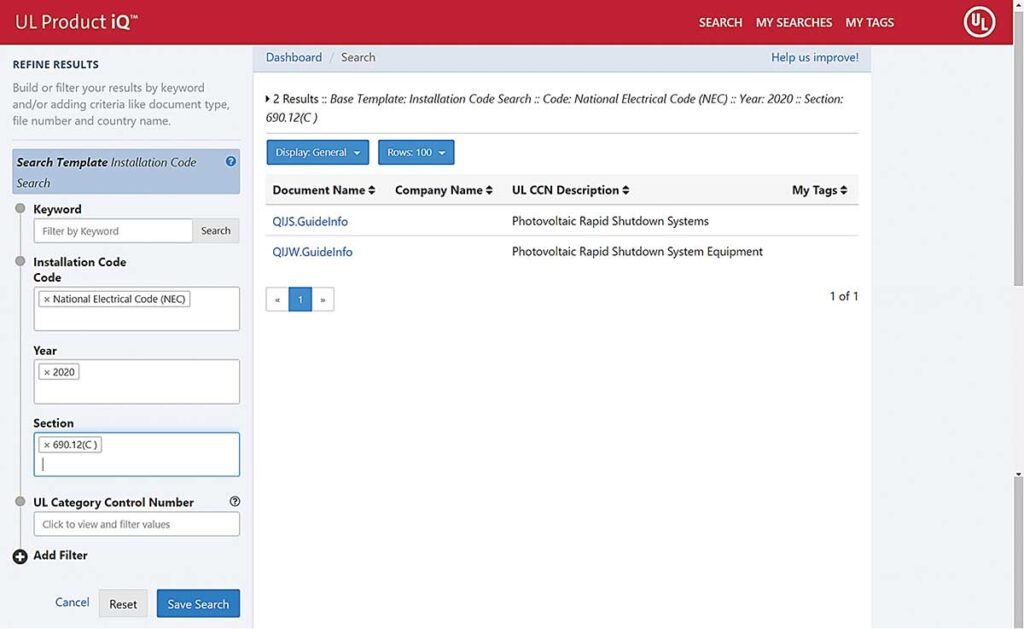 Q.        Why is PV rapid shutdown so important? What is the difference between PV rapid shutdown equipment (PVRSE) and a PV rapid shutdown system (PVRSS)?
A.  Photovoltaic (PV) technology is developing rapidly, and PV arrays are commonly being installed on residential homes and commercial properties. While PV array equipment is required to be certified (listed) for safety from the risk of electric shock and fire, those certifications (listings) do not account for all of the specific interactions firefighters may have with them working around an array during a fire. Firefighters can be exposed to electric shock hazards while performing their duty. A photovoltaic rapid shutdown system (PVRSS) provides a means for firefighters to stop or reduce the voltage and current from the PV array so they can protect themselves from electrical hazards while still doing their jobs efficiently.
UL 1741, the Standard for Safety for Inverters, Converters, Controllers and Interconnection System Equipment for Use With Distributed Energy Resources, defines PV rapid shutdown equipment (PVRSE) and PV rapid shutdown system (PVRSS) as follows:
PVRSE – Equipment intended to be used in a PVRSS to initiate, disconnect, isolate, or attenuate the controlled conductors of a PV system.
PVRSS – System consisting of PVRSE intended to initiate, in addition to disconnect, isolate or attenuate the controlled conductors of a PV system.
These terms were added to the Standard to identify two types of product configurations that can be Certified (Listed) to UL 1741. While NEC 690.12 refers to the rapid shutdown of PV systems on buildings, it was unlikely that every solution brought to market would constitute a completely designed, comprehensive PV rapid shutdown system. Manufacturers produce specific pieces of PV rapid shutdown equipment that can be utilized to create complete PV rapid shutdown systems.
Creating the PVRSE term and Certification (Listing) allows individual pieces of rapid shutdown equipment to be evaluated for specific PVRS functions, e.g., an initiation device or the rapid shutdown device that controls a conductor. Equipment, such as an inverter that connects to controlled conductors, may also have a PVRSE marking identifying the port that cuts power to or attenuates the controlled conductors when a rapid shutdown is activated.
UL 1741 requires that markings and instructions be provided with PVRSE to address field installation with other Certified (Listed) PVRSE or disconnect devices as required by the manufacturer's instructions to form a PVRSS. Instructions address proper installation of the equipment.  If the PVRSE does not alone serve to fulfill the safety functionality, instructions will also recommend products to be used in developing a PVRSS.  If a Certified (Listed) PVRSS evaluated as a complete system is not being used, additional measures must be taken to ensure the proper functioning and approval of the PVRSS as mandated by the NEC.
UL Certifies (Lists) PVRSE under the product category Photovoltaic Rapid Shutdown System Equipment (QIJW). UL Certifies (Lists) PVRSS under the product category Photovoltaic Rapid Shutdown Systems (QIJS). The general guide information and Certifications (Listings) for both product categories can be viewed on UL's Product iQ™ database at productiq.ul.com, enter QIJW or QIJS at the search field. UL Product iQ is free to access but does require registration.
For more information on PV rapid shutdown systems, see UL's white paper, "PV Rapid Shutdown: Safety Requirements and Communication," at https://www.ul.com/insights/pv-rapid-shutdown-safety-requirements-and-communication.