For many people looking for a stable, growing industry in which to start or change a career, the electrical industry is ripe with opportunities.
It's no secret that the trades have been experiencing a worker shortage. The Q1 2019 USG Corporation & U.S. Chamber of Commerce Commercial Construction Index found that 81 percent of contractors are asking current skilled workers to do more work; 70 percent of contractors struggle to meet deadlines; 63 percent of contractors experience increased costs for new work; and 40 percent of contractors actually end up rejecting new projects because of the lack of skilled labor available for those projects.
"I feel that instead of one specific cause, there are several contributing factors," wrote International Association of Electrical Inspectors CEO David Clements in a 2018 editorial. "Among these are the recessions that hit us in 2007 and 2008 whereby many skilled workers did not return to the trades; high schools stopped offering shop classes that could pique the interest of students to consider a trade; parents began steering graduates to universities and colleges; and the baby boomers are retiring."
Contractors polled in the Index all agreed that finding ways to increase enrollment in technical schools and vocational training are the best ways to increase the skilled workforce.
"These contractors believe that these inaccurate perceptions need to be cleared up by emphasizing that workers can earn good pay, that there are opportunities for advancement, and that the ability to learn new skills can attract new talent," the Index stated. "Contractors also believe that the increasing technology being used on job sites is another way to attract the next generation of workers to the skilled construction workforce."
In San Antonio, TX, South Texas Electrical Joint Apprenticeship and Training Committee is offering on-the-job training to make new hires electricians. Students 18 and over with a high school diploma who have taken algebra and can pass a basic reading and math exam can earn "more than $14 an hour and the pay increases the longer they are there until the end of the five-year program, when they make $75,000 a year," reported KSAT 12 in April.
CareerBuilder estimates the average pay for electricians in the United States is $54,000. Electrical industry Jobs listed on IAEI.org pay as much as $6,000 or more per month.
Resources abound in renewables
According to figures released in 2018 by The Bureau of Labor Statistics, the two fastest growing occupations were solar installers (up 105 percent) and wind turbine technicians (up 96 percent). The job growth is estimated to continue into 2026 with median salaries currently ranging from $39,000 to $54,000 per year.
When it comes to wind energy production, Texas is outshining all others with The Lone Star State leading the country in wind production. Paul Thompson, assistant managing editor for Austin Business Journal reported in January that CareerBuilder is forecasting Texas will need 50 percent more wind turbine service technicians by 2023. These positions are considered middle-wage jobs with a pay range of $14.18 to $23.59 per hour.
The American Wind Energy Association ranks Texas as the number one wind energy producer in the United States, generating nearly 25,000 megawatts (MW) (ranked fifth in the world), with Iowa coming in second at 8,422 MW, followed by Oklahoma with 8,072 MW of wind capacity.
"Electrical contractors will create more jobs through expanding wind and solar power.," reported the National Electrical Contractors Association in 2018. "Beyond the construction of solar and wind farms, long-term maintenance jobs will be created."
YouTube users may have noticed commercials on the platform promoting a career as a wind turbine technician. That point was expounded upon by industry executives at the Wind O&M + PV Operations Conference in Dallas in April.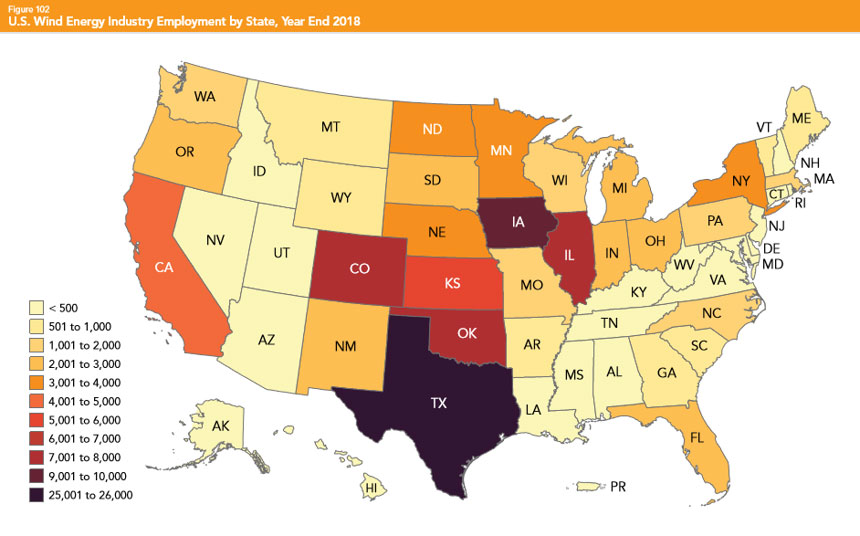 During a panel discussion on wind and solar operational optimization, executives talked about the aging population of wind turbine technicians and expressed a great need for new technicians who can climb towers and perform repair and maintenance tasks.
"There's a huge demand for technicians in the field," said Gerrud Wallaert, senior vice president engineering for E.ON. "We need to be proactive [in recruiting] with technicians retiring."
"We're encouraging our area managers to visit the local schools to get our name out," said Jeff Wehner, vice president of renewables at Duke Energy. "Going to those [middle and high] schools is getting your resources for the next few years."
Some panel members said they are working with local unions to discuss and resolve future workforce needs while others are thinking about ways to get people excited about the wind industry.
Using new technologies to aid the safety and health of turbine technicians was a top priority for panelists. Jorge Villalobos, general manager of operations (wind/solar) for Shell New Energies said he likes using augmented reality (AR) as a tool for turbine inspections and believes sending technicians to school to know both manual and AR tower inspection techniques will help in the process.
Other panelists said focusing on leadership training with technical skills goes a long way in preparing workers for the future. All panelists agreed that having a certification program would be most beneficial, but states and organizations do not agree on what should be the minimum standard for a wind turbine technician.
Wehner said a certification program could cut the training time for new technicians. Wallaert explained that some provinces in Canada require wind turbine technicians to be certified electricians, which eliminates many candidates. That, along with the fact that many states in America differ on the basic standards for technicians, makes creating a certification program harder.
While there are many challenges in the young and growing renewables industry, the fact remains that there is plenty of work in the electrical field for those who are willing to learn the needed skills.