Respondents: Zackary Jarmon, IEC Fort Worth/Tarrant County Chapter
Can you give us an overview of the IEC and how it works with electrical apprentices?
Zack Jarmon: Independent Electrical Contractors (IEC) IEC trade schools offer apprenticeship programs, which combine classroom instruction with on-the-job training for the next generation of electricians. These programs give students the opportunity to earn a wage while learning under the guidance of experienced professionals. It's called "Earn While You Learn." We aim to equip students with the skills needed to excel in real-world electrical work scenarios. The curriculum in these trade schools covers a wide range of electrical topics, including electrical theory, circuitry, wiring methods, electrical codes and regulations, safety procedures, troubleshooting, and more. Students learn how to work with electrical systems in residential, commercial, and industrial settings.
Can you give us an overview of the labor market for electricians? Also, how long does it take to become an electrician?
Zack Jarmon: In recent years, there has been a shortage of skilled trades workers, including electricians, leading to strong job prospects for those entering the field. Electricians are in demand nationwide within the construction industry for new residential, commercial, and industrial projects. IEC's program is recognized by the U.S. Department of Labor's Bureau of Apprenticeship & Training, making it an approved program with nationwide credentials. It's estimated that the demand for new electricians is double the national. Baseline, creating reliable job security.
I'm not sure about all states, but here in Texas, in order to qualify for a journeyman electrician license, you must have 7,000 hours of on-the-job training. With our apprenticeship program, you get 576 hours of classroom training and 8,000 hours of on-the-job training. Some of our apprentices have already taken and passed the journeyman's exam before they graduate. In addition, students qualify for 41 college credits through the American Council on Education upon graduating.
How big is the building (square foot), and how many classrooms for an average of how many students?
Zack Jarmon: The IEC Fort Worth/Tarrant Chapter building is located in Eastern Fort Worth and is approximately 11,800 square feet. We have five classrooms and an average student body of 500. Our classes meet one night a week from Monday through Thursday. First year students who start in January, however, do go to classes two nights a week.
How big is the lab and how is it powered?
Zack Jarmon: Our main lab is 1000 square feet and is powered by three 20-amp circuits from a 200-amp panel. Our lab is set up to allow the instructors to work with students in a hands-on environment on the proper way to install electrical components and systems. Our particular facility is a little unique because we have two services due to the fact that the building used to be owned by two separate companies. One service has a 200-amp panel with a subpanel and the other is a 200-amp service.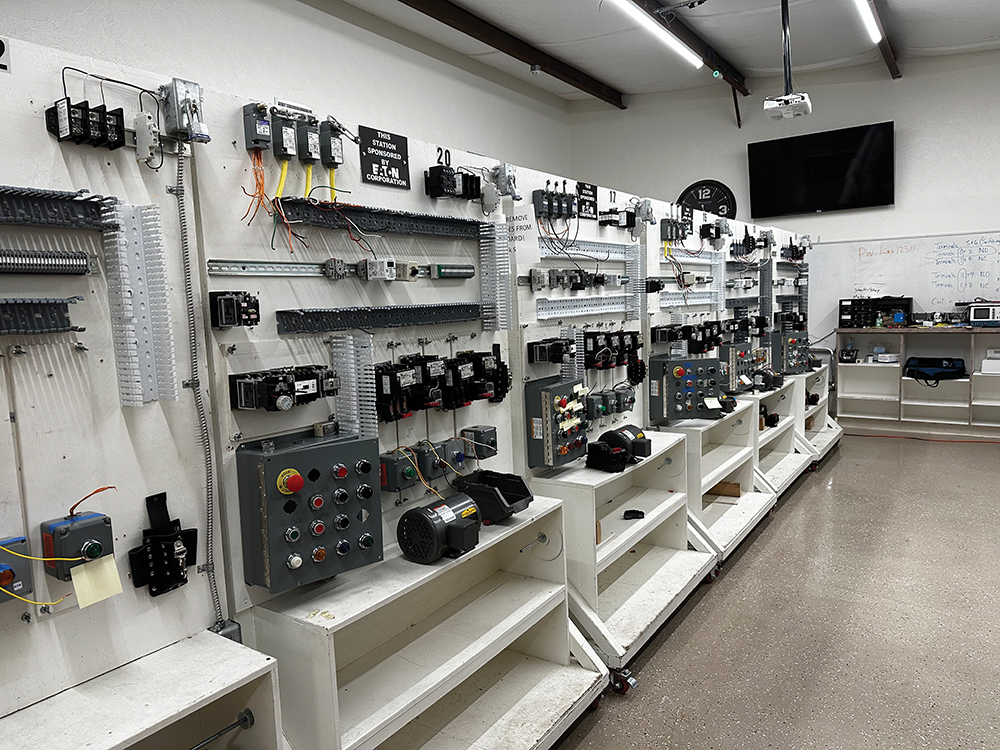 In the individual classrooms, describe the "lab" components on the wall. Also, are they live? If so, how?
Zack Jarmon: The components on our classroom walls are examples and practice boards that a student can remove from the wall, touch each part, and wire up the component if the components are arranged to create an electrical device or system (doorbell components). These lab components also are connected with a cord at the end of the system to allow students to wire up the component and test to see if they are working correctly.
In a first-year electrical apprenticeship, for example, students typically learn the foundational knowledge and skills necessary to begin their careers as electricians. The curriculum is designed to provide a solid understanding of electrical theory and safety practices, as well as hands-on experience with electrical tools and equipment. In our first-year classroom, our boards contain general concepts such as Ohms Law, Watts, wheel, etc.
In our third-year classrooms, however, the components may contain actual motor control circuit boards, motor starters, and components that allow them to work with various methods of controlling motor speed and direction.