When the city of Detroit hosted the biggest sporting event of the year, Super Bowl XL, the Buildings & Safety Engineering Department (B&SED) played a vital role in its safe operation. Super Bowl XL was the catalyst for a major downtown revitalization and the grand finale of several major events for which our department had the responsibility for safety inspections. Within the last year, Detroit hosted the Major League Baseball All-Star Game at Comerica Park, the summer festival season, the 2006 North American International Auto Show at Cobo Center, and Motown Winter Blast II in conjunction with the Super Bowl.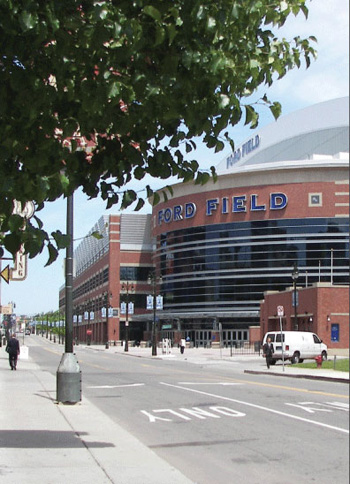 Photo 1. Ford Field, site of Super Bowl XL
Super Bowl XL
On November 1, 2000, the National Football League owners unanimously approved the city of Detroit to host Super Bowl XL at Ford Field on February 5, 2006. This would mark the second time the Super Bowl would come to the Detroit area, the first game being Super Bowl XVI in 1982 at the Silverdome in Pontiac, Michigan. Roger Penske, one of the most successful racing car and track owners in the world of motorsports, was appointed chairman of the Super Bowl XL Host Committee. The Super Bowl Host Committee itself was created to join business, community, political, and economic resources throughout the region for a common goal — "to showcase a revitalized Detroit when the world comes to its living room." And showcase it did!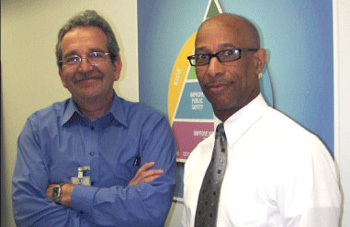 Photo 2. Phil Clark is the chief electrical inspector and Bert McAlister, supervising electrical inspector
The groundbreaking ceremony for Ford Field, a $500-million-dollar, 65,000-seat domed stadium was held November 16, 1999, and the first Lions regular season home game was played there September 22, 2002. Ford Field is a state of the art facility designed specifically for football games, but has also hosted concerts, conventions, trade shows and other events. However, some alterations were required to prepare for the big game. Additional accommodations had to be made for the legions of press both inside and outside of the stadium, increased concessions, special NFL events, and of course the halftime extravaganza. Alterations to the existing building power distribution system as well as temporary wiring required scores of electricians within a short time frame.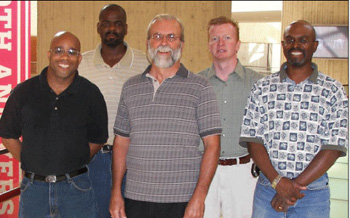 Photo 3. From left to right: Durand Capers, Cameron Cummings, Richard Helm, Mark Kreim, and Vince Cooley.
The Super Bowl draws fans and media from all over the world. Usually the event is held in a Sun Belt city with a large existing/convention tourism infrastructure. In cities such as Los Angeles, Miami, etc., existing tourist attractions minimize the need for temporary venues. But how do you provide entertainment in the week leading up to the game when the host city is in the Midwest and the event is in the middle of winter? Enter the Motown Winter Blast festival.
Motown Winter Blast II was developed to create an innovative backdrop to Super Bowl XL. Some of the venues included a 200-ft long snow slide, four outdoor music stages, a marketplace featuring 35 or more vendors, the Taste of Detroit featuring 22 outdoor restaurants, vehicle exhibits, and much more. Setup for this 12-city block wintertime festival began on January 21st, and the event opened to the public on Thursday, February 2, 2006, and ran to Sunday, February 5, 2006.
Our Department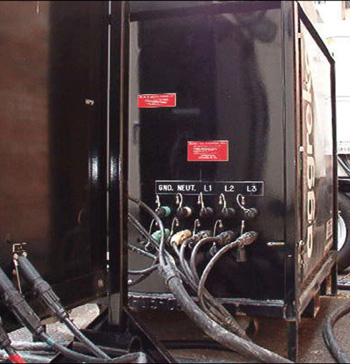 Photo 4. Several of the many portable distribution boxes used as part of the temporary wiring system for the Winter Blast Festival
The city of Detroit Buildings & Safety Engineering Department, Mr. Amru Meah, director, consists of construction and property maintenance functions. The Electrical Division is part of the Construction Division and consists of Chief Electrical Inspector Phil Clark, two supervising electrical inspectors, 13 field electrical inspectors, and an electrical plan reviewer. The level of experience of our inspectors range from 13 very experienced years to two years for our newest inspector.
The field inspection staff is divided into districts throughout the city with a wide diversification of occupancies and types of inspections, from dwelling units to high-rise buildings, theatres, stadiums, hospitals, factories and other industrial establishments. All of our electrical inspectors were involved in inspecting special events including traveling carnivals, weekend festivals, and exhibition shows, the largest being the North American International Auto Show, which utilizes more than 700,000 square feet of exhibition floor space in the Cobo Conference Exhibition Center.
Planning, Preparation and Training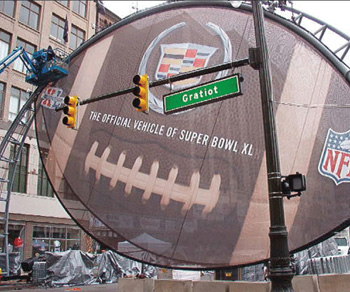 Photo 5. Workers apply temporary light fixtures on top of a sign in the middle of Woodward Avenue
There was a long preparation process for Super Bowl XL that began shortly after Detroit's selection as the host city. However, things really started coming together right after the Thanksgiving holiday in 2005. Meetings hosted by the Super Bowl Committee were held on a regular basis at Ford Field. This brought together the major organizers, volunteer groups, first responders, vendors, contractors, and inspection agencies. Mr. Clark decided that one supervisor and six electrical inspectors would be assigned to the Super Bowl/Winter Blast special events. Fortunately two of the inspectors, Durand Capers and Mark Kreim were the field inspectors during the construction of Ford Field. Their background knowledge and experience would prove invaluable in the weeks ahead.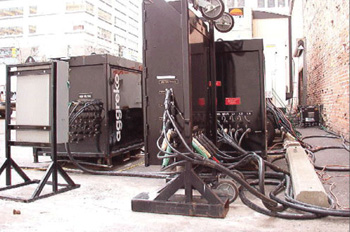 Photo 6. Several of the many portable distribution boxes used as part of the temporary wiring system for the Winter Blast Festival
Even with the experience level of our inspectors, a training program was needed to help prepare them for an event of this magnitude. The state of Michigan Public Act 54 requires all registered building officials, plan reviewers, and inspectors to be familiar with changes to the applicable codes administered and enforced within the jurisdiction of the enforcing agency employing the applicant, and with pertinent laws, and to furnish satisfactory evidence of attending local in-service training and education programs on an ongoing basis. I developed, submitted and received approval from the state of Michigan Bureau of Construction Codes for the course of instruction "Special Event Inspections" for continuing education units during the current inspector registration cycle. This training program and our inspections were based on the 2002 National Electrical Code, which was currently adopted and enforced in the state of Michigan.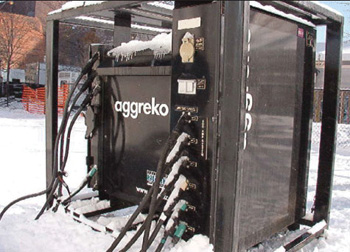 Photo 7. A typical outdoor portable power distribution arrangement – a primary disconnect for the transformer, a 480-120/208 volt transformer, and a secondary portable power distribution unit. This entire assembly bore a listing mark from Underwriters Lab
To maximize the use of our resources, we needed to streamline our procedures as much as possible. A checklist was developed based on the most common code violations documented while inspecting other major events, and based on the projected weather conditions. This concept not only minimized the write up time, but information and instructions could be directed to contractors and business owners very rapidly.
Special Event Ordinance
The city of Detroit adopted a Special Event Ordinance for Limited Duration Licenses & Permits for the 2006 Super Bowl. The enforcement period was from January 2 through February 10, 2006. This ordinance provided for three specific activity zones: the Clean Zone, Entertainment Zone, and Overlay Zone. These zones determined what kinds of activities could take place within them, the permit requirements, and duration of the occupancy permit. The clean zone, the minimum 300-foot secure perimeter immediately surrounding Ford Field, is perhaps in part a requirement of the post 9/11 era that requires much heavier security concerns, credentials and controlled access.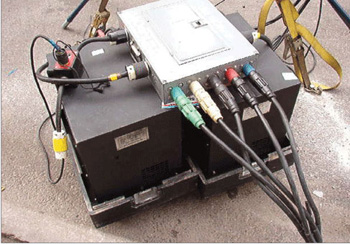 Photo 8. A panelboard in a NEMA 1 enclosure sits on top of other electrical equipment rated for indoor use unprotected outdoors. The cord sets as well were not listed for wet locations.
Limited Duration Permits could be issued by B&SED for temporary structures (i.e., tents, scaffold stages, etc.) within these zones. All temporary structures were subject to conditions established by B&SED. In addition, several buildings in the entertainment and overlay zones were still under renovation. Some of these buildings had vacant storefronts developed into "white boxes" for future use. The ordinance allowed these storefronts to be used as temporary sites for activities such as entertainment programming, the sale and service of food, beverages, and merchandise. All such sites had to comply with applicable building, fire, health, and safety codes and were inspected by the B&SED, the Fire Department, and the Department of Health and Wellness Promotion prior to the start of the activity periods of the Super Bowl. Temporary certificates of occupancy were issued by the B&SED for all such occupancies in compliance with the codes.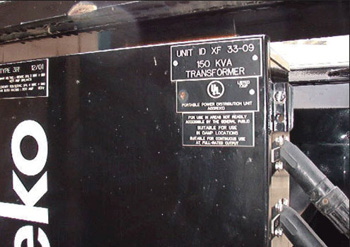 Photo 9. The listing mark applied on a secondary portable power distribution unit. The marking indicates this assembly includes a 150 kVA transformer, is not to be installed where accessible to the public, is suitable for damp locations, and is rated for
Super Bowl activities were not confined just to Ford Field. The "NFL Experience" took place at the Cobo Conference Exhibition Center. The Media Center was in the General Motors Headquarters Renaissance Center Complex. The 2006 NFL Tailgate Party was held in the largest temporary structure hosting an event: a 183,384 square foot tent. Over a three-week period, a two-square-block parking lot was cleared and five massive tents were erected as one structure on the site. This temporary structure included 4,779 square feet of entertainment stages and a 50´ x 70´ ice skating rink, which were supplied by three vehicle-mounted generators.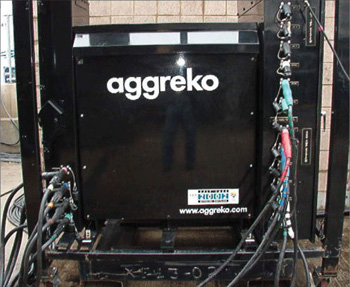 Photo 10. Front view of the portable power distribution unit in photo 9
During the week leading up to the Super Bowl, there were at least 30 known spinoff events taking place in the city. A major source of information for obtaining the location of these events was the media. We collectively scanned the newspapers, listened to radio and television news broadcast on a daily basis for information. Shared information within our department was essential as well. Information was updated a daily basis from permit applications, contractor/vendor inquiries and other similar sources.
Just about everywhere you turned downtown, someone was giving a party. There were also several major events outside of the downtown area including the Motor City Touchdown and the ever-popular Playboy Party at Detroit City Airport, approximately nine miles from Ford Field. Both events were held at an airport hangar, which underwent a temporary makeover including temporary wiring, vehicle-mounted generators, stage lighting, etc.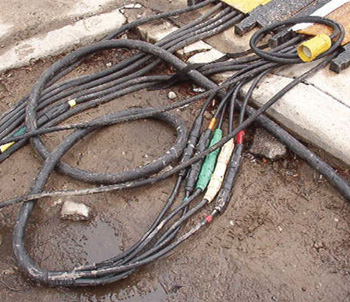 Photo 11. Cords, cables and cable connectors lying in the street.
Building owners, tenants, and contractors were scrambling to get ongoing construction projects completed in time for the business opportunities associated with the Super Bowl. Our inspectors were inspecting these projects, some of them on a daily basis, in addition to the special event inspections. In some cases, our inspection teams would be waiting on a window of opportunity to accommodate some of the scheduled Super Bowl related activities. Mr. Clark and I formed an impromptu special response team to visit both the construction and special event sites to assess and resolve some of the more challenging situations. We were on call from our inspectors, contractors, as well as business owners.
Permits
Our electrical permit fee schedule has provisions for temporary wiring as well as sporting/special events, both indoor and outdoor. The permit for indoor locations is based on each 100,000-square feet of floor space and includes all electrical equipment. The permit for outdoor locations starts out with a flat fee, and there are provisions for each additional hour of inspection time above that. Each venue was assessed on an individual basis, but we tried to adhere to the special event permits for consistency. During the Super Bowl period, we processed and made inspections on 51 electrical permits including sites in the activity zones, and other associated events.
Code Enforcement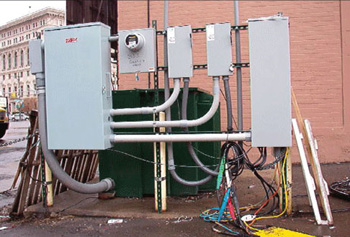 Photo 12. The only temporary utility service utilized for the Super Bowl/Winter Blast Festival, this installation was located in a protected corner of a parking lot. The logistics required for the utility shutdown and tap, proximity to the utilization equ
Since most of the events associated with the Super Bowl were going to be outdoors, or in or on temporary structures, electrical equipment and how it was installed was a primary concern. NEC Article 525, Carnivals, Circuses, Fairs, and Similar Events, governed most of the electrical installations that we inspected. NEC-2002, 527, Temporary Installations, [NEC-2005, 590] was applied in permanent buildings and structures utilizing temporary wiring. NEC 400, Flexible Cords and Cables, and Article 250, Grounding, were also on the most often enforced list.
Without a doubt, the most common violation on our checklist was Section 250.30, Grounding Separately Derived Alternating-Current Systems. With the exception of one utility service, the sources of electrical power for the outdoor temporary installations were generators. The way they were installed and used met the definition of separately derived systems. Most of these generators were mounted on vehicles, and did not meet the requirements of Section 250.34(B) to allow the frame of the vehicle to be used as the grounding electrode. Ground rods were the electrodes of choice for these installations and our inspectors were busy prodding some of the contractors to install them.
The source voltage produced by most of these generators was 480 volts, which required the use of transformers. Here again is another separately derived system that required an approved grounding electrode system. In many cases our inspectors were tasked with trying to obtain code compliance in some unique situations. For instance, how do you provide a grounding electrode system for a transformer located in the middle of the roof of a building? Or for a generator located in a concrete parking lot? Mr. Clark and I encouraged flexibility where practical to meet the intent of the code if not the letter of the code. Some examples would be connections to the grounding electrode system for a utility light pole. Also, fire hydrants could be used a means of connecting to a metal underground water pipe in direct contact with the earth for more than 10 feet.
Cords and their use, or misuse, was a primary concern especially for the Motown Winter Blast. In addition to the typical abuse from pedestrian and small vehicle traffic, winter weather was a concern especially if the cords were in the path of snow removal equipment. Section 525.20 requires flexible cords or cables to be listed for extra hard usage. Where not subject to physical damage, they can be listed for hard usage. Where used outdoors, flexible cords and cables shall also be listed for wet locations and shall be sunlight resistant.
Another problem with flexible cords and cable installations occurs when they were passed through openings in outlet boxes, disconnecting means, or similar enclosures without protection by bushings or fittings. There were numerous instances when a flexible cord was installed through an opening in the bottom of an electrical enclosure without an appropriate fitting. In addition to being a violation of NEC 400.14, this could cause tension or strain to be transmitted to joints or terminals, a violation of Section 400.10.
There were no less than four temporary outdoor performance stages utilized during the Motown Winter Blast. In addition, temporary indoor stages were constructed inside of several buildings to be used for live performances at Super Bowl parties, by the media for sports shows, interviews, etc. Although these stages were all temporary structures, they nevertheless used stage and studio lighting equipment. NEC Section 520.10 allows the temporary use outdoors of portable stage and studio lighting equipment and portable power distribution equipment, provided qualified personnel supervise the equipment while energized and barriered from the general public. This includes equipment that is not listed for wet or damp locations with the pretense for this being qualified personnel can de-energize and protect the equipment in the event of rain or snow.
NEC Section 110.26(F)(2) requires that all outdoor electrical equipment, rated 600 volts, nominal, or less, shall be installed in suitable enclosures and shall be protected from accidental contact by unauthorized personnel. Both the Winter Blast and Super Bowl utilized generators, transformers, and power distribution boxes for the temporary wiring installations. For the most part, the installers did well in minimizing potential hazards from the public. However, in some cases the metal fencing or barriers were used to enclose the electrical equipment created another code violation—NEC Section 110.26(A)(1) by encroaching on the required depth of working space in the direction of equipment or live parts.
After the Game
As the old saying goes, "what goes up must come down." In this application all sites that had temporary wiring had to be revisited to ensure that all such wiring had been removed, and where applicable, all previously existing wiring methods restored in an appropriate manner. The February 8th deadline for the reopening of all streets, and the February 10th expiration date of the Limited Duration Permits helped to keep this from being a long drawn out process. In addition, our fee schedule for temporary wiring includes a fee for one-hour inspection time to cover the re-inspection cost.
Summary
This was by far the most significant event I've been involved with in my 23 years with B&SED. Overall, things went well. If I had to do it all over again would I do anything different? Absolutely! For one, I would've contacted the inspection department in Jacksonville, Florida, the host city for Super Bowl XXXIX shortly after the game. Ironically, I was in Jacksonville the week after their big game heading to Mayport, FL and two weeks of sea duty on the USS John F. Kennedy (CV-67).
One of the biggest stumbling blocks for our department was the inability to obtain credentials to access into the clean zone and Ford Field, a definite must for the week preceding the game. The issuance of credentials required background checks, and for whatever reason we did not start the process in time. Also high on my list of "we should haves" is we should have contacted the host facility (Ford Field) much sooner to formulate a plan for testing the emergency system.
Our inspectors worked extremely hard under very challenging circumstances, especially the week prior to the game. But, given the opportunity to do it again, we say bring it on!