Today, the solar industry and markets are experiencing record growth. Many states, utilities and the federal government are offering lucrative incentives for the installation of solar energy systems. Numerous companies and individuals are seeking to enter the business as manufacturers, financiers, distributors, integrators, marketers and installers. However, not all have the requisite training, experience and qualifications to safely and successfully install systems, nor the appropriate licenses to practice construction contracting according to the building codes and laws in their jurisdiction.
Solar Energy System Classifications and Competencies Required
Solar energy utilization systems are broadly classified as either (1) solar-thermal systems that heat fluids for domestic hot water, pools or space conditioning, or (2)solar-electric, or photovoltaic (PV) systems that generate electricity to supply dedicated loads or interface with other electrical systems.1 Notwithstanding, advanced technologies including concentrating solar power (CSP) and other solar thermal-electric systems are being developed, typically for larger utility-scale power generation as opposed to installation on buildings.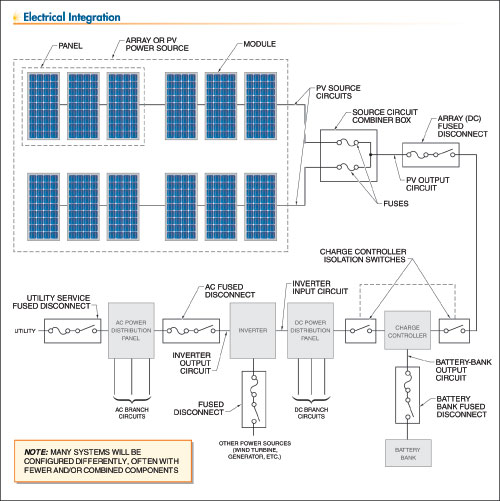 Figure 1. PV system electrical integration
While both classes of solar energy systems are often associated, they are very different types of energy systems. Solar-thermal system installations require plumbing skills and are dictated by plumbing codes; while PV system installations require electrical skills and are governed by electrical codes. General building construction skills are required for the structural installation of either PV arrays or solar thermal collectors, and when installed on buildings and rooftops, roofing and weather sealing skills are also required. Most solar energy systems are not fully integrated, listed equipment like a plug-and-cord appliance that can be simply installed by the consumer. Rather they are a field-assembly of electrical components and hardware subjected to building codes and construction standards and their installation is considered a skilled craft trade that should be performed by properly trained, qualified journeypersons and licensed contractors.
Solar Contractor Licensing
Presently, there are a dozen or more states that have addressed solar installations from a regulatory perspective, including Arizona, California, Colorado, Connecticut, Florida, Hawaii, Maine, Michigan, Nevada, New Jersey, Oregon and Utah.2 Licensing laws in these states vary in scope and reflect the dichotomy of PV (solar-electric) and solar-thermal work classifications and the core competencies involved. With a couple of exceptions, these states have independently addressed solar-thermal installations under the plumbing trade, and PV systems under the electrical trade. For the remainder of this article, issues related to solar-electric (PV) installations are the focus.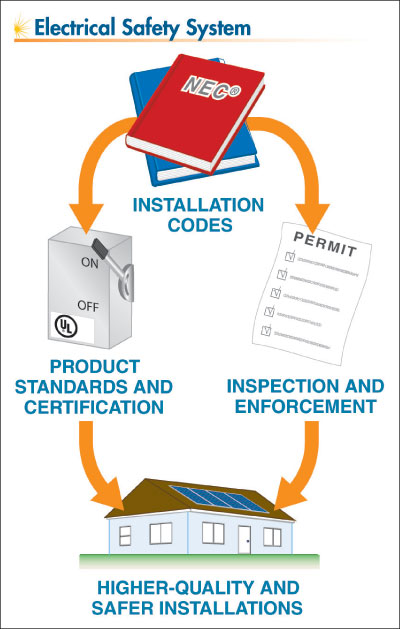 Figure 2. Electrical safety system
Some states have explicitly established PV installations under the scope and responsibility of electrical contractors through board rules or legislative actions, while others have created limited licenses under the respective trade. Connecticut offers a PV-1 limited solar-electric contractor license for work only on PV systems, and a PV-2 limited solar electric journeyperson license that must be employed by a licensed electrical contractor. In Hawaii, a C-60 solar power systems contractor may assemble and install photovoltaic panels, batteries, controls, and related low-voltage dc wiring; however, an electrical contractor (C-13) license is required to install photovoltaic systems other than low voltage dc wiring and includes the work of the C-60 contractor. Nevada requires solar-electric systems to be installed by an electrical contractor, and offers a limited license that permits the installation, alteration and repair of photovoltaic cells, batteries and inverters used in the conversion of solar energy into electricity, but requires an electrical contractor for work beyond the service panel.
In Oregon, PV systems may be installed by a full journeyman electrician and electrical contractor with no limitations, while holders of a limited residential electrical license may install PV systems up to 25 kW. Oregon also offers an electrical contractor, renewable energy, limited license for those working on systems 25 kW and smaller, and must employ a licensed electrician to make any output connections to other services or building wiring systems. Similarly, in Utah, the S202 solar photovoltaic contractor license allows the fabrication, construction, installation, and repair of photovoltaic cell panels and related components excluding work on any alternating current system component, which must be performed by an electrical contractor.
Solar contractor licenses in two states (Florida and California) enable their holders to install either solar-thermal or PV systems. In Florida, the CV solar contractor is permitted to do minor electrical, mechanical, plumbing, or roofing work without subcontracting, but only for residential installations. The Florida solar contractor can do only incidental electrical work for residential PV installations, and must always use an electrical contractor to connect PV systems to other electrical systems and equipment. California's C-46 solar contractor license also covers work on both solar-thermal and PV systems, however unlike Florida, places no restrictions on the electrical work a solar contractor may do incidental to installing PV systems. California's C-10 electrical contractor and Florida's EC electrical contractor licenses also cover PV installations without limitations.
Certification Program
The North American Board of Certified Energy Practitioners (NABCEP) offers an independent certification for PV system installers; however, it is not a governmental license or endorsement to engage in trade practice or contracting.3 Candidates for this certification qualify based on documented PV systems installation experience and training, must pass a 4-hour 60-question examination, sign a code of ethics, and maintain practice and continuing education for re-certification every three years. A job task analysis for PV installations has been developed by NABCEP, and is the basis for the certification program and examination content.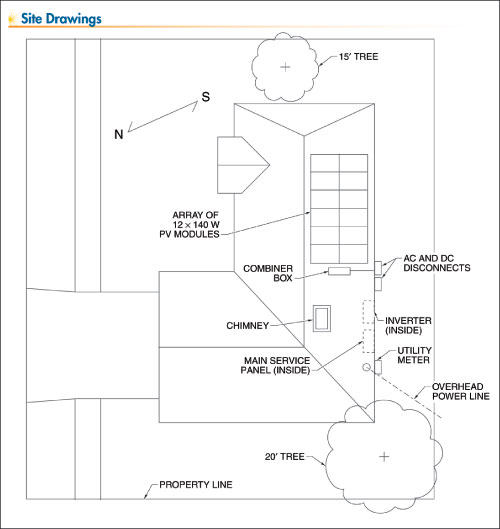 Figure 3. PV system site survey
While intended as a voluntary, value-added credential, NABCEP certification is becoming increasingly important to participate in this industry. For example, Maine and Ohio both require NABCEP certification to become eligible for state rebate funds, and Utah requires the certification to qualify for their solar contractor license. Numerous specifications are now requiring the bidder to retain or employ a NABCEP-certified individual on the project. However, not all NABCEP certificants are legally licensed and entitled to pull permits and engage in construction contracting. Many are architects, engineers, educators, salespersons, journeypersons or others who may be integrally involved with PV projects, and may work with or for contractors or integrators, but are not contractors themselves.
Workforce Development
Tens of thousands of jobs are expected to support the solar industries in years to come, and numerous efforts are being directed toward workforce development. The National Joint Apprenticeship and Training Committee (NJATC) has developed core curriculum on solar PV systems for the IBEW/NECA electrical apprenticeship program, and offers training and other instructional resources to nearly 300 JATCs across North America, as well as for electrical journeymen and contractors. Independent programs, community colleges and vocational-technical schools are also developing training on PV and other renewable energy technologies.
The concerns arise about the scope of certain training programs — what prerequisites are required, the subject matter and competencies taught, the work experience or on the job training involved, and the implications of what participants are supposedly qualified to do upon completing the program or courses. Many educators and solar industry interests favor a shorter-term approach of training and qualifying workers. However, most are neither familiar with the standards for electrical apprenticeship, nor the competencies, skill sets or safety training required of those who are qualified to install and maintain electrical equipment. Electrical workers already have the majority of skill sets required for PV installations, and it is a far easier task to provide upgrade training to educate an experienced electrical contractor or journeyman on how to install PV systems, as opposed to the extensive training and experience required to become an electrician or contractor in the first place. Many agree that equivalent minimum standards are needed to qualify workers for employment in the construction industry, and for installing PV systems.
Roles of Building Officials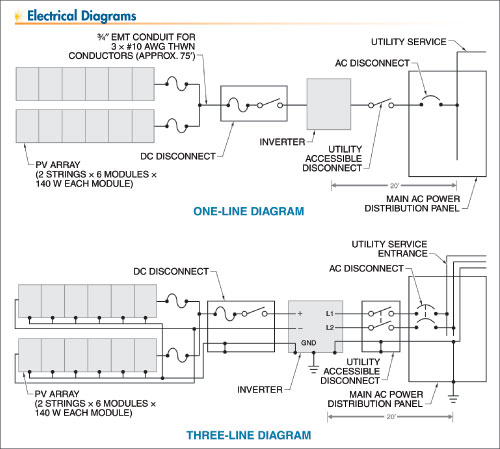 Figure 4. Electrical diagrams
For PV systems, the majority of design and installation aspects are governed by the North American Electrical Safety System — listed products are installed in accordance with theNational Electrical Code® by licensed contractors and qualified persons; and plan review, permitting, inspections and approvals are conducted by the local AHJ. Building officials and electrical inspectors have the responsibility of enforcing installation codes and standards for solar energy systems, and in many cases, they also ensure those applying for permits and performing work are duly licensed or otherwise qualified to engage in trade practice and construction contracting.
Unfortunately, more thorough inspections are revealing critical flaws in the quality and safety of increasing numbers of PV installations — mainly due to inexperienced installers unfamiliar with the codes, practices, materials and equipment employed by the electrical industry. Many smaller systems, especially in the residential sector, are installed without the proper permits and inspections, by unqualified individuals. One ploy used by unlicensed installers is to have the customer or property owner falsify permits. Several states allow property owners to pull permits and act as their own contractor, but they are required to do all work themselves and only hire licensed subcontractors. In other cases, unscrupulous contractors are complicit by applying for permits on behalf of unlicensed installers, for work that is not conducted or supervised by the contractor or their employees. This situation threatens to undermine the advances in solar technology, as well as consumer acceptance and public support, notwithstanding the life and fire safety issues involved.
Permitting and inspection requirements for PV systems vary between states and jurisdictions, but are based on common standards. Expect adequate documentation for PV system designs and installation details to be submitted for plan review and permitting. This information should include, but is not limited to site or building plans and locations of PV system components; electrical diagrams, drawings and specifications for major components; array mounting and structural details; system output and ratings; and instructions on safety, disconnects, operations and maintenance. Inspections should identify any deficiencies in materials or craftsmanship and evaluate for code-compliance.
PV arrays must be adequately secured to buildings, structures or other foundations in accordance with local building codes, the primary concerns being wind and seismic loads. PV arrays must remain stationary under these forces, without exceeding the permissible loads on the structure or PV modules themselves. Most often, PV arrays are rigidly attached to building structural members at distributed points. Design preference is to minimize the number of penetrations and attachments through any type of roofing system or cladding, and where necessary, they are flashed and weather sealed in accordance with accepted roofing and weathersealing practices. On flat membrane roofs, a popular design uses a self-ballasted racking system for PV arrays, where no direct attachments or penetrations of the roofing system are required. This design uses the mass of the mounting system foundation, typically sand bags, gravel, or concrete footers that lie on the roof but are not bolted to it. Guy wires or cables are sometimes used to provide additional security. For self-ballasted arrays, the dead load increases substantially over typical bolted or fixed attachments, and may become a significant factor of the overall roof design load. In high velocity wind zones, additional module supports may be required to prevent excessive deflections, especially for larger modules. Due to roof warranty issues and liabilities, most commercial PV installations will employ a roofing subcontractor and require load certification from a structural engineer.
Summary
Solar and other renewable-energy system installation markets are growing rapidly and the industry is moving from grassroots to the mainstream building trades. Those wishing to offer services for PV installations must meet the same standards established by state and local governments for those engaging in construction contracting, and they must abide by established codes and practices. Building and electrical officials have an obligation to ensure that applicable installation codes and accepted practices are followed, and that individuals and companies installing systems have appropriate qualifications and licensure to practice the trade in their jurisdiction. Qualifications for PV installers should be based on the training, competencies, experience and skill sets required, and should correspondingly serve as the basis for directions taken in workforce development, certification and licensure matters.
References
1 U.S. Department of Energy – Office of Energy Efficiency and Renewable Energy/Solar Energy Technologies Program: formerly available at http://www1.eere.energy.gov/solar/technologies.html. For more information, visit https://www.ecopowerup.com/knowledge/what-happened-seto/
2 Database of State Incentives for Renewable Energy (DSIRE):www.dsireusa.org
3 North American Board of Certified Energy Practitioners (NABCEP): http://www.nabcep.org