Energy Safe Victoria has identified segments of the industry for additional attention following audits of lift installations and discussions with companies and workers.
Lift installation techniques have changed in recent years with the innovation of a type of elevator commonly known as a Motor Room Less lift (MRL). MRL type of lift differs from type traditionally installed in high-rise buildings. MRL allows the lift car and associated control equipment to be installed by assembly of components including drive mechanisms within a single shaft and, as such, does not require a dedicated motor room. Obvious benefits are quicker installation time and increased available floor space.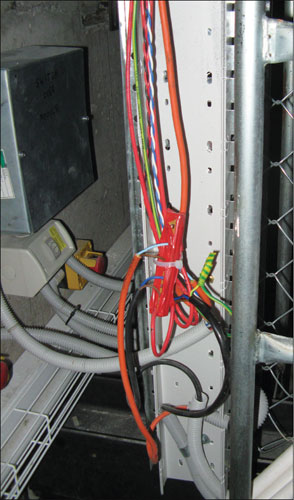 Photo 1. Cables not supported, terminated and mechanical protected in the manner required
MRL's are sourced in component form from overseas manufacturers and assembled on site by lift company employees. Electrical components and wiring are provided with the unit and connected by various means, mostly plug-in connectors. In Victoria, most of the wiring between components is deemed to be electrical installation wiring, as defined in Electricity Safety (Installation) Regulations.
Lift industry consultants, licensed electrical workers and union bodies representing those workers have raised concerns about aspects of the lift installation, in particular, conformity to wiring standards. As a result, ESV has undertaken an audit program of selected lifts to identify level of conformity with relevant Australian Standards.
Results of a limited audit indicate a lack of conformity in some aspects of lift installation, and this is consistent throughout several lift assembly companies.
Lift companies have a limited understanding of responsibilities required to operate as a registered electrical contractor (REC). Historically, lift companies have operated in isolation from regulators since the departure of an inspection regime conducted by former government departments. Self-regulation began in this industry in Victoria during 1994 and since then, limited interaction between industry and regulators has occurred.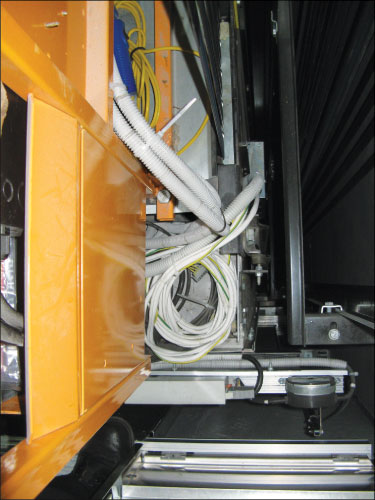 Photo 2. Lift shaft cables exposed to further damage
Where interaction has occurred with regulators, it is usually limited to reactive nature such as after an incident.
Areas identified of concern:
1. Unused long runs of conductors which remain in association with connected conductors are not terminated and protected at both ends in a satisfactory manner (see photo 1).
2. Supply conductors (lift mains) are not compatible with electrical installation to be connected, or confirmation of mains' suitability are not available for audit.
3. Wiring systems supplying lifts, including consumers' mains to lifts, shall comply with AS/NZS3013 or be of a type capable of maintaining supply.
4. Electrical equipment has not been installed so that all material immediately adjacent to or in contact with a conductor or cable is shaped so that it will not cause such abrasion of the conductor or insulation as could lead to mechanical or electrical failure.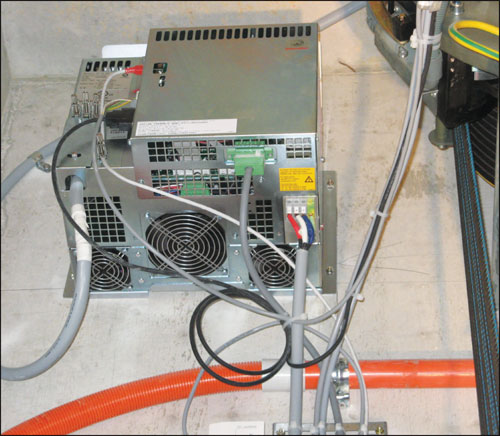 Photo 3. Cables installed on the top of the lift car in an unapproved manner
5. Radiuses of bends in wiring systems have not ensured that conductors and cables do not suffer damage.
6. Wiring systems installed where they are likely to be subject to mechanical damage and which have not been adequately protected in accordance with clause 3.3.7 & 3.9.4.2. to 3.9.4.6.
7. Cables have not been installed to be protected against mechanical damage or been otherwise arranged to ensure that any damage that might occur is readily visible (see photo 2).
8. Cables have not been supported and, if necessary, fixed in position so as to provide adequate protection against damage.
9. Cables enclosed with low and extra low voltage within trunking have not been installed as per AS3000 requirements. Insulated cables installed without sheath shall be installed in a suitable wiring enclosure in accordance with clause 3.10.

Photo 4. Cables in duct in the lift shaft in an unapproved manner and access to the isolator is not acceptable
10. Earthing conductors and earthing mediums have been installed in a manner that fails to provide protection against likely mechanical damage, inadvertent interference and chemical deterioration. Earthing conductors have not been protected against becoming displaced.
11. Earthing conductors were observed to have been removed or displaced from their intended fixings—reasons unknown.
12. Earthing terminations were observed to be affected by galvanic reaction, particularly around lift door assembly where steel, copper and aluminium formed the components to complete earthing connection.
13. Connections between conductors and between conductors and other electrical equipment were made in such a way that safe and reliable contact was not ensured (see photo 3).
14. Electrical equipment was not installed to avoid harmful influence between circuits operating at different voltages.
15. Isolation devices were not clearly marked to identify the circuits they isolate.
16. Devices for switching off mechanical maintenance were not placed, and marked and convenient for their intended use (see photo 4).
17. Verification was not available to ensure that circuit arrangements meet requirements of voltage drop and operation of protective devices.
18. Cables were installed that were not identified by the colours given in AS/NZS 3000:2000, Table 3.5.
19. Electrical workers are operating in different states and are not attaining the relevant state licence and, at times, some of the workers are not licensed at all.
Other items are non-electrical; however, they do affect the worker:
Many lift installations were not provided with handrails on the working area of car tops.
Guarding to the front opening of lifts shafts was often defective or not present, and where present, it was being used as a storage area for equipment. This provides a risk to persons working in the shaft where equipment may fall into the shaft, or in the event of emergency egress, causes obstruction to workers exiting the shaft.
These issues relating to safety of workers have been identified and have been referred to the Victorian Regulator for Occupational Health and Safety in an effort to also understand if these conditions exist in other states.
In an effort to address these issues fully the other state regulators have been informed and have agreed to develop a code of practice for the lift installations, and Victoria has been given an active role in this development.
The question that remains for other countries is what compliance methods do you have for these installations?