Section 12 of the Canadian Electrical Code covering Wiring Methods has seen nineteen rule changes and seven new rules for the 2012 CE Code. The first revision is to change the size of the sand cover used for direct buried conductors or cables from 6 mm to screened sand with a maximum particle size of 4.75 mm in Subrule 12-012(4). The reason for the change was to recognise standard sieve sizes detailed in ASTM Standard D 2487.
The second revision in Section 12 is to Rule 12-016. As with other sections of the code, the term lightning rod conductors was changed to lightning down conductors to harmonize with terminology in standard CAN/CSA-B 7ZM87, Installation Code for Lightning Protection Systems.
Rule 12-102 was changed, deleting the word "thermoplastic" and adding an Appendix B note. The Appendix B note explains the low temperature marking on thermoset and thermoplastic conductors and cautions code users designing installations intended to operate continuously at a lower ambient temperature, as would be found in a large freezer warehouse, to consider installing a conductor suitable for handling that low temperature.
The parallel conductor rule has added two new subrules to Rule 12-108. One to clarify the requirements for parallel conductors applies to conductors of one phase, polarity, or grounded circuit conductor and not those of another phase, polarity, or grounded circuit conductor. The second new subrule allows a single splice in parallel conductors when installed to meet the requirements of a new rule in Section 4 requiring the maximum allowable ampacity of a conductor to be based on the lesser of the conductor temperature rating or the equipment termination temperature rating.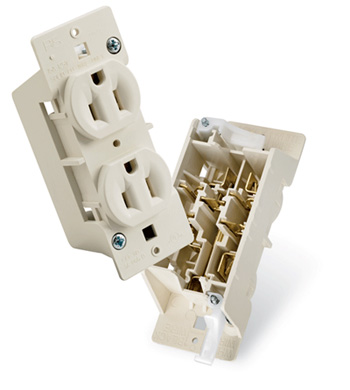 Photo 1. Self-contained device
A new subrule in Rule 12-120 recognises the problem of conductor slippage for long vertical runs of cable such as TECK90, RA90, RC90, AC90 and ACWU90. To deal with possible slippage, cable will be required to be of a type that is specifically designed for vertical runs or installed in a manner to prevent conductor slippage.
Rule 12-510 has a new Subrule (4), a new Subrule (8) was added to Rule 12-3000 and a new Subrule (7) was added to Rule 12-3010 to permit the use of self-contained switches or receptacles in lieu of a device box specifically. These devices are approved with an integral enclosure incorporating an integral cable clamp and have primarily been used in mobile homes, recreational vehicles, manufactured buildings, and on-site frame construction. Where these self-contained devices are used the non-metallic sheathed cable will be required to be supported within 300 mm of the switch or receptacle wall opening with at least a 300 mm loop of unbroken cable or 150 mm of a cable end available on the interior side of the finished wall to permit replacement (photo 1).
Rules 12-510 and 12-520 have added further restrictions on the fishing of non-metallic sheathed cable in walls containing steel studs. In addition to steel studs, non-metallic sheathed cable will not be allowed to be fished where metal sheeting or cladding, metal joists, metal top or bottom plates, or metal studs are used.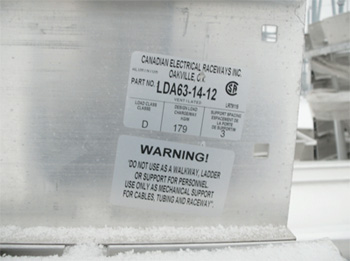 Photo 2. Cable tray marking
The original proposal that added copper-sheathed cable throughout the 2009 CE Code missed Subrule 12-706(3); this has been rectified in the 2012 CE Code.
Rules 12-602, 12-614, and 12-902 now permit the installation of armoured cable with overall jacket in a raceway. A new Subrule 12-614(3) details the minimum radii of the conduit or tubing used and Rule 12-902 limits the conduit or tubing fill, and requires the length of cable pulled into the conduit or tubing not result in the calculated maximum pulling tension or the calculated maximum sidewall bearing pressure being exceeded.
New Rule 12-1308 has been added requiring supports for liquid-tight flexible conduit not exceed a spacing of 1.5 m and to be installed within 300 mm of every outlet box, junction box, cabinet or fitting. Where it is impracticable to provide the supports, liquid-tight flexible conduit will be permitted to be fished.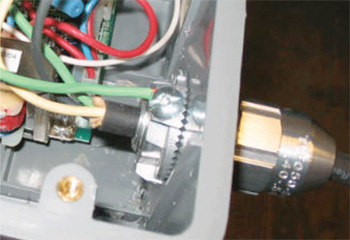 Photo 3. Bonding of metallic connector
Subrule 12-2104(2) has been revised to clarify that each compartment of divided wireways may be considered for the maximum conductor fill requirements.
Subrule 12-2200(2) has been revised removing maximum support spacing for cable tray specified by the manufacturer and replacing it with the wording recognising the load / span ratings found on the cable tray nameplate (photo 2).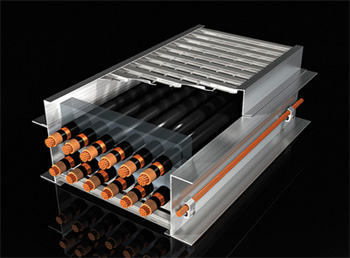 Photo 4. Cablebus Courtesy of M. P. Husky
A new definition has been added to Section 0 for cablebus stating, "Cablebus – an assembly of insulated conductors with fittings and conductor terminations in a completely enclosed, ventilated, or non-ventilated protective metal housing." In addition, Section 12 has added six new rules starting with Rule 12-2250 to address the installation of cablebus in Canada. These rules cover the allowable use for cablebus, method of installation, connection to other wiring methods, bonding provisions, and the ampacities of conductors in cablebus. In addition to these new rules a new standard C22.2 No 273 Cablebus is being developed to cover both low- and high-voltage cablebus (photo 4).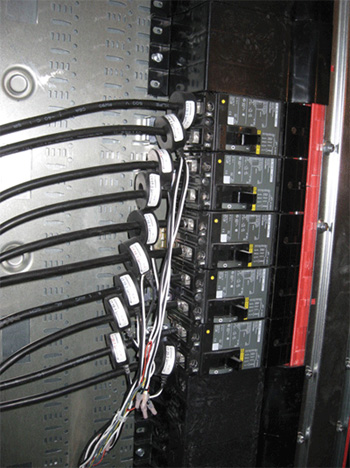 Photo 5. Rule 12-3032(4) allows installation of wiring associated with instrument transformers and energy usage metering devices in enclosures for overcurrent devices, etc.
A new subrule has been added to Rule 12-3000 requiring the bonding of metal fittings used to terminate a non-metallic wiring methods to a non-metallic boxes (photo 3).
New subrules have been added to Rules 12-3000 and 12-3010. Rule 12-3000 requires pendant ceiling fans weighing less than 16 kg to be supported by a ceiling outlet box, approved and marked for fan support. Rule 12-3010 requires that where a ceiling outlet box marked for fan support is installed, the box must be securely attached to the building structure, and for a pendant ceiling fan weighing 16 kg or more the supported must be independent of the outlet box.
Subrule 12-3022(3) has been expanded requiring a box connector to be used for tray cable entering a box, cabinet, or fitting.
The final Section 12 change for the 2012 CE Code is to add new Subrule (4) to Rule 12-3032 allowing the installation of wiring associated with instrument transformers and energy usage metering devices in enclosures for overcurrent devices, controllers, and externally operated switches provided the enclosure is approved to house the instrument transformers and energy usage metering devices, and the wiring does not fill the wiring space at any cross-section to more than 75% of the cross-sectional area of the space (photo 5).