How may times have you said to yourself? "I don't understand why that rule reads the way it does. It doesn't take ________ into account. I think I could have done a better job."
Every IAEI member has an opportunity to participate in development of the Canadian Electrical Code (CE Code). A very effective way is through the subcommittees. That is where the work is done and key decisions are made.
Participation is very easy — no time consuming meetings. All work is done by correspondence — telephone, letter, e-mail and on-line — with adequate time to respond. If you are a subcommittee member, you are in a special position to suggest changes at the subcommittee level. You have an opportunity to comment on every proposed revision. You are advised of the eventual subcommittee recommendation and CE Code Part I Committee decision.
How does one get involved? Easy — let me know the code section where you have an interest and a brief resume with emphasis on your experience with both the code and the section where you have an interest. I've included a form. You may wish to indicate several sections. I'll do what I can within certain constraints:
The IAEI already has appointees on all of sections (see table 1). If you want to be on a particular section subcommittee, you may have to wait.
Appendix C Clause C 5.3.3 and C5.3.4 of the CE Code detail limitations on subcommittee composition and numbers.
Please send the application to me at the e-mail address below, or send me an e-mail and I will send you the application as a Word document.
In conclusion, the CE Code is unique in its complete national acceptance as a model installation code. One reason is CSA's leadership in making it a national consensus standard. Another is the high quality input from hundreds of volunteers. I can't think of better qualified people to make recommendations on improvements to the code than members of the International Association of Electrical Inspectors. I encourage you to volunteer your knowledge and experience.
Steve Douglas
IAEI CE Code, Part I Committee Representative
Tel:(416) 241-8857 ext. 237
Email: IAEI@rogers.com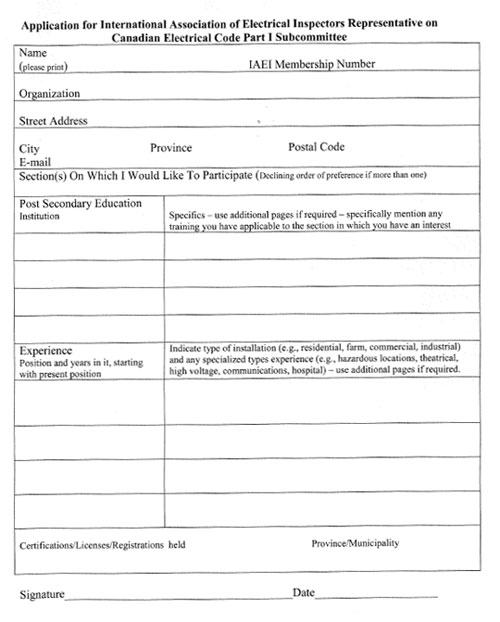 Application for IAEI Rep on Canadian Electrical Code Part I Subcommittee