CityPlace Tower in downtown West Palm Beach had almost everything a Trophy Class A Office Building could offer. The 300,000-square foot, LEED® Silver-Certified building features a variety of amenities, such as spectacular ocean, intracoastal waterway and city views, an on-site conference center, executive parking, valet service and car detailing, and a full-service bank. Not to mention its ideal location boasts direct covered access to shopping, dining, entertainment, and spas at Rosemary Square and walking distance to many of the main attractions of West Palm Beach. However, the exterior of the 18-floor building had lost its luster… literally.
Previously lit with halogen lighting, the 13-year-old system was water damaged and failing. The owner of CityPlace Tower, Related Properties, knew it was time for an update – not to just fix the current system, but to significantly update the lighting aesthetics to increase the building's visibility for marketing purposes. Executives at Related Properties approached Skyline Arts, LLC, an architectural lighting systems provider based in Delray Beach, Florida, to offer a new solution for the failing system.
"The owners of CityPlace Tower saw an opportunity to add a color-capable LED lighting system," said John DiDomenico, Managing Partner, Skyline Arts LLC. "This would add visibility to the iconic building from I-95 and various points around downtown West Palm Beach—including the airport."
Related Properties and Skyline Arts quickly established the lighting criteria to include a lighting intensity that would smoothly illuminate 20-foot concrete columns set at 20-foot below the roof overhang on the shear wall. They wanted excellent white light for typical daily scenes and vibrant color rendition for a special event. In fact, Related Properties required deep reds, dark blues, emerald greens, and warm white to increase capabilities for recognizing holidays, charities, and sporting events.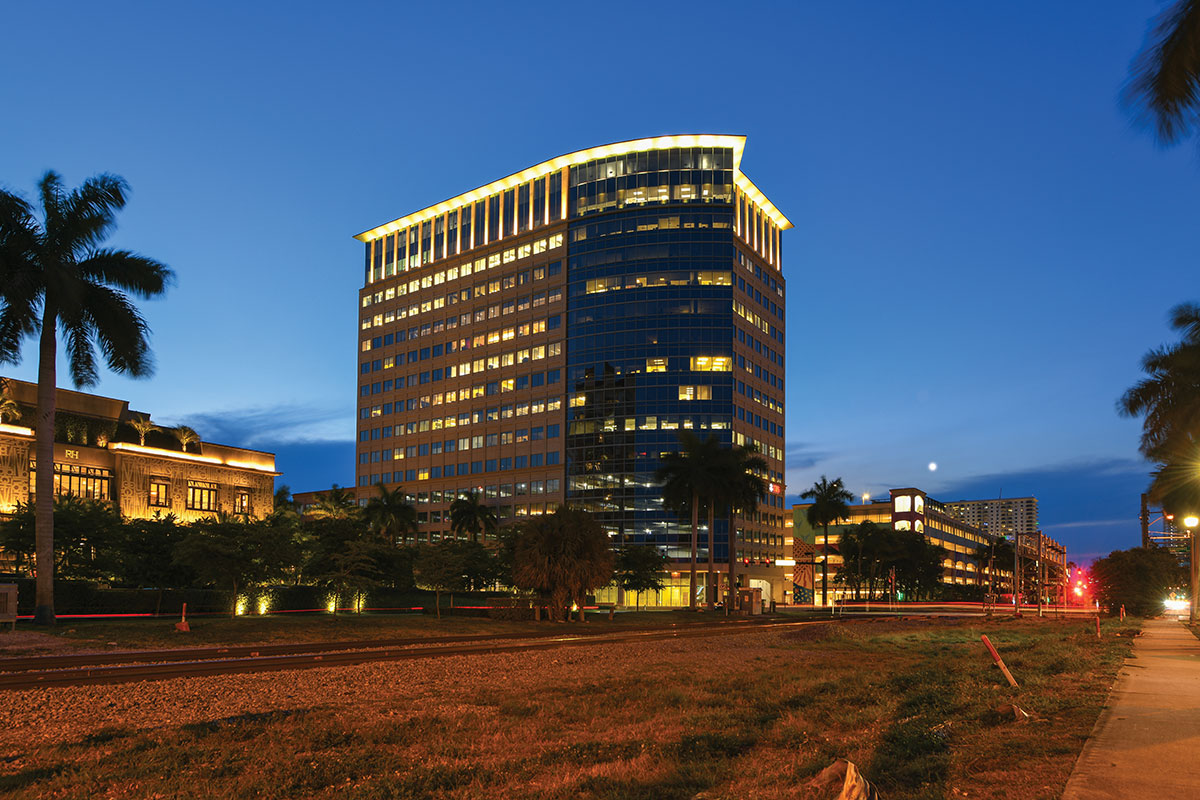 Flood One EO Selected
After a thorough investigation, including a demonstration to the owners using fixtures from competing manufacturers, Skyline Arts specified Acclaim Lighting's Flood One EO fixtures, a high-output, outdoor-rated, color-changing LED floodlight built on the Acclaim Modular System platform. It features an internal 100-277VAC power supply, 0-100% DMX/RDM dimming, and a very low-profile design to fit into small spaces. It comes with a 10-degree beam standard, with optional internal spread lenses for wider applications. It is ideal for facade lighting applications and as an area floodlight.
"During the test, Flood One EO was the hands-down winner in terms of intensity, color at a very competitive price point, which allowed for the inclusion of color-changing into the design," DiDomenico said. "Plus, the energy-efficient fixtures fit within the building's LEED Silver Certification program."
The new lighting system is controlled via a Pharos LPC, which is web-enabled, running the Lumentender Cloud application for scheduling and control. Related Properties has direct control over the management of their scheduling and control for special events. In addition, the flexibility of the Flood One EO's color capabilities and smoothness of dimming enables a variety of scenes and provides the prominence on the skyline that the customer required.
"Once the new lighting system was launched, Related Properties told us they are ecstatic as they have never had a color-capable lighting system on the building before," said DiDomenico. "Now, if you are in West Palm Beach, look up, and you will see what they mean."
###
Project Participants
Lighting designer – (JD) – John DiDomenico, Managing Partner, Skyline Arts LLC, Delray Beach, Florida
Electrician – Bob Messing, Excel Electrical Group, Coral Springs, FL 33065
Distributor – Skyline Arts LLC, Delray Beach, Florida
Installation Partner – Gavin Cooper, LEDSmith LLC, West Palm Beach, Florida
Engineering Firm – Andrew Youngross, TYEC Engineering, Boca Raton, Florida