Electrical grid infrastructure remains one of the nation's biggest vulnerabilities. From storm damage to vandalism, to deliberate attack, members of the professional electrical community, utilities, the media, state leaders, and government agencies need to consider how the United States can most effectively secure the safety, dependability and future of the national electrical grid. There are many variables to consider and many potential remedies to this question, but we need to think deeper—literally—when it comes to securing the grid.
Threats to the grid are growing. To secure the grid, we should consider proactively moving transmission lines underground.
From gale-force winds to domestic terrorism, underground lines are better protected against both severe weather and physical attack. As the U.S. fights to upgrade its aging electrical infrastructure, we need to escape the never-ending cycle of break and replace, and instead think deeper.
Don't fight Mother Nature. Avoid her
More than a year after one of the most destructive Atlantic hurricane seasons on record—which caused an estimated $316 billion in damages and was especially destructive to Florida and Puerto Rico—it's instructive to look back at how those two regions have fared on the road to recovery.
Following Hurricane Maria in September 2017, The Boston Globe described the devastation to Puerto Rico as "unprecedented." While the island's grid is back up and running, the damage inflicted was so severe that work to establish a long-term solution had not begun by October 2018, according to USA Today. It's estimated that $26 billion will be needed to finish the job. To put that amount in perspective, the island's 2019 general budget is $9 billion, meaning the repair bill is almost 300 percent of their total budget.
Puerto Rico's energy infrastructure was mostly built above ground, making it susceptible to intense winds and flying debris. The aftermath of storms like Maria shows why we need to harden our grid against severe weather and how difficult it can be to rebuild infrastructure that was ill-prepared to resist storms in the first place.
But is it really better to build underground?
Let's look at Florida. It was also hit especially hard by the 2017 hurricane season, but 40 percent of Florida's transmission lines are already underground. When compared with their above-ground counterparts, underground distribution lines proved their effectiveness and storm resilience.
According to Florida Power & Light, which powers half of the state, overhead lines required 639.1 repairs or replacements per pole-line mile. Underground only required 13.1 per pole mile. The story in Tampa was very similar. According to Tampa Electric Company, overhead lines needed 49.6 repairs or replacements per mile, while underground only needed 0.2 per mile.
Other utilities in South Florida are also adapting and expanding their underground network. For example, Fort Lauderdale is transitioning large swaths of its grid underground for better protection against future storms.
Even in non-hurricane-prone areas, strong winds regularly cause power lines to snap or break free, either due to falling trees or severe weather. These incidents can spark blazes in the brush of drought-struck or historically dry areas. For example, electrical equipment caused the 2017 Thomas Fire in California, which burned 281,893 acres and destroyed 1,000 structures. Two years before, fires started by electrical lines and equipment burned 149,241 acres of land in California, more than double the amount from any other cause, according to The Los Angeles Times. In 2007, strong Santa Ana winds gusted up to 112 miles per hour, snapping several power lines and felling trees, which ignited several fires throughout the area around San Diego.
Early evidence even suggests the 2018 Camp Fire might have been caused by a transmission line, according to CNBC. Although the exact cause is still under investigation, the Camp Fire is the worst in California's history. By mid-November, it'd claimed 50 lives, destroyed 7,600 homes, and scorched 135,000 acres, according to CNN.
Storms will keep happening, and the associated wind is out of the control of utilities, the government, and electrical professionals.
Much of our critical infrastructure—including piping, sewer, water, and natural gas—is already underground. With the ever-present threat of severe weather, perhaps it's time to proactively transition our grid underground.
Protection from deliberate attacks and crime
Beyond the advantage of weather avoidance and resistance that underground transmission lines offer, they also provide the benefit of protection against physical attacks. In 2013, an attack on a northern California substation involved multiple suspects who shot and destroyed 17 electrical transformers. The incident caused $15 million in damage and it took nearly a month to restore. The suspects were never apprehended.
Unfortunately, above-ground grid infrastructure attacks are not once-in-a-blue-moon occurrences. In 2018, a news-industry analysis that examined extensive government records, federal energy data, and a survey of more than 50 electric utilities found that in just four years, utilities reported 362 attacks on the grid, of which 348 were physical attacks and the remaining 14 were cyberattacks.
An assault on just nine of the 55,000 substations in the U.S. could cause the country to suffer a coast-to-coast, national blackout.
According to the U.S. Federal Energy Regulatory Commission, this "cascading failure" could take months to fix and create serious national and international vulnerabilities.
Many incidents of damage also result from criminal activities that seek to steal equipment and materials from the above-ground grid.
When individuals or groups of people break into grid installations or tamper with wires, it can cause outages and even injuries.
Thieves may unknowingly damage sensitive electrical equipment and accidentally electrocute themselves or put utility employees at risk.
For example, in October 2018, the city of Charlottetown, Prince Edward Island, Canada, suffered a blackout after thieves damaged a substation seeking valuable internal components. Luckily, an employee noticed the damage and notified Maritime Electric. Even then, it was "virtually impossible" for repair crews to access the site safely at first, and the utility was forced to take the substation offline for repairs, causing an emergency outage for 6,000 customers. Maritime Electric spokeswoman Kim Griffin said the technician who noticed the damage could have been seriously harmed or even electrocuted from the damage while performing his duties.
According to the U.S. Department of Energy, undergrounding is an established method for hardening the grid against threats, including physical attacks. As security concerns continue to grow, the benefits of an underground grid are hard to ignore.
What about floods and money?
While flooding is a consideration during underground construction, and in many scenarios underground installations can cost more, how strong are these two arguments against underground lines overall?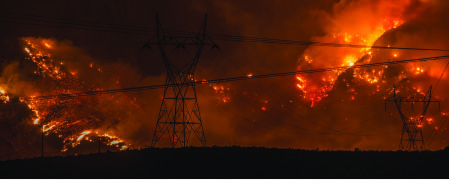 Flooding: A recurring concern for underground transmission lines is the threat of flooding. However, cables are rarely at fault for failures caused by flooding. Medium- and high-voltage cables are designed to resist water under normal and extreme circumstances and they're able to operate below the level of the water table where the environment is perpetually wet. The jackets of these cables comprise polymeric materials that resist water permeation for the system's entire life. Underground cables also come with water-resistant insulation—including cross-linked polyethylene that will help stop incursions from water trees—to prevent premature failure.
The Association of Edison Illuminating Companies (ICEA), the American National Standards Institute (ANSI), and the Insulated Cable Engineers Association (AEIC) require cables to meet a variety of standards relating to moisture barriers, water-blocking components, water-resistance tests, and sealing. Failures due to water are often misattributed: the real issues often arise at open-air, ground-level terminations not designed for submersion, or with systems that were poorly sealed, allowing contamination.
Undergrounding requires a complete system, just like any other part of the grid. To function properly, elbows, T-bodies, link boxes, and other components designed to operate in wet conditions need to be used.
Money:  While the initial cost of installing an underground network can be more expensive, the lifecycle benefit surpasses that of above-ground. It's no shock that the American energy grid needs immediate improvements which means investing more money than simply maintaining the status quo. The day is coming where the grid will need a massive, nationwide overhaul to meet rising electric demand. "The electricity system in this country has operated on the most part on 1950s technology," said Bill Gould, executive director for the Electric Power Research Institute (EPRI) in the northeast region. Currently, much of the U.S. is stuck in a cycle of rebuilding the grid after every natural disaster or attack, delaying many needed upgrades. The EPRI estimates more than $100 billion may be needed to fully update the American energy grid.
Already, the nation makes large investments in upgrading grid infrastructure, with utility distribution spending rising from $31 billion to $51 billion annually since 1997. Private annual capital investments by major utilities have also doubled during that same time period due to aging equipment upgrades. The current regulatory framework does not incentivize the electric utility to install underground lines. The differential costs of placing the transmission lines underground is financed by the utility, ultimately impacting the return on investment to their stockholders.
Given the advantages in resiliency and security, electrical professionals should advocate for established standard design and construction practices. This advocacy can foster undergrounding transmission lines, so the utility that is ultimately responsible for the differential cost between the overhead and underground installation of the line is incentivized to build a reliable and resilient grid.
America's electrical infrastructure is in desperate need for an upgrade to better protect against severe weather and security risks, protection that an upgrade to underground transmission lines can provide. When we think about securing the future of the grid, the U.S. needs to escape the never-ending cycle of break and replace, and instead think deeper.