Incoming International President Steve Douglas has announced five goals for 2013. These undertakings are designed to assist IAEI in taking a giant step forward in membership, in the industry, in technology, in outreach and in establishing real presence in local communities and across the world.
First and foremost, IAEI is continually increasing value for its members. The implementation of a new website and moving towards electronic publications are some of the initiatives for accomplishing this goal.
IAEI codes and standards committee will continue to develop significant code proposals for future editions of both National Electrical Code and the Canadian Electrical Code. Through this process, IAEI members have a strong influence in the North American electrical safety system.
The capital campaign committee, under the leadership of Chuck Mello, will be ramping up its campaign to raise $2 million. Success in this project will ensure appropriate buildings, equipment and technology to allow IAEI to more forward and to be at the forefront of industry ventures.
A special committee has been established to review the international bylaws and operating rules in an effort to reduce duplications and to structure our bylaws in such a way that will allow our organization to be relevant in today's industry. This fine tuning will enable the association to be more versatile and to respond to partnership and collaboration opportunities in a more timely fashion.
Considerable international interest in IAEI has developed through iaei.org and the social media. As a consequence, a new committee has been established to promote and to assist in the development of chapters and divisions internationally.
Dave Clements, CEO, welcomes Steve and his background and expertise in electrical codes and standards; he feels confident that these will help Steve guide IAEI in achieving its goals.
About the president
President Steve Douglas joined IAEI in 1990 and attended his first Canadian Section meeting in 1991 in Kingston, Ontario. "At that time," he recalls, "I did not understand the full impact IAEI has on the electrical safety infrastructure in North America. I was, however, very impressed with the technical program."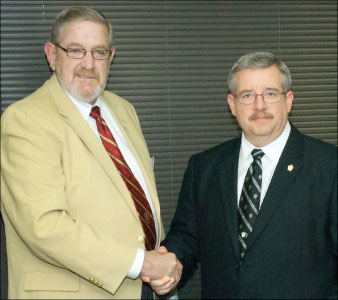 Photo 1. Stan Benton passes the presidency to Steve Douglas.
After six years, he was elected to the Ontario Chapter executive and was extremely active at the local level.  In 2001, he was elected to the International Board and has served eleven years, during which he has observed the board become more effective through the use of greater technology, such as web-based meetings, conference calls, and computerization.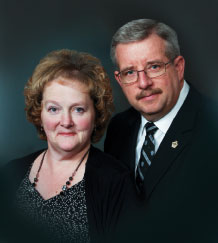 Photo 2. Anita and Steve Douglas
In 1996, Steve had the opportunity to represent IAEI on the Section 8 subcommittee of the Canadian Electrical Code Part I (CE Code). In 1998, IAEI member Roy Hicks, then chief electrical inspector for Ontario Hydro, was able to get an associate member position for IAEI on the CE Code. Steve was placed in this position and within six years was able to change the IAEI status from an associate member to a voting member on the CE Code. Within ten years, he was able to increase IAEI representation on the CE Code subcommittee from 6 subcommittees to all 43 subcommittees for the 2009 edition of the CE Code. IAEI is the first organization to have representation on all 43 sections of the CE Code since the first edition of the CE Code in 1927, and full section representation continued in the 2012 edition.
This Canadian achievement added to IAEI's current representation in the U.S. on the National Electrical Code — the Technical Correlating Committee and all 19 code-making panels — gives IAEI and its members unique input into the electrical safety infrastructure in North America.
Presently, Steve is the vice chair of the CE Code Part I, chair of CE Code Part I Subcommittees for Section 2, 12, and 50, and a member on Sections 40, 64, 68, 76 and Appendix D. In addition, he is the chair of the CSA Standards C22.2 No. 273 Cablebus, C22.6 No. 1, Electrical Inspection Code for Existing Residential Occupancies committee, the chair of the SPE-1000 Working Group, and a member on committees for the Objective Based Industrial Electrical Code, Safety Management Systems, Solar Photovoltaic Modules, Photovoltaic Cable, Fuel Cells, Wind Turbines, Distribution Transformers, Outlet Boxes, and Wiring Fittings Hardware and Positioning Devices to name a few. In total, he is active on 53 technical codes and standards committees, which gives IAEI recognition on the CE Code and Standards.
Steve lives in Toronto, Ontario, with his wife of 29 years, Anita. They have two daughters. Lindsay and her husband Kevin are the parents of grandson Koen. Penny and Andrew are the parents of granddaughter, Savannah, and grandson, Landyn.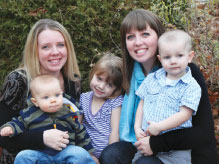 Photo 3. Daughters Lindsay (left) and Penny (right) with grandchildren (left to right) Koen, Savannah and Landyn.

Steve is currently the senior technical code specialist for QPS Evaluation Services Inc., a certification and field evaluation organization based out of Toronto.
"I am honored to be your international president for 2013, and I look forward to meeting more of you, members of the greatest association dedicated to electrical safety in the world — International Association of Electrical Inspectors," Steve says.