The Intersolar North America conference in San Francisco this summer was the backdrop for the presentation of the Interstate Renewable Energy Council (IREC) 2018 3iAwards. Among those honored through the national search was the International Association of Electrical Inspectors (IAEI) for its work with IREC's Solar Training and Education for Professionals (STEP) program.
The award celebrates "the nation's best innovation, ingenuity and inspiration in renewable energy and energy efficiency," according to a press release. IAEI Technical Advisor of Education, Codes and Standards Joseph Wages, Jr., accepted the award on the Association's behalf.
"The (STEP program) courses were designed by IREC with Subject Matter Experts (SMEs) from IAEI and International Code Council's Solar Rating and Certification Corporation (ICC) from across the country, including IAEI's Joseph Wages," said Laure-Jeanne Davignon, IREC director of workforce development.
What was it like to stand on the stage with other leaders in the industry who were chosen for such a prestigious prize? "It was a sense of pride that IAEI would be selected for this award, and I was honored to represent IAEI in acceptance of the award," Wages said.
IAEI Chief Executive Officer David Clements is most proud of "having the opportunity to assist in the development and delivery of the training material by providing staff and members of our Association who are considered experts in the code for solar installations. The role IAEI has played and will continue to do so will educate those in the electrical industry to ensure safe installations by meeting National Electrical Code," he said.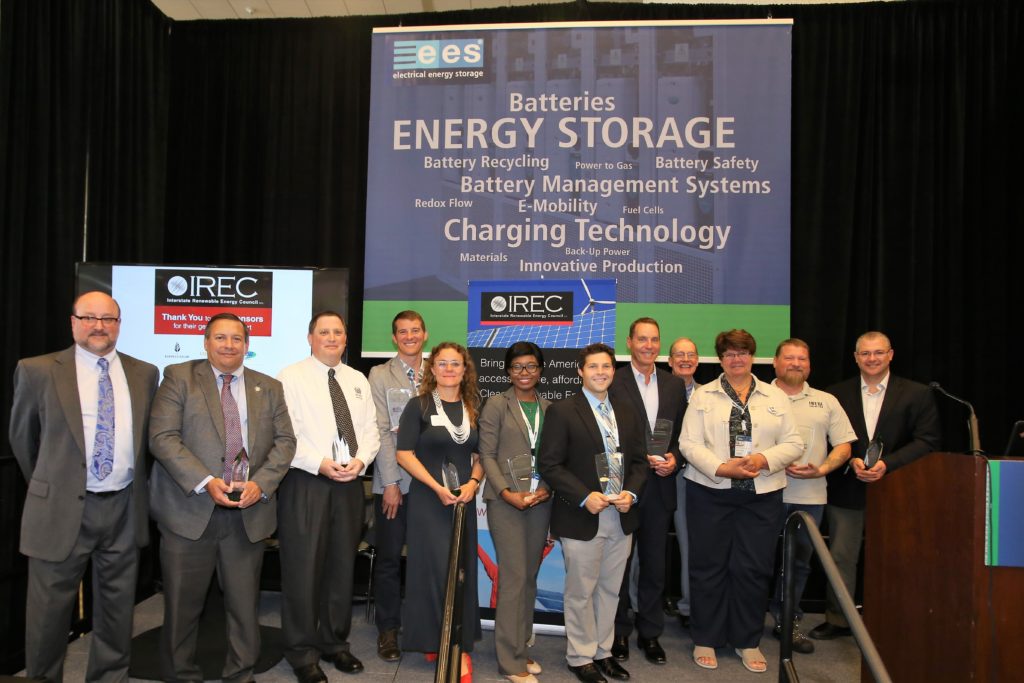 While the award was the result of work done by IAEI staff, it is the membership who really benefit from the recognition.
"Awards are always bigger than one individual," Wages said. "This award recognizes thousands of hours that members of IAEI have contributed to helping develop training material and educating electrical professionals," Wages said.
History & goals of the STEP program
IREC began the STEP program in 2012 after receiving a grant from the Department of Energy (DOE) to train inspectors, installers, and plans reviewers on PV systems. IAEI had been working with SolarTech which had a similar grant through DOE, and IREC approached the Association to partner with them.
IAEI provided the SMEs who developed the online and onsite course materials, provided the onsite trainers, and updated the materials to reflect current National Electrical Code.
"The online class is interactive and also the videos are done by SME's who are involved in the development of the National Electrical Code," Clements said.
Not only is the program unique because it was designed by those who create and know the code best, but it is also tailored to each participant.
"IREC/IAEI training is different than the run-of-the-mill PowerPoint lecture in that we start by identifying the specific knowledge gaps and worker behavior we wish to address," Davignon said. "Then we work directly with SMEs throughout the needs assessment, training development, training deployment, and project evaluation process to ensure the training can directly impact and measure how code officials operate in the workplace."
The program's initial goal was to address gaps in solar technology knowledge that code officials faced. The high-level goal of the overall project was to decrease the soft, non-technology costs of solar installation. "In the case of electrical permitting staff and inspectors, the goal was to increase their effectiveness in reviewing solar permits and conducting solar inspections," Davignon said.
"The project was a success! Over 5,000 code officials, including IAEI members, throughout the U.S. were trained either in-person or via interactive online courses designed specifically for code officials," Davignon said. "Of these, 86 percent either 'fully' or 'mostly' agreed that they feel more prepared to work with solar electric systems as a result of having taken the course. In addition, 93 percent said they would recommend the course to a friend or colleague."
Electrical professionals weren't the only ones gaining knowledge about PV instillation. The STEP program trained more than 5,000 fire fighters, in addition to the 5,000-plus electrical pros.
"The goal is automatic, knowledge-based quick response, so firefighters feel confident and safe when responding to fires on PV-equipped structures—so safety hazard can be reduced," an IREC press release stated. "The national fire service—including the International Association of Fire Fighters (IAFF) and the National Association of State Fire Marshals (NASFM)—helped put the word out to more than 500,000 firefighters about the new solar training created specifically for their members. The training was developed, deployed and promoted by IREC, with the help of its emergency response partners, with input from firefighters around the country."
While training professionals was the program goal, ultimately, safety was the overarching goal.
"Keeping families electrically safe is a goal worth fighting for, and awards sometimes are a result," Wages said. "Many times, the safety provided to the public goes unnoticed unless there is an electrical issue. Then the finger pointing begins."
The STEP program is one more tool in the electrical professional's toolbox to prevent such finger pointing and issues.
Training for the future of electricity
Electricity from solar was once considered a thing of the future, but advances in panel technology and battery storage have made the future now. And people are beginning to favor it.
A Pew Research Poll released in July found nine out of 10 adults in the United States believe more solar farms would be a good thing. Flow charts released by Lawrence Livermore National Laboratory, revealed that Americans used more solar and wind energy in 2017 with solar energy accounting for 32 percent of energy consumption. The increase is believed to have been driven by strong growth in the installation of large-scale solar farms.
"Renewable energy is not going away, and we will continue to see growth in solar installations across North America," Clements said. "Many states including Hawaii have set goals to be completely 100 percent clean energy by 2045."
In July, Utility Dive reported, "Hawaii is already working to reach 100 percent renewable energy, and the state has long been a test bed for clean energy ideas. But development of a new microgrid tariff for HECO customers to utilize could open up even more opportunities—particularly as the technology is already in use at some locations." The outlet reported that microgrids are needed to protect against natural disasters and aid in helping the state achieve its goal of using 100 percent renewable energy.
Summer, 2018 saw many announcements of cities and states making plans to go renewable. An Atlanta city council committee began considering three proposals to make it the first Southern city to be on the path to 100 percent renewable electricity by 2035, reported Inside Climate News. Denver's mayor announced plans to transition the city to 100 percent renewable electricity by 2030. California began reconsidering a bill to use only renewable power by 2045, which will make it the second state, behind Hawaii, to have a 100 percent renewable mandate, reported Hydrogen Fuel News. Even smaller communities were getting in on the 100 percent renewable act with Georgetown, Texas, located north of Austin, cutting the ribbon on a 1,200-acre solar farm housing 1.7 million solar panels located in West Texas, according to KVUE.com. Inside Climate News also reported in July that other cities that have vowed to use 100 percent renewable electricity include Salt Lake City, San Diego, St. Louis, and Orlando.
Future of the STEP program
The DOE grant for the STEP program may have ended in August, but the training will go on.
"IAEI and the International Code Council will continue in-person courses according to member demand," Davignon said. "IREC will continue to host a very engaging This Old House style of code official inspection online learning modules at www.cleanenergytraining.org. A possible future area of collaboration is energy storage, which is a rapidly-expanding sector in the energy industry focused on energy resilience."
In an effort to help fulfill the STEP objective of embedding solar training into professional development platforms, IAEI is committed to providing solar training to its membership and the sector beyond the STEP project period. The Association will continue deployment of the six-hour Solar Permitting Plan Review course, as requested by members or other stakeholders, include solar updates in existing IAEI training on National Electric Code updates, and integrate solar content into IAEI newsletters and magazine issues.
"We appreciate the award and having the opportunity to work with IREC during the past seven years, and we look forward to a long partnership," Clements said.